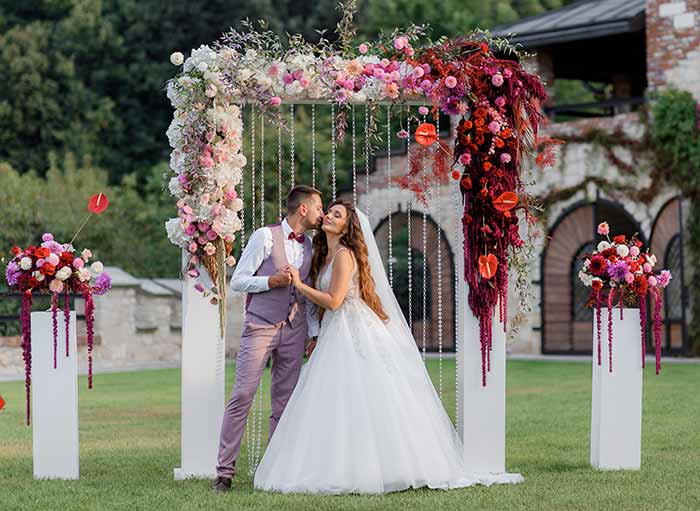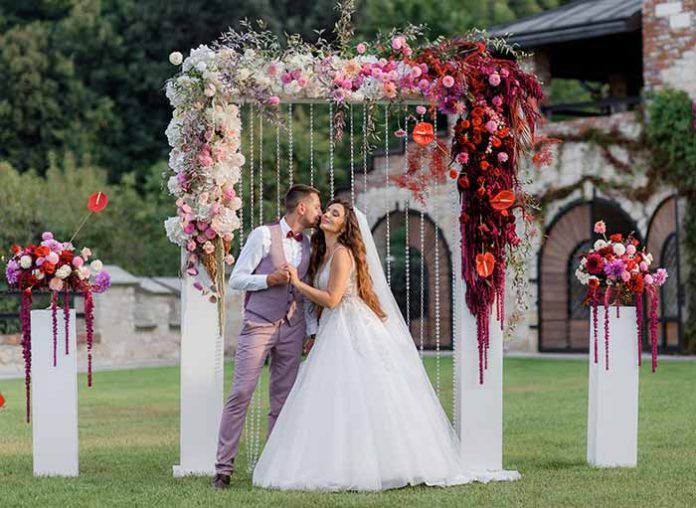 Your wedding day should be filled with love and celebration as you and your partner share in this momentous milestone of their commitment to each other for life. Both of you can express yourselves freely by creating an atmosphere which truly reflects who they both are as individuals. While traditional themes still hold charm for many couples today, some opt for contemporary and edgy decor. Leaving an indelible mark in guests' memories for years after.
7 Wedding Decoration Ideas For Edgy Decor Theme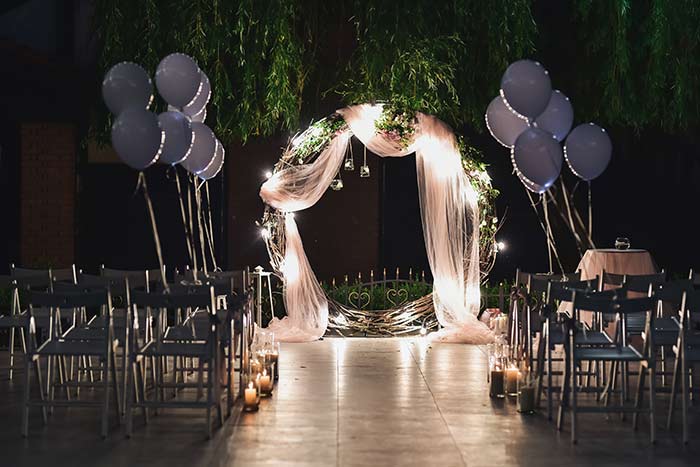 More and more couples crave something unique that sets their event apart and makes it unforgettable experience. Couples want a wedding that embodies their love story while speaking directly to their souls. Modern and edgy wedding decor themes give them the chance to unleash their imagination. You can think outside the box, and create an ambiance that truly represents them as individuals and as couples.
1. Let the Season Inspire you While Choosing the Venue
Spring Wedding Season: Spring brings with it an exhilarating sense of renewal, blooming flowers, and fresh energy. To capture these feelings, consider selecting an event location with lush gardens, picturesque parks or botanical settings that highlight spring's vibrant colors. Outdoor wedding venues like gardens, vineyards or rooftop spaces can create romantic and ethereal settings, so take full advantage of what spring has to offer!
Summer Wedding Season: Summertime brings warmth, long days, and ample sunshine – ideal conditions for hosting warm outdoor weddings. Beachfront locations, lakeside retreats or open-air venues with scenic views are great examples of this. Use bold color palettes, tropical or bohemian decor elements and light and airy fabrics that capture a carefree spirit. Hammocks or outdoor lounges will help create an intimate and relaxing setting that your guests will enjoy.
Fall Wedding Season: Fall is the season of vibrant hues, cozy vibes, and harvest-inspired treats. To take full advantage of its seasonal charms, look for venues surrounded by nature. Rustic barns, vineyards or gardens with colorful foliage are ideal for this job. Incorporate warm tones such as rustic wooden accents, copper details and warm candlelight into your decor to reflect its natural atmosphere. Adding seasonal fruit, pumpkins or floral arrangements into the decor could bring even more seasonal charm!
Winter Wedding Season: Winter weddings evoke a sense of magic with its snow-covered landscapes and warm environments. Historic mansions, industrial lofts, or cozy lodges with fireplaces can do the job. Add cool metallic accents, twinkling lights, hot chocolate stations or faux fur throws to truly magical winter wedding experience.
2. Try Bold and Vibrant Color Combinations
Color plays an essential part in crafting a contemporary and edgy wedding decor theme. Choose bold and vibrant color combinations, such as deep reds, electric blues or vibrant yellows to bring excitement into your decor scheme. Contrasting colors will help create an eye-catching and modern aesthetic which elevates the overall atmosphere of your celebration.
3. Try out Groom and Bridal Party Attire that Breaks Away from Traditional Norms
When it comes to creating a contemporary and edgy wedding decor theme, one area in which you can truly stand out is in the groom and bridal party attire. Instead of adhering to traditional norms and styles, embrace this chance to experiment with unique options that break with convention.
Contemporary Outfits: Consider outfits with contemporary touches and unconventional elements for the groom's ensemble, such as tailored suits in bold colors like deep burgundy or navy blue that add contemporary touches and unconventional elements. Experimenting with velvet or metallic fabrics such as velvet can help to make his ensemble truly remarkable; experiment with velvet or metallic fabrics too for visually striking textures such as velvet. Another alternative could be selecting a well-fitted tuxedo featuring unexpected details, like patterned or textured lapels, as well as unique statement accessories like a bowtie in vibrant colors or materials.
Fashion Style: Encourage all members of your bridal party to embrace their individual styles and express themselves freely, as you would with anyone. Give bridesmaids the freedom to select dresses that meet their fashion preferences while still complementing the overall aesthetic of your decor theme – this may mean mixing and matching different styles, colors or lengths of dresses! Inspire the bridesmaids to accessorize their looks with elegant eyeglasses, allowing each of them to showcase their personal flair while accentuating their facial features and expressing their true selves.
Choose Eyeglasses: Eyeglasses can make a dramatic yet fashionable statement when added to your bridal party attire. Encourage bridesmaids and groomsmen to select glasses that suit their own styles and face shapes. From oversized frames to sleek designs, on-trend eyeglasses can add an edgy yet contemporary vibe. Bold frames in vibrant colors or subtler yet sophisticated options can all help make the glasses an unexpected yet fashionable accent for their overall ensembles.
Use Non-Traditional Accessories: Also remember the accessories! Encourage your bridal party to experiment with non-traditional pieces that add a contemporary and edgy vibe. For example instead of opting for traditional floral bouquets for bridesmaids, consider cascading greenery bouquets made of feathers or dried flowers, stylish hand fans or parasols, cascaded greenery accessories or hand fans or parasols as options instead. Groomsmen can express themselves individually by sporting unique boutonnieres made from unconventional materials or featuring unexpected designs on them or by choosing unique boutonnieres/pocket squares made of unconventional materials or bearing unconventional designs on them as well.
By encouraging your bridal party to embrace their individual styles and go beyond traditional norms. You not only create a visually striking and contemporary aesthetic but also foster individualism and self-expression. This adds an additional level of uniqueness and authenticity to the celebration, making it truly unforgettable experience for all involved.
5. Create a Wedding Seating Plan that Encourages Interaction and Mingling Among Guests
Contemporary and edgy weddings go beyond decor: they create an environment that fosters interaction and engagement among guests. Instead of traditional banquet-style tables, consider opting for more intimate seating arrangements like long communal tables or lounge areas. With comfortable seating arrangements that encourage mingle and engagement between guests, creating a vibrant celebration.
6. Incorporate Cuisine, Music, and Decorations from Your Unique Cultures
Integrating cultural elements such as cuisine, music and decorations into your wedding celebration. It is an excellent way to add an interesting and stylish touch. By mixing traditional with contemporary touches, you can create an environment that truly reflects your heritage while giving guests a memorable experience.
Wedding Food: Food is an integral component of wedding celebrations, and including dishes from your diverse cultures can add an exquisite and memorable element. Working with an accomplished caterer or chef who can craft a fusion menu that marries traditional flavors with cutting-edge culinary concepts. If you have Chinese and Mexican roots respectively, for example, consider offering Asian-inspired tacos or dim sum with modern variations as part of a memorable dining experience for guests at your celebration.
With ingredients, spices and techniques from multiple cultures coming together seamlessly, this culinary adventure will delight all senses. While leaving a lasting impression among your guests and leave lasting memories among all.
Traditional Music: Music can set the scene and create a memorable wedding celebration. Include traditional songs from both cultures into your playlist with an added contemporary flare. Team up with an experienced DJ or live band who can seamlessly blend traditional melodies with modern beats and arrangements. For instance if your event encompasses Indian and Jamaican backgrounds, mix Bollywood sounds with reggae/dancehall rhythms to ensure everyone stays on the dance floor!
The combination of traditional and contemporary musical elements will ensure an energetic party atmosphere, getting everyone dancing all night long!
7. Plan a Surprise Musical Performance During Key Moments of the Wedding Day
Surprise Musical Performance: Make your modern and edgy wedding even more unforgettable by planning surprise musical performances during key moments. Consider teaming up with talented musicians or performers who can add an unexpected element to the ceremony or reception. For example, string quartet playing a contemporary pop song during processional, or flash mob performing a K-pop theme dance routine at reception. These special musical moments will create unforgettable memories while also adding excitement and anticipation for guests attending your celebration!
Wedding Fireworks: You can further elevate the excitement and surprise at your modern and edgy wedding by incorporating fireworks. Firstly choose the right fireworks for your wedding that will create memorable experience and leave a lasting impression on guests.
Whether it's a grand finale during the reception or synchronized bursts of light and sound, fireworks will give enchantment to your special day. Let your photographer know about it beforehand to he/she will capture the joy and wonder on your guests' faces. This will make your wedding a truly unforgettable event.
Conclusion
Contemporary and edgy wedding decor themes allow you to break free of traditional norms, creating a celebration that truly reflects your individuality as a couple. By exploring unique non-traditional themes, selecting non-traditional venues, using bold color combinations and attire options not typically worn at weddings. By creating interactive seating plans and scheduling surprise musical performances, you can leaves lasting impressions for your guests.
The key to an unforgettable contemporary and edgy wedding celebration is to letting your imagination run free. Stay true to yourselves as a couple, while taking risks without fear. With careful planning and attention to every detail, your wedding will become an unforgettable celebration that celebrates your love story.