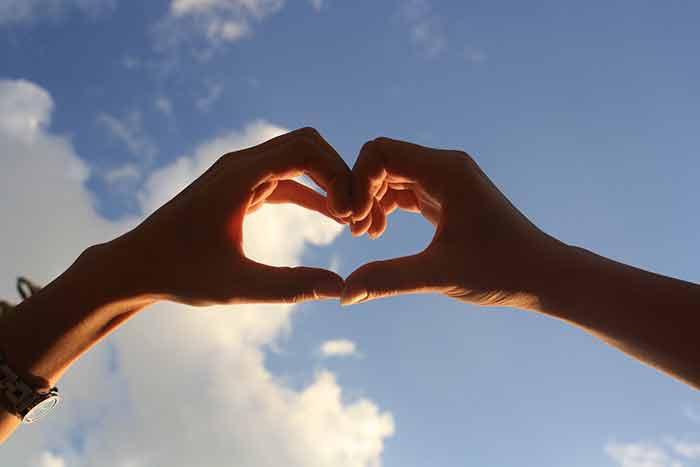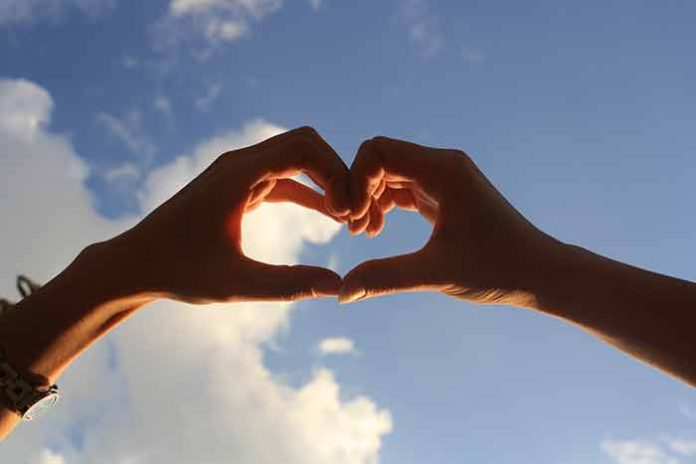 Your true relationship gives you not only spiritual contentment but also physical relaxation to a high level. Physical intimacy is the fundamental need of the human body and soul. Whenever you like someone, you want to stay closer to that person.
You want to touch their body, feel their fragrance, and listen to every word. People connect, kiss, hug, and do other sweet acts to show love. Similarly, couples do hold hands, which is a symbol of affection.
Not only does it reflect their unconditional love for each other but it also ensures the strength of their love bond in the coming years. Here, we have also worked out different ways to hold hands and what they mean. However, we are sure that these eleven ways warm up and seethe your relationship.
Fast Facts about the Different Ways to Hold Hands
Holding hands is not for partners alone. People also like to keep the hands of other relationships like parents, children, friends, siblings, or teachers. It shows enormous respect and honor for that person. Similarly, there are a lot of signs regarding how to tell when holding hands means more than just the gesture itself.
Here, we will discuss the different types of holding hands so that you try them all and enjoy yourself.
Also Read: Soulmate Signs
11 Different Styles of Holding Hands
Did you ever notice that romance starts by holding hands? Yes, it is the first and most beautiful step to expressing feelings. Moreover, it connects two people emotionally, physically, and mentally. That is why hand-holding makes the body comfortable.
Now, let's have some discussion about eleven different styles of holding the hands of your beloved.
1. Interlocked Fingers: The most romantic way to hold hands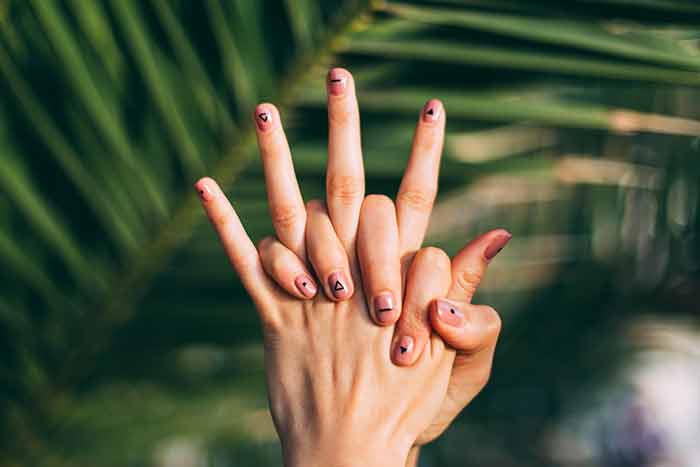 It is the most romantic pose to hold the hand of your partner. The interlocked fingers show the natural intimacy of partners. Also, it reveals the intense connection between two people.
In addition, interlocked fingers provide a high signal of comfort and care. A person feels more involved in their partner. It increases the understanding level and compatibility.
2. Holding Hands at Its Best: The Finger Grab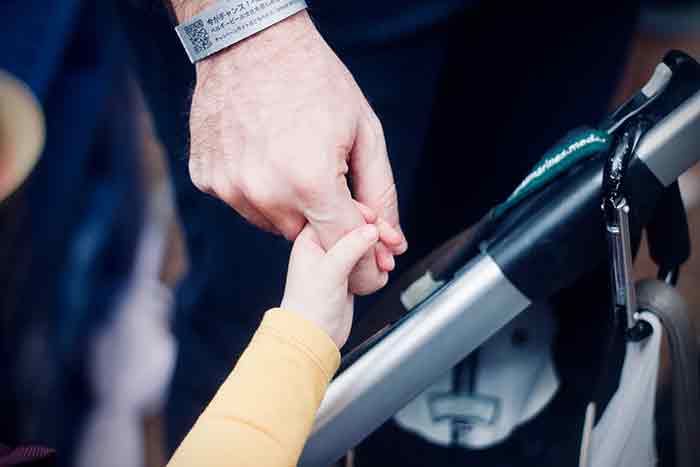 Some partners live their life like the way they want to live. They live free-spirited and willfully. Holding just a few fingers is included in this type.
The finger grab tells that both partners love their alone time. They want their partner to respect their privacy. Still, they have a good relationship. These people share a lot of stuff and have long conversations. Consequently, they live as a good partner without disturbing each other's private life.
3. The Pinky Grab: A Stylish Type of Holding Hands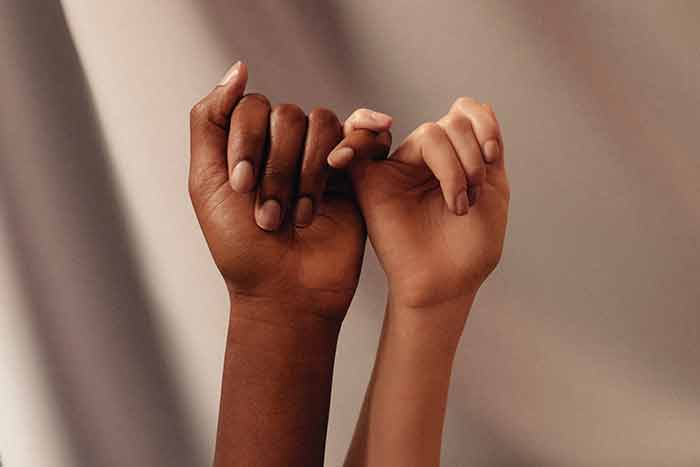 Your partner holding your little finger by their little finger is also a sweet gesture. They are holding their hand in the cutest way. It does not feel so romantic. But, pinky grabs are relaxed and satisfying.
Further, it is a casual grab. Children and friends also hold their hands in the same way. Still, some people consider it a bit flirty. Because a partner may signify romance to the other one, it can also be a romantic or friendly hold.
4. The Dawn Facing Palm: A Unique Way to Hold Hands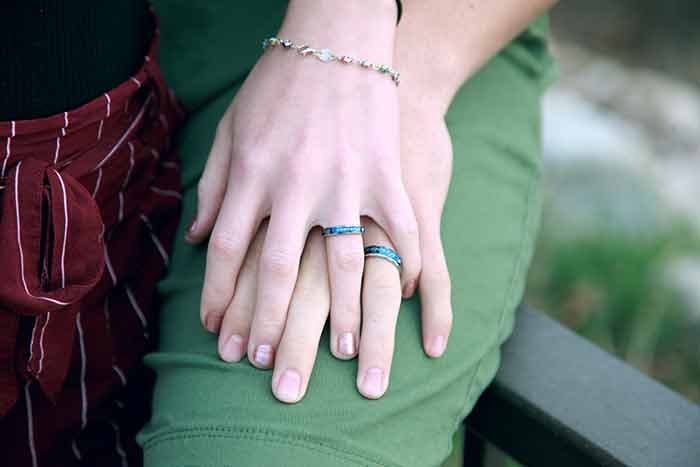 The dawn-facing palm symbols protection. The man's hand is mainly on the top while holding the writing this way. The reason is that men are dominant in relationships. They protect the women and make them feel loved.
Moreover, have you ever noticed that men grab women's hands while crossing the street or going a rough way? That means they want to secure their partner from the hurdle. Also, it shows that they are always by her side.
5. The Wrist Grab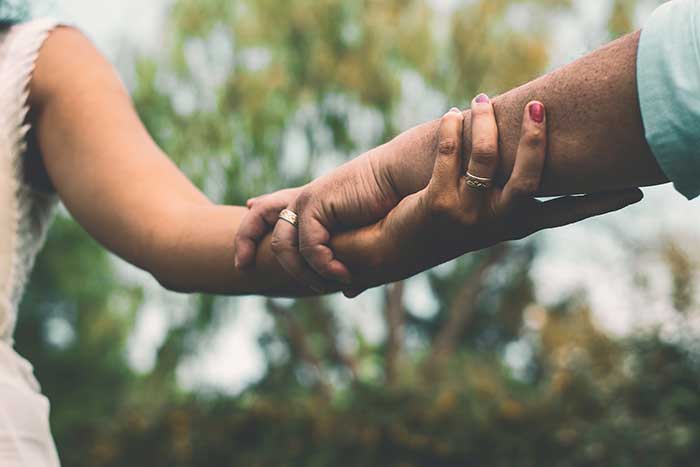 Now, the wrist grab can either be aggressive or romantic. It might be painful or harsh due to aggressiveness. So, if someone wants something from you or threatens you, they will grab your hand through the wrist.
On the other hand, a wrist grab is a passionate act. People hold their wrists when they are more involved with their partners. Moreover, it means your partner wants to feel your body. So, they are touching it a bit intensely.
6. The Over-the-shoulder Lock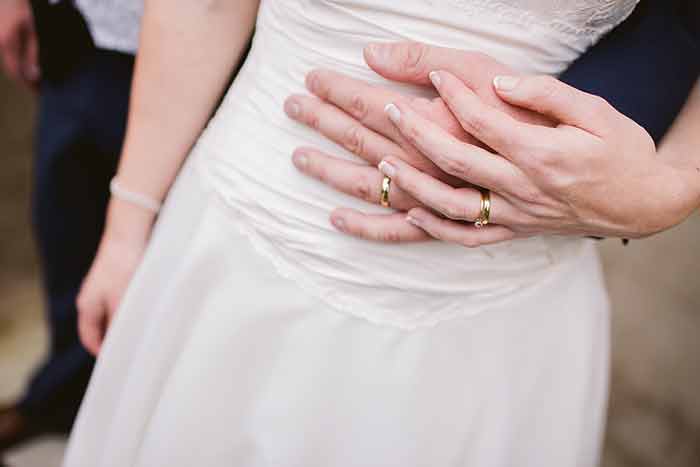 In this way, your partner spreads their arm around your shoulder and then holds your hand. That means they want to make themselves closer to you. It also helps to create a strong and exquisite relationship with you.
The over-the-shoulder lock is a great way to feel someone's body closely. The wrap-up arm makes you feel safe, faithful, and memorable. Moreover, your body undergoes some warmth and particular sentiments.
7. The Passive Hand Holding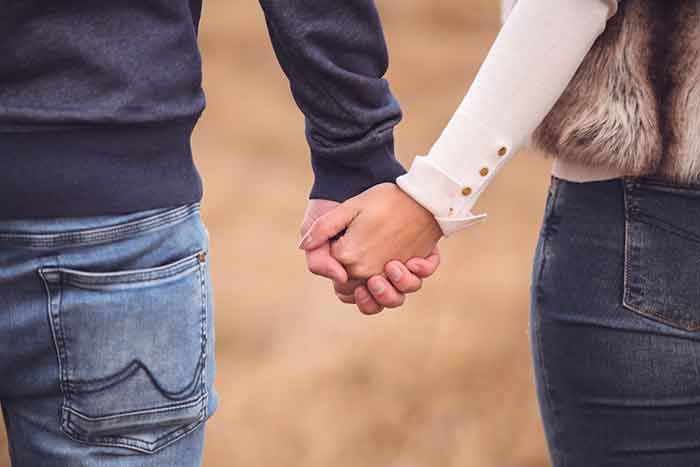 Partners fully grab each other's hands and build a pretty connection. The polite and firm holding of the partner's hand is the passive hand holding. This style represents both the partner's love to live on their frontiers. Also, they cater the things adequately.
They accept things and support each other. Resultantly, it adds charming moments to the relationship. Furthermore, the understanding makes the connections more long-lasting and profound.
8. The My Lady Hand Holding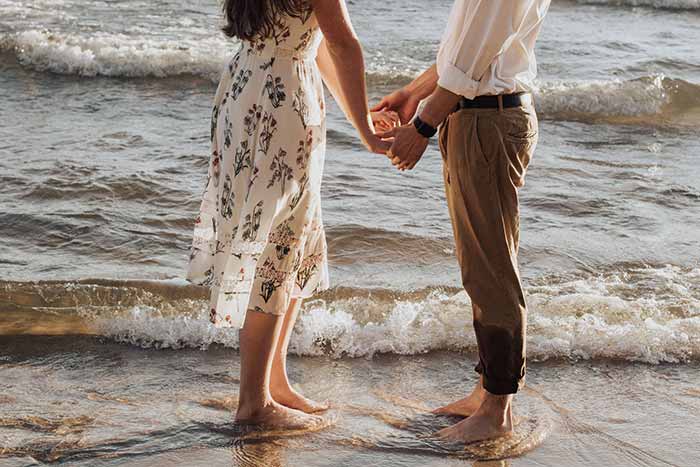 Mostly, we see that style in wedding ceremonies. The couple holds their hands and they both look into each other eyes. It is a priceless pose to hold the hand; they both look amazing. I guess a wedding photo album is nothing without this pose.
Before starting a new life, the bride and groom have a delightful smile fill with hopes. So, by holding hands, they feel so secure and charming. My lady holding hand indicates a healthy and firm relationship.
9. The Relaxed Laced: A Very Solid Way of Holding Hands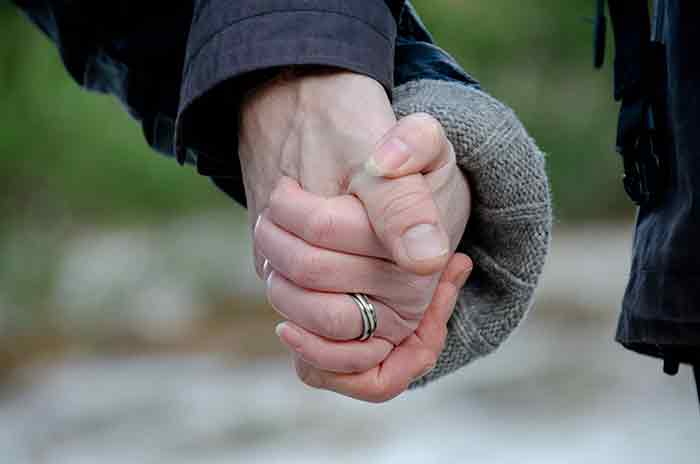 It is the loose but firm grip of hands. It presents a trustworthy relationship between two people. You and your partner's hands are connected and sense the fondness for each other. They completely understand the stance and limits of each other.
In addition, it tells that the relationship is mature and sustained. No minor misunderstandings would break it. They mutually solve their issues and conflicts. So, that sweet little touch is not ordinary. It gives the proper physical connection vibes to your partner.
10. The On Top and Bottom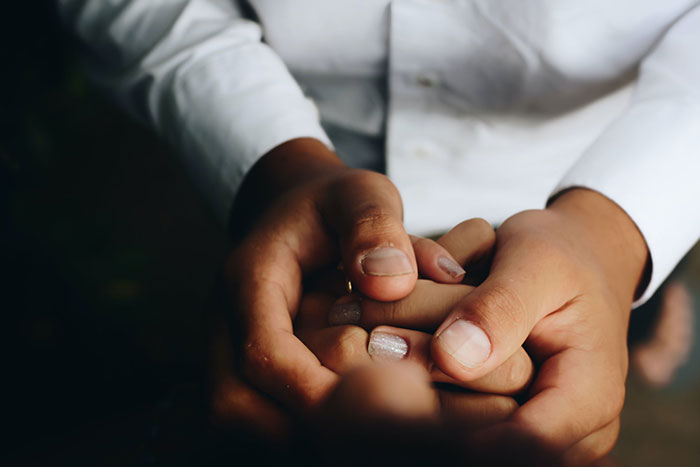 Your partner will hold both of your hands in their hand. They will be looking into your eyes and saying something politely. It is the most romantic and slaying kind of holding hand.
That eye contact would be marvelous and unforgettable. It will provide some solids to prove that they love you and you mean everything to them. Also, if you talk like this, your partner will listen to it carefully.
11. The Not Interlaced Grip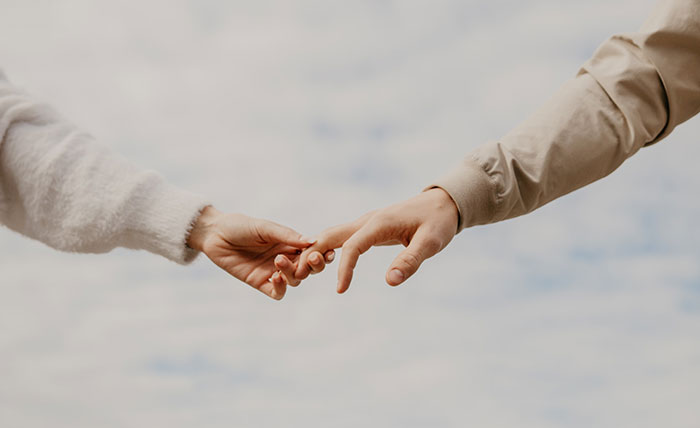 It is a firm but not interlaced grip. Usually, people hold hands like this when they console someone. Also, it keeps the sad or terrified person fine.
It may look like a gentle grip, but it secures the internal feeling of the person. If you are holding someone's hand this way, they will feel comfortable with you. Also, they will trust you.
Conclusion
In the final analysis, holding a hand is not just physical touch. Many emotions are also attached to it. You do express not only your love but also show honor and respect. Grabbing hands is not just a need; it also has surprising benefits to the body. Moreover, it tells you your value for your partner.
Holding a hand is magic. It relieves stress and tension. You get a feeling that someone is around you. Similarly, it reduces physical and psychological pains. Grabbing hands is essential to tighten the bond because physical intimacy is equally vital to emotional intimacy.
Sit and grab your partner's hand even if you have nothing to discuss. Make them feel good with your gentle touch. Though you are not talking with each other, you are connected. Likewise, hold your partner's hand in public. Own them in front of everyone. It will strengthen the trust. Life does not give a chance to wait for a perfect moment. Do not waste time. Just grab the hand of your partner, parents, friend, or sibling and let them know that you love them a lot. Also, their existence means a lot to you.