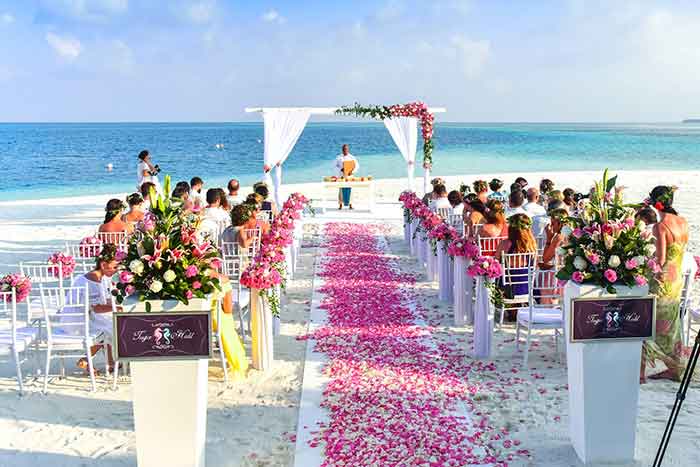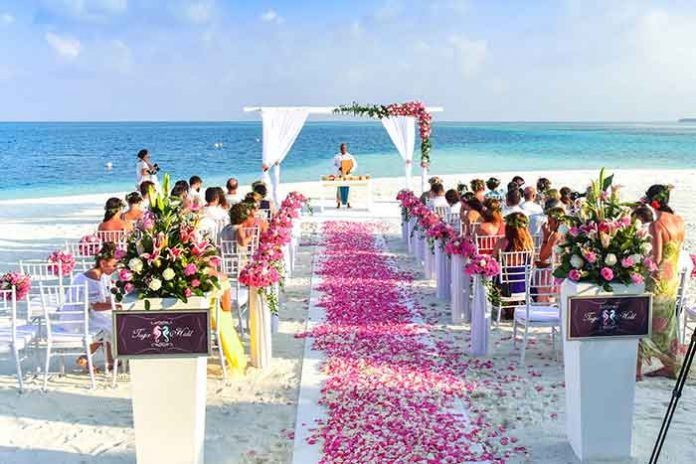 There has to be a reason why summer is considered one of the best seasons to get married. So, if you are planning a wedding between June and August, or at the tail end of September, there are plenty of ideas for you to look out for. In fact, you might be overwhelmed by the great number of summer wedding ideas.
For starters, take some time to think that what represents you as a couple. Remember all the lovable memories you have made together in the past with your partner. Together this will help you explore amazing wedding ideas to celebrate your unconditional love.
In this comprehensive guide, you will find colorful wedding trends, style suggestions, bright wedding colors, theme inspirations, food recommendations and a lot of trendy ideas that will for sure leave a lasting impression on your guests. Therefore, please scroll down below to browse through all of our summer wedding inspirations and ideas.
You Might Also Like: Bridal Shower Ideas
Summer Wedding Ideas: Incredibly Easy Hacks that Work for All
1. Wedding Invites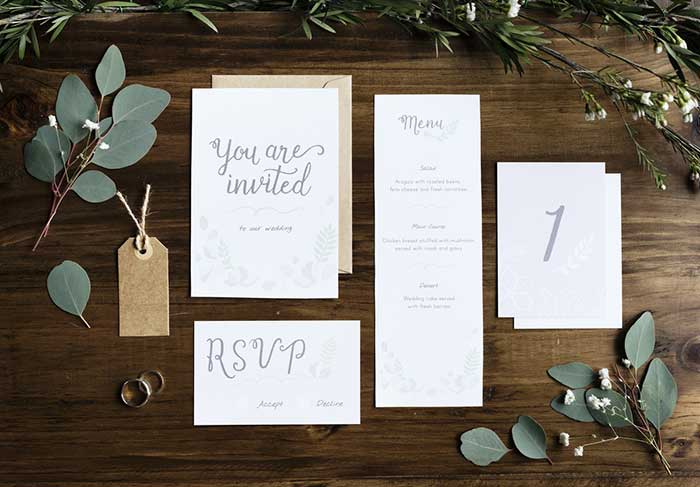 It all starts with the invitations! The easiest yet beautiful way to design your wedding cards is that you can take inspiration from your wedding destination. This will help you to design invites that feature the same floral bright wedding colours, your guests will find at your venue.
2. Choose a Better Time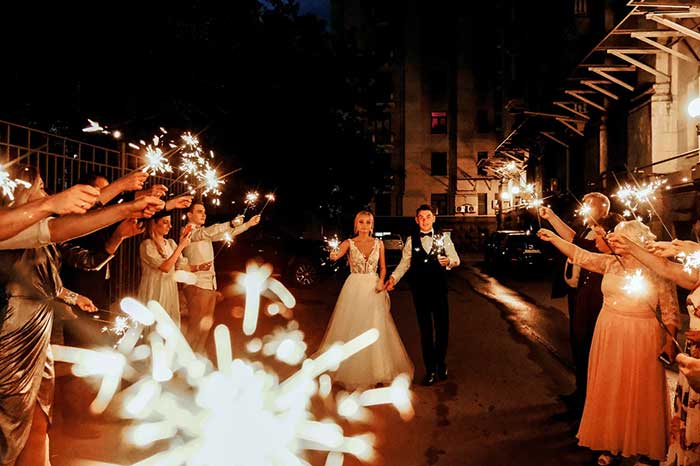 The last thing you would want for your guests is to ask them to stand around in the sun for hours. We always suggest keeping the time of your ceremony and reception short, even at other times of the year. But it's especially essential when it comes to a summer wedding. For this, you can minimize time without shade and try planning your summer wedding to start at cooler times of the day like a sunset ceremony or an evening reception.
3. Decorating Baskets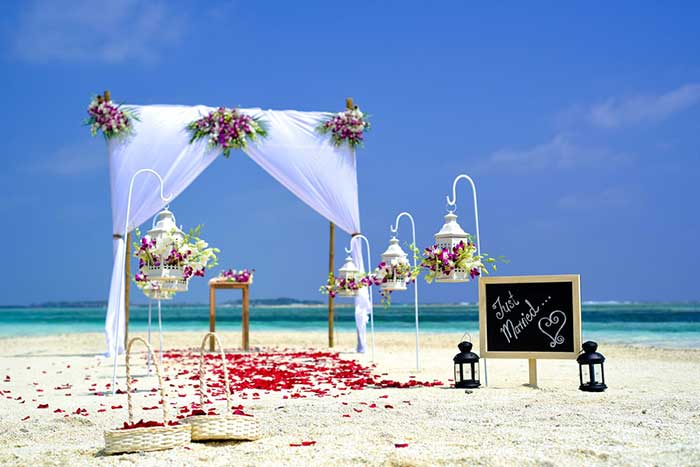 If you are planning a destination wedding, it is important to think of few essentials your guest may need but might not be able to find. For that, you can put together a welcome bag, filled with all the basics like a water bottle, some snacks, band-aids, sunscreen, safety pins and a bug repellent for skincare. We are pretty sure they'll thank you later for such a kind gesture.
4. Install Fans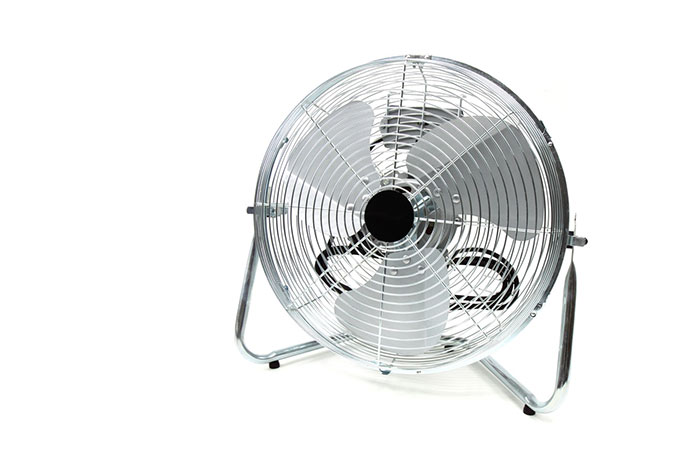 A wedding in summer will definitely need some shades where guests can take some rest from the bright sun. But, if there are no shades, you will have to find another way to help your guests to beat the heat. For that, you can set up a small fan station at your summer wedding.
5. Style with Parasols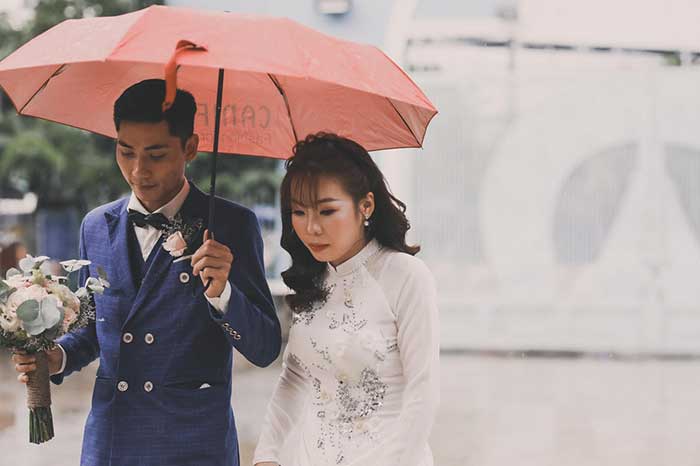 A great summer wedding idea is to include parasols for your guests. People look sophisticated with a parasol in their hand right? Plus, it will also give them protection against UV rays. Who doesn't want a prop that pulls both things?
Read Also: Best Sunglasses for Women – A Perfect Style Guide!
6. Decor with Canopy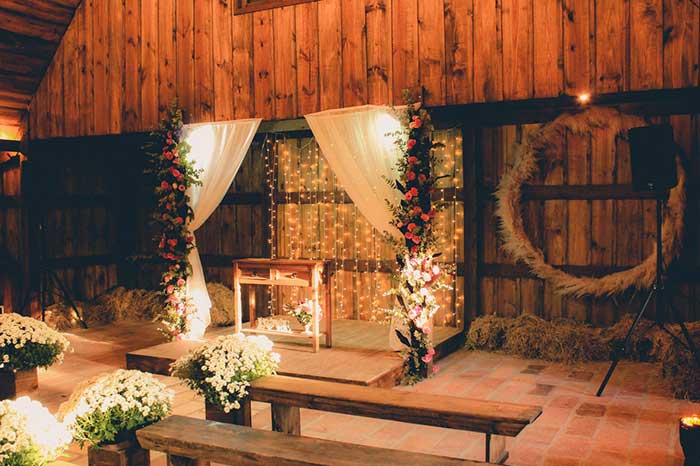 Another incredible summer wedding idea is to dress up the venue by hanging strings lights above your dining area. A canopy of string lights is a perfect wedding idea for summer on a budget. Plus it looks totally gorgeous and creative.
7. Minimal Table Top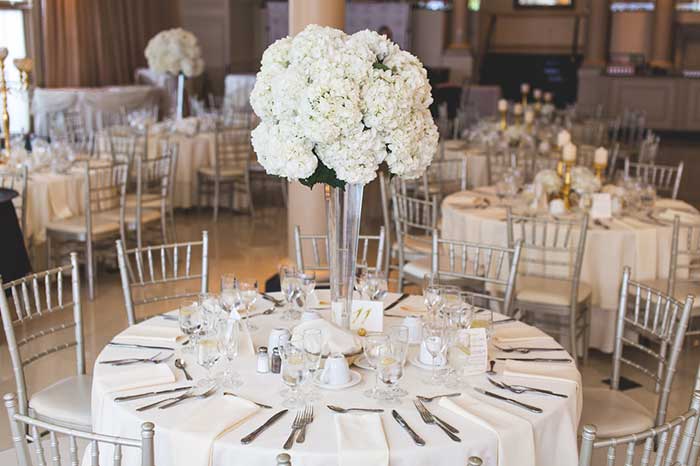 Summers are already full of bright colours. Make sure that you don't take away the beauty of nature by doing heavy decor. Try keeping your table cloth as simple as possible. You can do that simply by using a pastel colour!
8. Dine Under Decorative Flower Hangings
If you are planning a July wedding, don't forget to decorate your dine-in area with some hanging colourful lilies. Hanging lilies is a great summer wedding idea and also is a perfect way to showcase summer's bright hues.
Summer Wedding Menu Hacks
1. Watermelon Snack Bar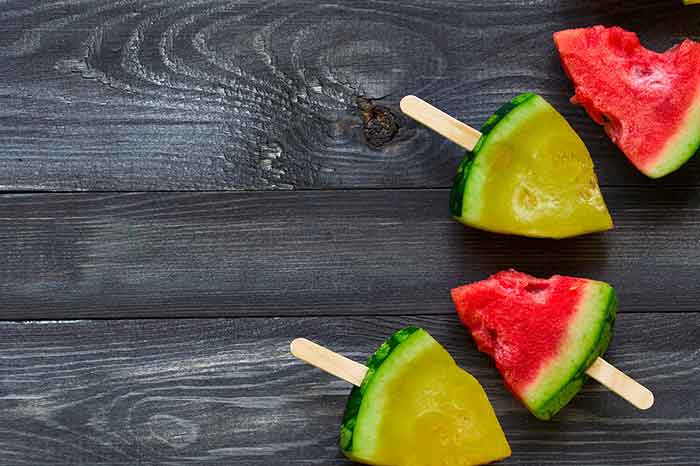 Chances are great that your summer wedding is going to be full of seasonal fruits. Everybody likes watermelon during summertime! For a truly refreshing bite, we suggest you passing around slices of frozen watermelons on a stick.
2. The Coconut Water Bar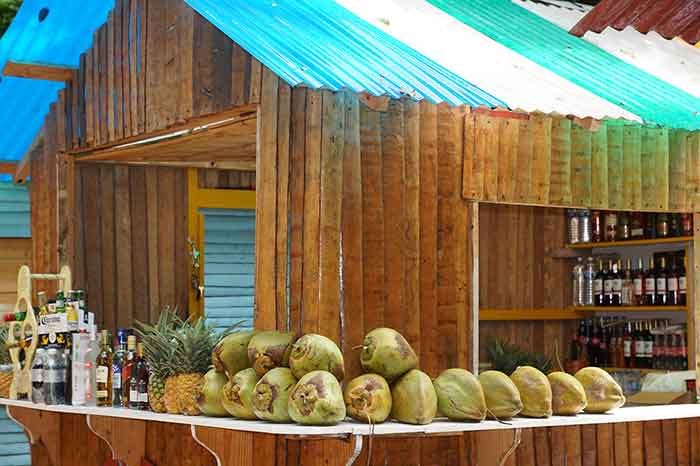 It would be best if you kept your guests hydrated when planning a summer wedding. A great way to do that is to install a coconut water station. This tropical beverage will fulfil their thirst and also, coconuts are incredibly Instragammable!
3. Simple and Plain Menu for Summer Wedding Ideas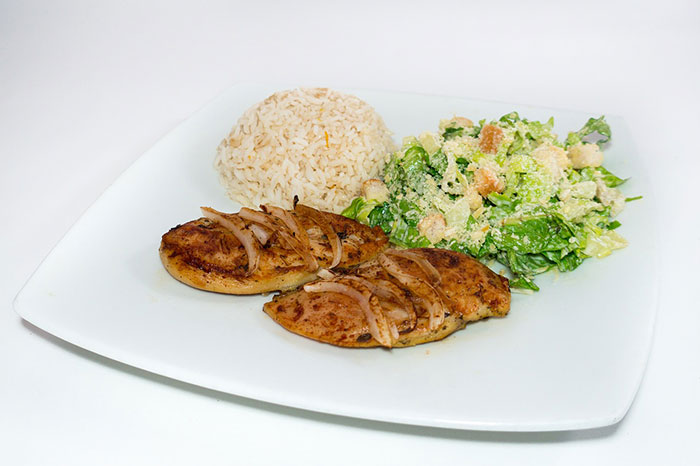 There are places and times for heavy five course meals but surely your summer wedding is not it. Try sticking to refreshing, lighter menu, like simple grilled chicken or fish, seasonal sautéed vegetables of a fresh salad.
4. Cocktails and Drinks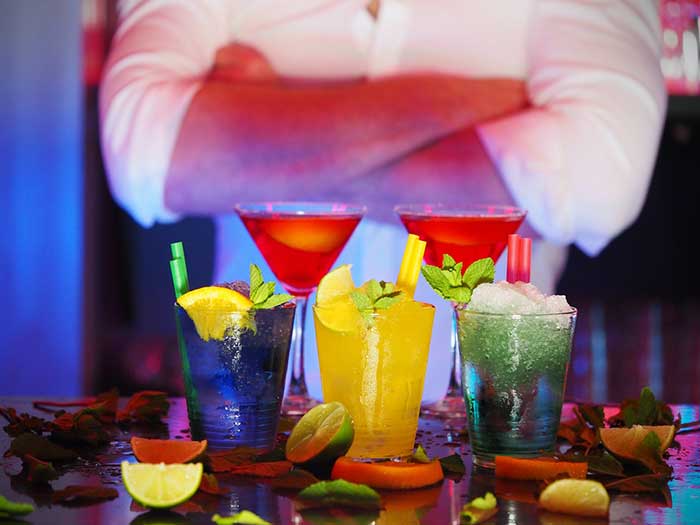 When planning a wedding in summer, don't forget to include signature cocktails to keep the guests cool. Focus on flavours like mint, cucumber and berries which are always crowd pleasers!
5. Delight of Berry Bites
When your guests are fully dressed and outside in the direct sun, they will definitely crave for something refreshing and bite-size! That's why fresh little raspberries cones on your menu is a great summer wedding idea for a bright summer day.
6. Appetizer and Snacks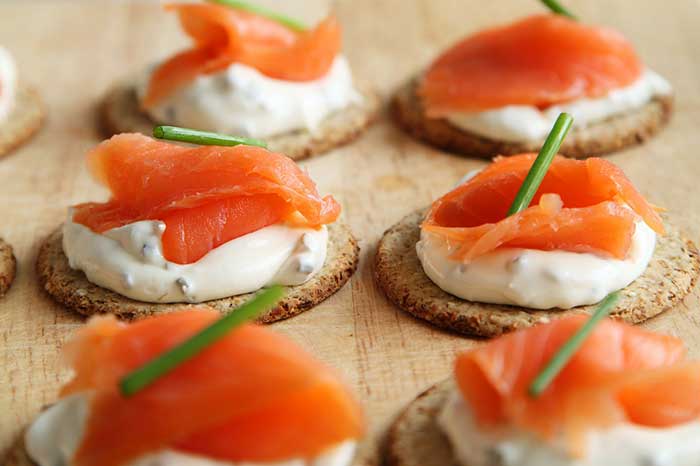 Another amazing summer wedding idea has to be passed appetizers. For that, you can think of everything you enjoy munching in your backyard in hot days of June and July. Whether there are tacos, hot dogs, BBQ or burgers, leave it to your caterer to make them cocktail hour ready. Who would have thought that BBQ could be fancy enough for a wedding?
Hand-Picked Content: Eel Sauce (Unagi No Tare) Recipe
7. Summer Wedding Desert Corner Ideas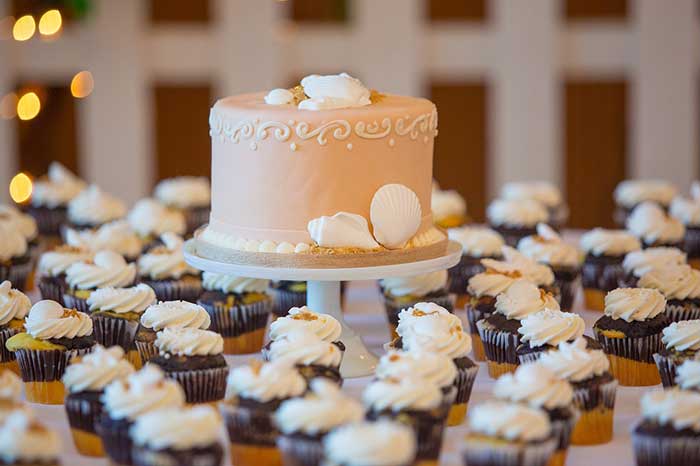 Want to really surprise your guests? Request your caterer to make summer-friendly desserts and have them decorated on a station with chilly treats like popsicles or ice creams. This will surely help everyone cooldown on the dance floor. Alcohol added shaved ice is an adult friendly option to elevate your summer wedding menu even more!
8. The Big Day Cake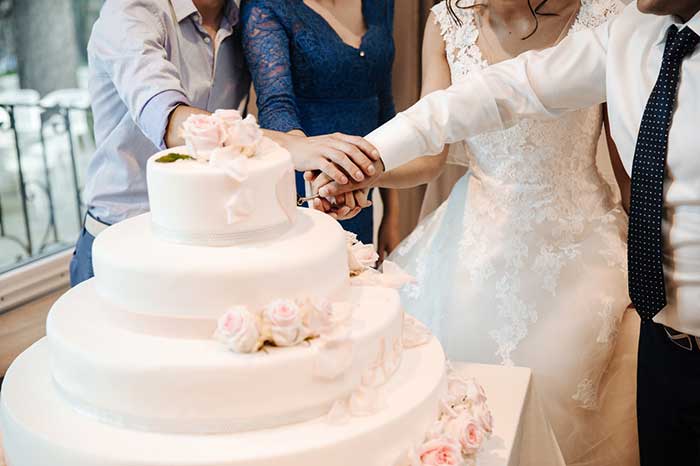 For a wedding cake in summer, it must be themed with bright summer colours like yellow, or orange. Plus all summer wedding cakes needs just a few beautiful flowers for topping which are enhanced even more by some sunshine?
Summer wedding ideas for the bride and guests
1. Neat Hairstyles (Summer Wedding Ideas)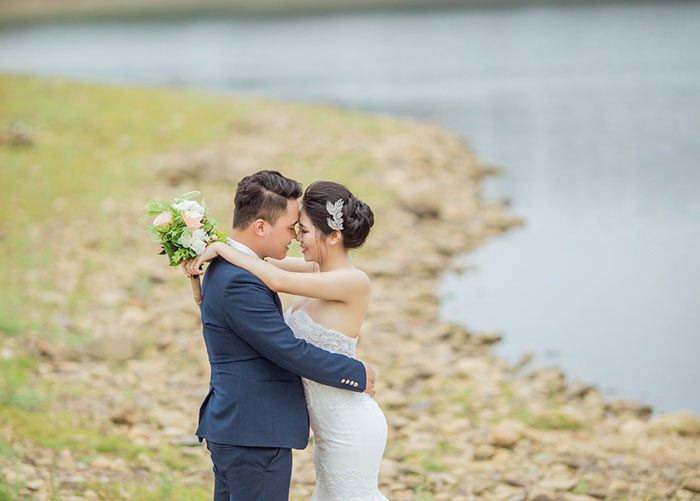 Taming hair into a perfect flowing do is hard for most of the brides and bridesmaids on a hot humid day. Especially, when it comes to waves and long curls, they are always disastrous. So to fight humidity and hair frizz, ladies should try tying their hair or at least, pull part of them off their neck and face to stay cool as well as picture perfect.
Related Content: Adorable Styles for little girls to give them a new look
2. Light Dresses for Summer Wedding Ideas
This summer wedding idea is a critical one. Whether it's your groom's suits, your summer wedding dress or your bridesmaid dress, stick to flowing, lighter fabrics that will keep everyone chilly. Sweaty grooms, brides, and attendants do not make for an attractive wedding photograph.
3. Summer Flowery Walls Wedding Ideas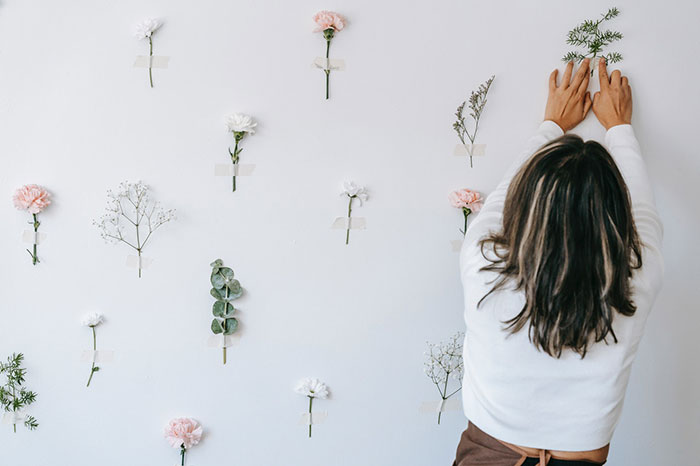 Think for yourself, how can you make your wedding extremely Instragrammable? An easy way to do that is to make a flower wall. This must be on top of your summer wedding ideas. Surely, it is better than opting for big floral centre pieces, as the wall will also let guests pose in front of it and smell flowers as they walk by on.
4. The Getaway Bride and Groom's Car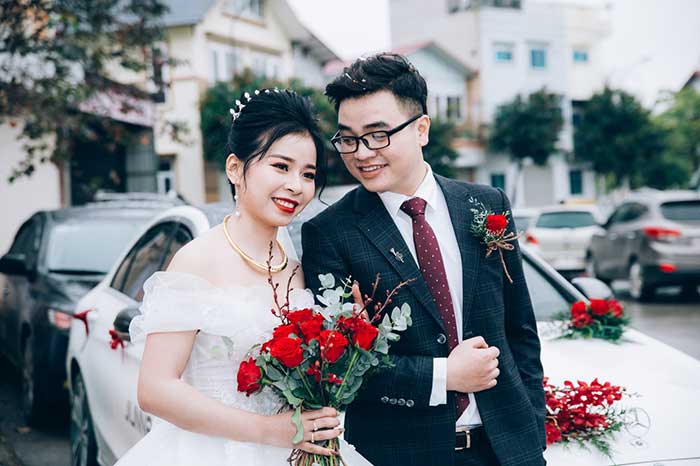 Even though the end of your wedding is going to be quiet bittersweet, but it's also incredibly exciting. Whether your marriage is love or arranged, this is an emotional time as all your guests stand and wave at you and your spouse as you embark on living the rest of your lives together. To make such a moment even more memorable, opt for an open cart. It is perfect summer wedding idea for a getaway car!
Final Take:
There are many fun ways to plan your summer wedding, whether you stick to tradition or follow these amazing summer wedding ideas; it's totally up to you. But we are sure that these summer wedding ideas and top tips for celebrating your real love are helpful and we can't wait to see your wedding day dreams become true. We would be delighted to hear all about your big day in the comment section below.