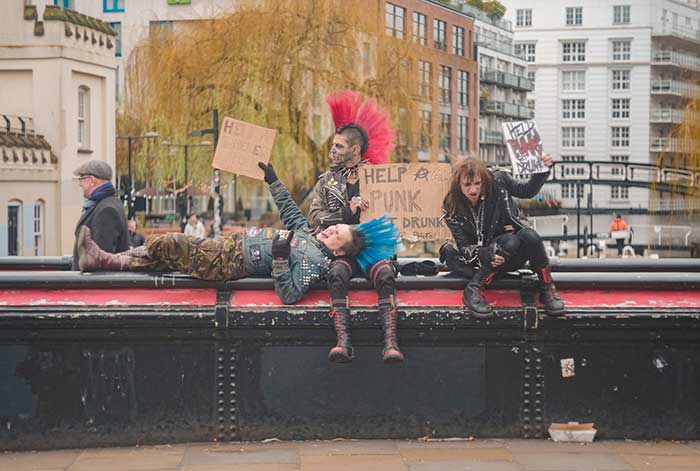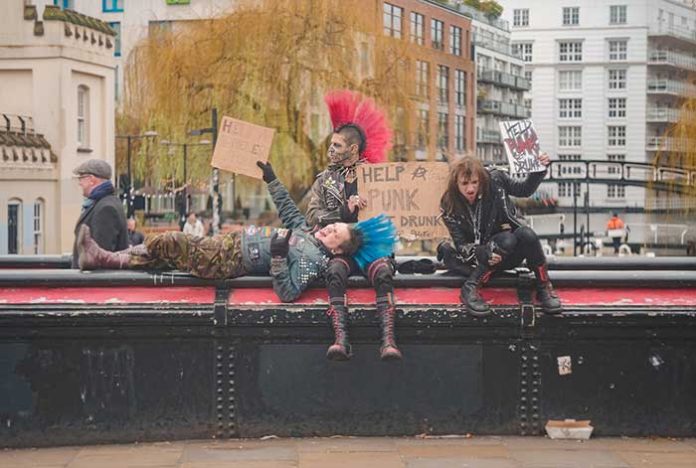 For teenagers, punk fashion is an appealing aesthetic. And rightfully so, it's edgy and antinormative and screams some of the most common sentiments that young people feel. Namely, a lack of identity, anger and frustration at the authority, a streak of rebellion and a desire to express themselves. Undoubtedly, there is no one who hasn't felt themselves being attracted to punk music or punk fashion in their younger days. So, this article is for everyone. Whether you're a teenager looking for alternative fashion tips or an older person wanting to relive some of the nostalgia of your youth. Here is your quick guide to 70s punk fashion.
What is Punk? A Brief History of Punk and its Subcultures
But first, let's understand the punk movement and aesthetics a bit more. Originally, punk began as an alternative music genre in the form of aggressive rock music. However, it soon spread as an ideology and fashion aesthetic.
Like everything else, it came about as a reaction to its predecessors. That is to say, where the pastoral themes of the hippie movement of the 1960s, with their psychedelic rock music and messages of love, peace and unity for all stood for the supremacy of nature and rural life, the punk of 70's celebrated the urbanism and reclaimed the inner-city life. However, it was staunchly against authoritarianism, consumerism and corporatism.
In fact, punk believes in the freedom of the individual. Therefore, much of punk music was released by independent artists without any attachment to any record label or giant company. They seriously believed in doing things themselves. This is also reflected in their fashion choices, much of which were DIY (more on that later). All in all, punk exerted a lot of influence and punk subcultures expanded over diverse mediums such as fashion, political ideologies, literature, art, dance and film, etc.
Read More: Book Characters for Girls
How to Rock that 70s Punk Fashion Aesthetic? Follow these 10 Tips!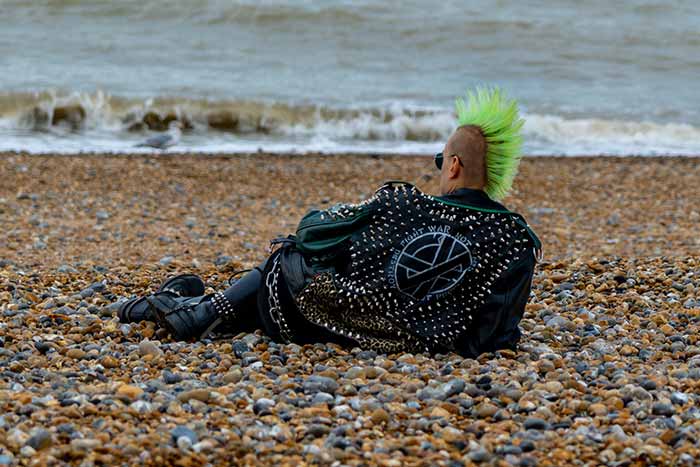 The punk look is actually pretty simple and budget-friendly. You won't need to buy any expensive items for this look. Follow the given tips to do punk fashion right!
1. It's all about DIY
As said earlier, punk fashion of the '70s relies heavily on DIYs due to their Anti-materialistic and anti-mainstream ethos. There's no way they'd support big fashion companies who churn out normative clothes in the name of trend and charge hundreds of dollars for it. Punk fashion is all about expressing yourself and doing it in an affordable way. That's why hit your nearest thrift store for the punk fashion look. Buy used clothing that is inexpensive and give it your own touch. It could be something as simple as getting a graphic t-shirt and pairing it with edgy jewelry and some leather belts. A plaid pattern t-shirt with ripped jeans is a classic outfit for male 70s punk fashion. Similarly, plaid skirts with a cute black t-shirt top are perfect for women's punk fashion.
2. Rip some Jeans – No, not the Gen Z way!
You must have seen the TikToks of Gen Z burning skinning jeans and favoring baggy, wide-bottom, embroidered jeans instead. The punk aesthetic is the total opposite of that. Skinny and ripped jeans are a key element to your outfit. For maximum punk feels, it is recommended that you rip your jeans with a razor blade yourself.
3. Add some Safety Pins, Razor blades and Needles to look Edgier
Since most of the followers of this aesthetic were teenagers, they lacked money. It is understandable then, why they prefer DIYs and cheap clothes. Interestingly, the iconic safety pins and blades that you see as part of the punk look started out as a cheap and quick way to fix your torn clothes. Gradually though, it turned into an intentional decoration and a symbol for punk aesthetics. Furthermore, they're also seen as a form of solidarity with the self-harming tendencies teenagers suffer from.
4. Incorporate even more Steel into your Look with Piercings
Facial piercings are key to punk fashion. Not just for women but for men also. Particularly, septum piercing, nose piercings and lip piercings are popular. Multiple ear piercings, such as industrial, helix, cartilage, and tragus are a must.
5. Provocation is not just for women – Bondage accessories are a staple of men's 70s Punk Fashion too
When you think of 70s punk fashion, the first thing that comes to mind is chokers, piercings, leather and safety pins. Indeed, it won't be wrong to say that the punk aesthetic is provocative. It incorporates much provocative clothing such as fishnets, S&M and BDSM fabrics such as leather, rubber and PVC as well as studded leather chokers and even dog collars. Punk fashion is gender-neutral as well. Both men and women can use these accessories to complete their punk look.
6. Don't Forget that Leather jacket
The punk look is far from your regular streetwear aesthetic. Proof? The leather jacket. The popularity of leather jackets spans multiple different genres and fashion looks, both mainstream and non-mainstream. However, no form of rock look is complete without the iconic leather jacket. In particular, leather jackets studded with metal and spikes are a key element to punk aesthetics.
7. Time to Dye your Hair Neon Green – or Red – or Blue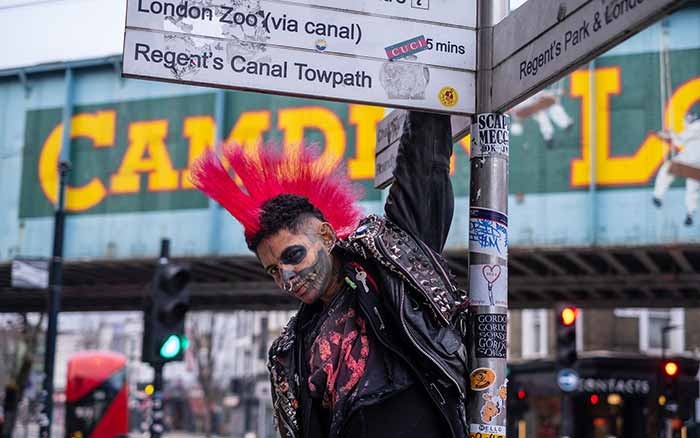 Another thing that immediately comes to mind when thinking of punk aesthetics is dyed hair. Punks deliberately dye their hair in unnatural, vibrant colors. It doesn't have to be jarring. There are many bright hair colors that look absolutely stunning. Just make sure to go to a really good hair artist so as to not ruin your hair! You can also use temporary hair color sprays if you don't want to bleach and permanently dye your hair.
8. Is Mohawk not your style? There are plenty of other Punk Hairdos
The mohawk is one of the trendiest haircuts for punk followers however, it's not everyone's cup of tea and is difficult to pull off. No worries! There are plenty of other options for you out there. Generally, punk hairstyles include gelled hair with spikes and long bangs covering most of the face. Shaved or partly shaved heads are also a punk aesthetic.
Read More: Mastering Short Hair Trends
9. Comfortable footwear! Chunky boots and Trainers are key to 70s Girl Punk Fashion
Fortunately for women, punk fashion doesn't include painful heels. In fact, it supports comfortable sneakers, trainers and army boots. For maximum aesthetics, use boots with chunky platforms and studded or spiked embellishments.
10. Complete the Look with some Black Lipstick and Heavy Eyeliner
No look is complete without complimentary makeup. For the perfect punk makeup, use some heavy eye makeup and especially black eyeliner. Additionally, red shades are popular too. Black lipstick is a must as well!
Final Words
The punk aesthetic is really an iconic look. Fortunately, it is pretty simple to achieve it. In its most simple form, it consists of a t-shirt, ripped jeans and a leather jacket paired with some edgy piercings, chokers and black makeup. With the above-mentioned tips, we hope you can achieve this look flawlessly!
Want more Fashion Tips? Check-Out: Winter Hats for Women