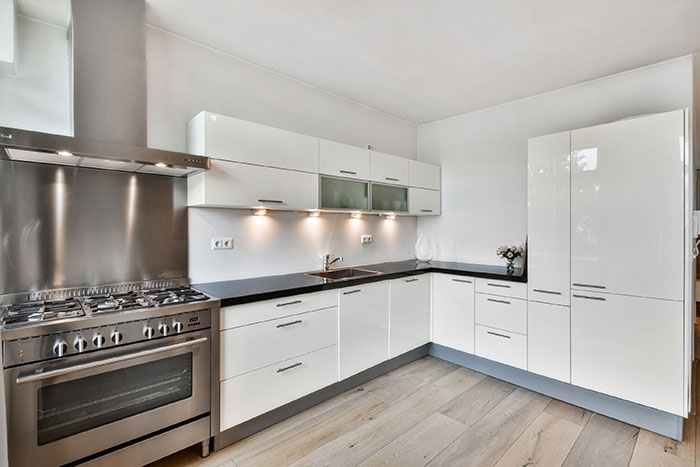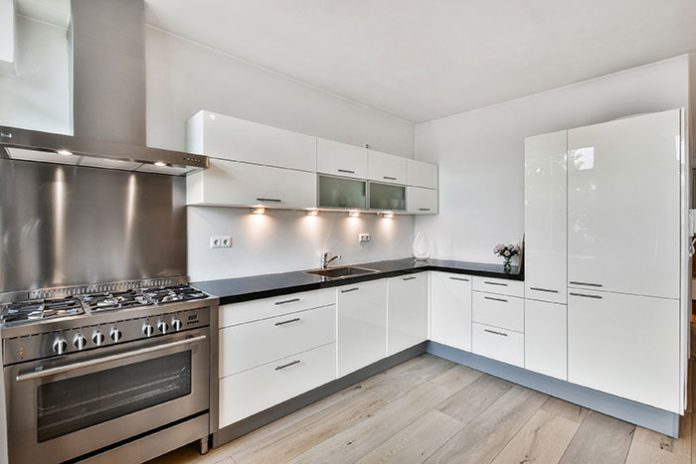 Every home's kitchen is its heart and soul and is definitely the most happening place. However, decorating it has never been an easy job. We know the struggle one has to put in order to transform the busiest room in the house into a chic one. Not to mention that decorating a kitchen with no windows can prove to be an even bigger challenge.
10 Killer Ideas to Decorate a Kitchen With no Windows
Especially when living in an apartment, not every kitchen has a window over the wall. In the absence of one, things can start to feel a bit cramped and dark. However, windows or no windows, if you're looking to update your cooking space and transform it into a more sophisticated and trendy place, we've got you covered.
Our kitchen designs without windows feature interesting options to help you decorate your kitchen. Let's check them out, shall we?
1. Make Use of Mirrors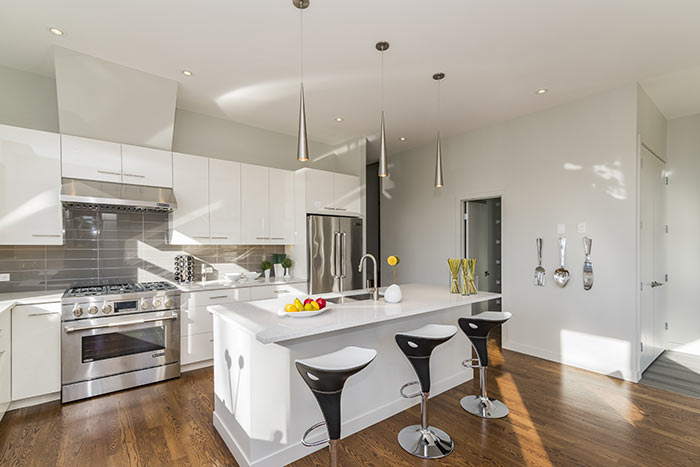 Mirrors are fun; they can instantly brighten up a place. Therefore, if you have got a kitchen without windows, the next best thing you can do is add a mirror to make it brighter. You cannot get the same aesthetic look in your kitchen from anything else that can expand space and diffuse light the way it does.
2. Add Kitchen Wall Art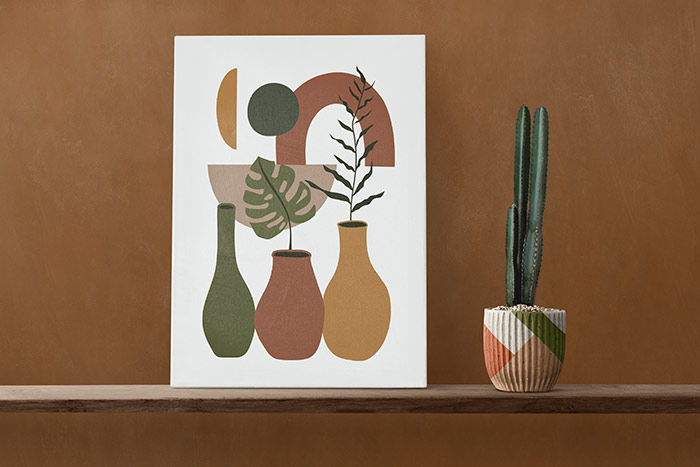 We know that kitchens can appear to be quite boring as there are usually no decor that you hang there. So, if you hang your art pieces in the kitchen, you will enjoy spending time there and working there.
Showing off your artistic creations in your kitchen is a trend these days. When you combine colors and textures, it looks great. For instance, you can hang your favorite culinary quotes on the wall. They can be humorous or motivating.
Similarly, you can also display canvases from various painters on the walls. Furthermore, you can easily cover the kitchen walls with hanging landscape paintings depicting beautiful natural scenes like skies, oceans, or trees. Your kitchen will not only be more colorful but will also make it more fun to work over there.
3. Bring in Nature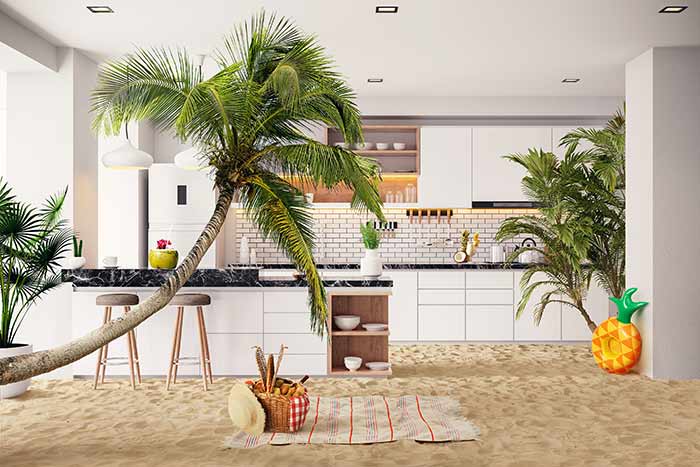 Even if you do not see the window, you can bring out the outside scenes by hanging some plants over the sink. We know a kitchen sink without window doesn't look that much appealing. But, bringing greenery inside is one of the best decisions you can make. When you are inside, plants let you enjoy nature and provide fresh air.
Wooden floors look great with greenery. You can also consider this when you're refinishing your old table. Consider adding plants such as herbs as they'll help you in cooking too. Moreover, keeping busy with your own plants and getting fresh vegetables from them will help keep you occupied.
4. You Should have Open Kitchen Shelves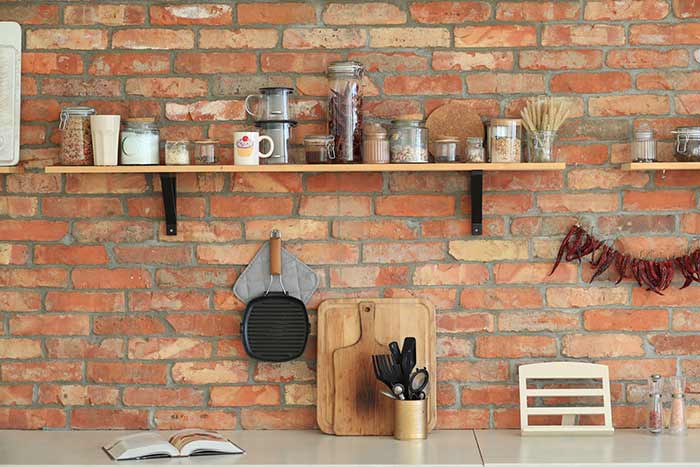 Design experts recommend that if you have a kitchen with no windows, you should incorporate white more. If you make the foundation of any kitchen design without windows to be of a light hue, the entire space appears brighter. In addition, walls with white tiles will appear elegant.
If you install open shelves in your kitchen, you can display your fine white plates, bowls, glasses, pottery, vases, and cookbooks on the open white porcelain shelves above the counter. Hanging open shelves can create an orderly pantry.
The open shelves will make it easier to find everything when needed. This will not only reduce the cost of the cabinet doors but also give the impression that the kitchen is large and open. A kitchen layout reflecting the homeowner's sense of style will appear more elegant.
5. Invest in Good Kitchen Lights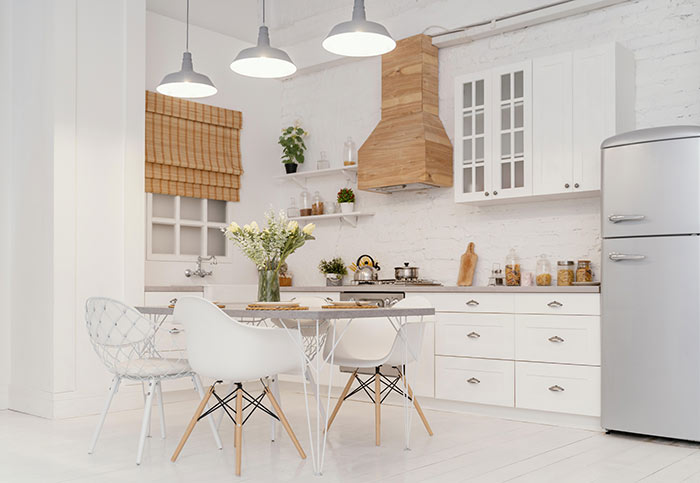 For kitchens that lack windows, it's difficult to have adequate light as there will be no source of natural light. To fix this, it's necessary to set bright bulbs and different hanging bulbs for decoration to make your kitchen look brighter and neat.
Also, lights play a significant role in the overall look of a place, so make sure your amount of light is set. So, if there's no natural light in kitchen, then you must add some extensive lights to it, so it doesn't appear gloomy or dark.
6. Marble Kitchen Island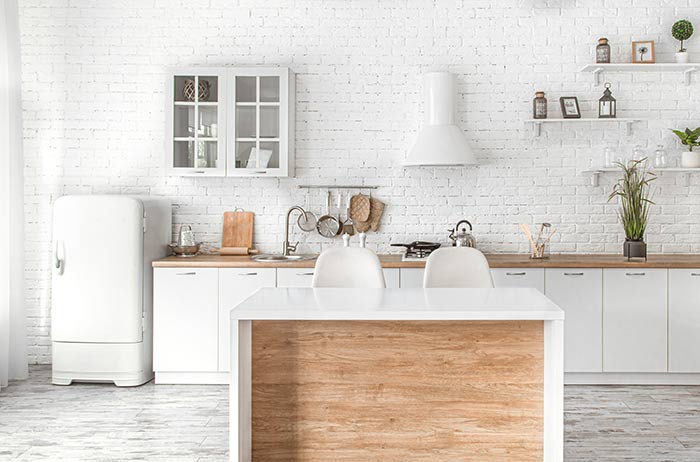 A kitchen without windows is a good candidate for adding marble. Maintaining a marble kitchen is simple, and it looks stylish. Additionally, marble's shine and smooth surface can reflect light, illuminating the room.
A marble kitchen island may include stools and cabinets hidden inside. Adding marble is an excellent idea, especially in the basement kitchen with no windows.
7. Install Backsplash Tiles for Kitchen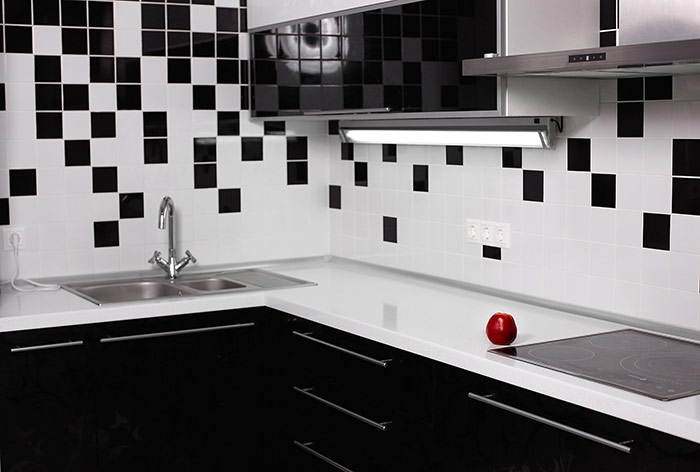 When in doubt, go for a violent backlash! If your space lacks natural light, choose a tile style with a shiny finish. Your area will appear more light thanks to the reflection.
8. Open Up your Kitchen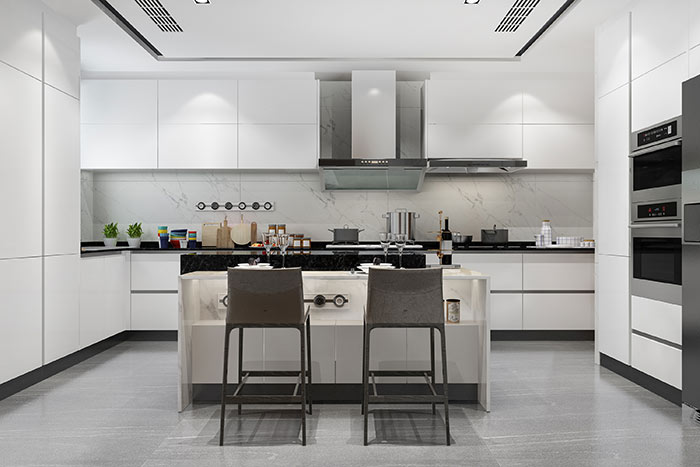 If possible, remove a wall from your kitchen and make use of a nearby dining room or living room. Consider this when trying to come up with ideas on how to ventilate a kitchen without windows.
Having a portion of an interior kitchen wall will also allow you to create a pass-through. You may converse with family members or visitors while allowing light from the open doorway to enter the kitchen. Consider installing a ceiling fan in your kitchen for added ventilation.
9. Choose Reflective Surface for Kitchen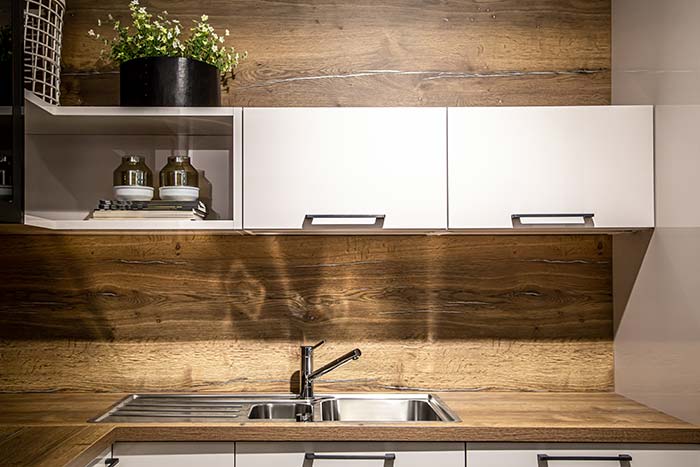 Any available light can be carried throughout the kitchen via reflective surfaces. This might be anything from shiny tiling and countertops to stainless steel equipment. The kitchen might appear larger and brighter if a mirror is added to one of the walls. Consider adding anything reflective to a gloomy kitchen corner to brighten things up.
10. Add Kitchen Cabinet Lights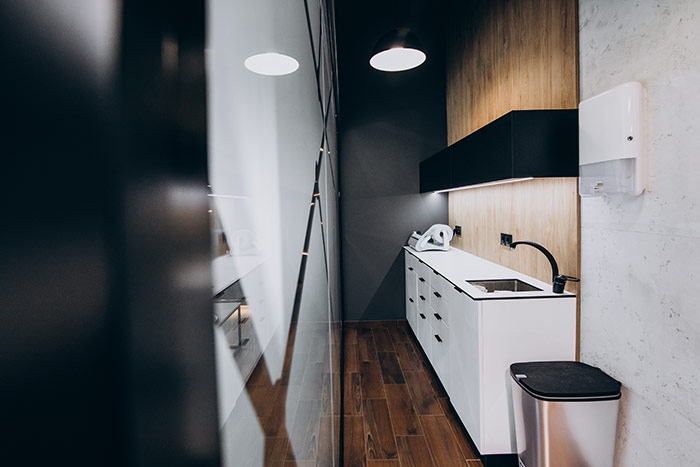 For a kitchen without windows, it is difficult to see inside the cabinets, which is why you have to install lights inside them as well. You can also install fixed lights in your cabinets if you want something permanent.
Some people use push-button lights in their cabinets. If your cabinetry has glass doors, in-cabinet lighting can help illuminate the kitchen and highlight the goods you have inside. This is particularly essential in a small kitchen with no windows.
Before We Part!
We know that decorating your place is never easy and easily become a headache if not done right. However, we hope the above ideas will help add more color, light, and space to your kitchen with no windows.