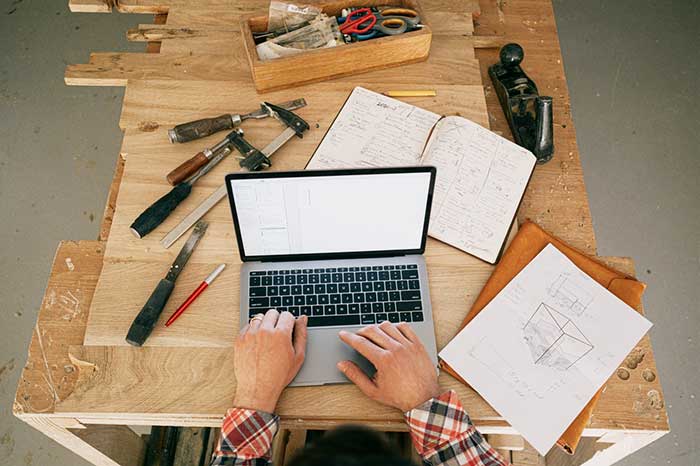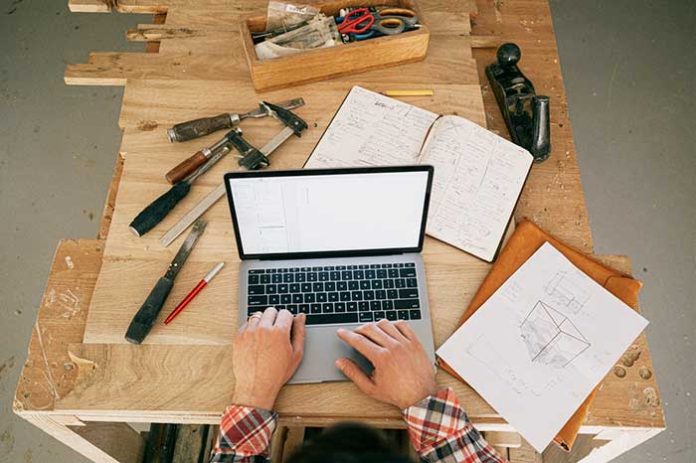 We all want our furniture to look sparkling, clean and brand new, but keeping them in this mint condition is no easy feat. But fret not; we're here to the rescue. If you also have a dining table whose topmost surface is now blotchy, scratchy, and old, then, my friend, you don't have to worry because you can fix it in no time. There are numerous ways to refinish dining table, and trust us, after going through this guide, you'll be able to do it on your own.
Do You Need Prior Experience To Refinish A Table?
Unlike the common misconception that you need a professional to refurbish your furniture, you can effortlessly do it yourself (Unless you own the one of a kind extremely rare and valuable cocobolo desk, then we might suggest you hand it over to experts). Designers and woodworkers aren't the only people who can refinish a table. You can breathe new life into a tired flea market find despite the condition it's in, even if you've never touched sandpaper before.
Technically, if you plan to stain rather than paint the surface, you don't even need sandpaper. DIY projects are not confined to tables or furniture either, you can easily give a makeover to any part of your home.
On Anoter Note: You can easily transform your bedroom, living room, kitchen, loft, patio and garden space as a DIY project.
So, without further ado, let's get started, shall we?
Tools You'll Need to Refinish Dining Table
These are some of the items that you'll need when starting a DIY project on how to refinish a table.
Stripper & putty knife (if painting or varnishing table)
Oil based stain
Oil-based polyurethane or Tung oil
Sandpaper of 100-, 150-, and 220 grit
Stainless steel wool
Brushes for staining disposable
A cotton rag
Cloth for tacks
Optional orbital or belt sander
Chemically resistant rubber gloves
A long-sleeved shirt
Eye protection (splash-proof goggles)
A mineral spirit
Steps to follow for refinishing a tabletop
If you're looking forward to giving your worn dining table a fresh look then follow these steps to begin:
Prepare the Surface
Before starting any DIY refinishing project, be it refinishing table tops or polishing wooden furniture, you have to thoroughly clean the surface. So, to remove dirt and oils from the table's existing finish, use gentle soap and water. Moreover, it will prepare the surface for sanding a table if it's a stained table or stripping if it's a painted or varnished table.
Also Read: House Cleaning Tips
Apply the stripper
In the case of painted or varnished tables, you will need to strip the surface. Chemical stripping agents are readily available at your local home improvement store. If you are working with chemicals, follow the manufacturer's instructions and wear protective equipment, including gloves, long sleeves, and eye protection. Inhaling these chemicals can be harmful, so work in a well-ventilated area.
After leaving the stripper on as long as recommended by the manufacturer, use a broad putty knife to remove the finish. Follow the grain of the wood and keep the putty knife at a low angle to the table's surface to prevent gouging. The putty knife should be wiped clean between scrapes with a cloth.
In cases where the previous finish has penetrated fine cracks in the wood, you may need a second or third coat of stripper. Wipe the table after removing the paint or varnish with fine steel wool.
Use Mineral Spirits to clean
After stripping has been completed and the surface is dry, wipe the surface with mineral spirits using a clean cloth to help remove the leftover stripper. Let the table dry completely before moving on to sanding it.
Sand the Table Surface
Smooth the table using sandpaper after taking off paint or varnish or removing a stained finish. If you intend to use either an orbital sander or belt sander, be very careful not to gouge the surface. Sand primarily with 100-grit sandpaper, then move up to 150-grit and finish with 220 grit to smooth out the grain. Sand until the grain appears smooth.
After finishing, clean the sanding dust off of the surface with a tack cloth.
The Stain Needs To Be Applied
Following the wood's natural grain, apply stain with a disposable brush. Using a soft cotton rag, wipe off excess stain by applying it liberally and rubbing it into fine cracks in the wood. Synthetic rags won't soak up excess stain.
If you wait longer before wiping the stain off the wood, the final color will be darker. To ensure an even finish, apply the stain a little at a time so you can wipe it off right away.
Stain your wood with two coats, at the very least. If you want a deeper color, apply more coats. Using 220-grit paper (or very fine steel wool) and tack cloth between coats, lightly sand the surface. A stain causes the wood fibers to swell as they soak up the stain. Therefore, it is necessary to sand between coats to get rid of swollen fibers so that the surface remains smooth.
Apply Final Finish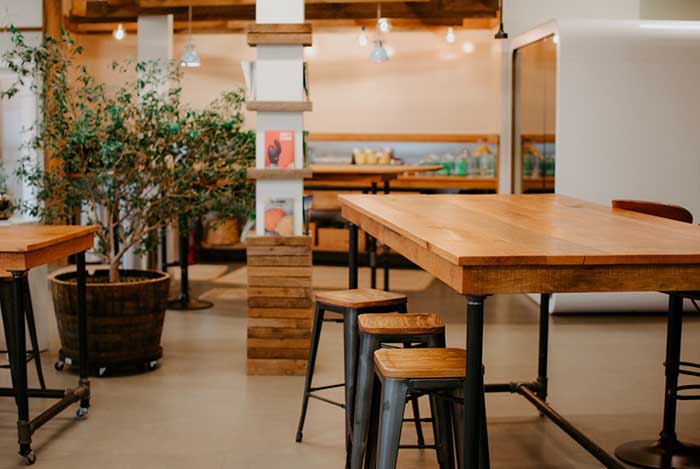 Once the final coat of stain cures thoroughly, which is typically overnight or within 24 hours, apply polyurethane or Tung oil according to the manufacturer's instructions. Allow each coat to completely cure before applying the next since dining room tables get a lot of use. Finish with Tung oil and buff it with a rag. It is recommended that you let the polyurethane coat or Tung oil dry for at least 24 hours before using the table.
Conclusion:
In all, these are some of the steps you can follow if you're looking for ways how to refinish a dining room table. However, to further solve your queries regarding how to refinish a table, we are going to discuss some of the most prominent pain points of the readers who are looking for useful information on how to refurbish a table be it dining, coffee or any other wooden table.
Additionally, if you want to give your place an instant overhaul, we recommend changing your doorknobs. You won't imagine how much difference such a slight upgrade will have on your house's overall look.
Also Read: Furniture Trends The 6 Latest Designs For Your Home Decoration
Frequently Asked Questions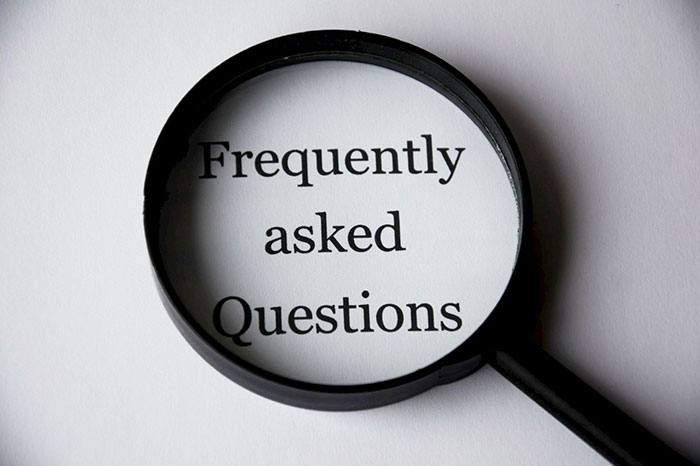 How to Refinish a Wood Table?
The process of refinishing a wooden table is just like refinishing a dining table. You can easily do it as follows:

1. To avoid a mess, move the table into a ventilated area, such as a covered porch or garage. Using the coarsest grit of sandpaper (100 grit), sand the table, following the grain of the wood. Then, sand the table using 150-grit paper and finish with 220-grit paper.

2. Use a tack cloth to clean the entire table. If desired, apply a wood conditioner according to the package instructions.

3. Follow the grain direction when applying the stain to the table. For best results, let the stain soak into the wood for a few minutes before wiping it off. As directed on the stain's package, let the table dry.

4. To achieve the desired depth of color, reapply the stain.

5. If you want a smooth finish, you can use fine 420-grit paper and a hand sander to sand your newly stained table.

6. For durability, apply up to four coats of polyurethane according to the package directions. Allow the table to dry for at least 24 hours before using.
How to Restain a Table?
Staining requires less effort and time than painting, as painted tables require scraping and refinishing. Staining works best if you apply the same or darker stain than what was previously applied. A stain soaks into the wood rather than covering it, so a dark, old stain color can't be lightened.

1. Add 8 parts water to 2 parts ammonia. Clean the entire table, including the legs, with a damp cloth soaked in the solution. It will remove any remaining furniture wax and dirt. Dry the table immediately.

2. To remove the shiny varnish coating on the wood, sand, the table surface with 400-grit sandpaper. Lightly sand the table with the grain until the topcoat is removed, but the wood remains smooth. Follow the same procedure for the legs. The decorative carvings and leg scrollwork can be sanded with 0000-gauge steel wool.

3. To remove varnish residue and sawdust, wipe the table and legs with a slightly damp cloth. After the wood has dried completely, proceed to the next step.

4. Using a paintbrush, apply the stain in the grain direction. Use a clean rag to wipe the table surface of excess stain. Stain inside leg carvings or scrollwork with a fine-tip artist's paintbrush. It typically takes four to eight hours for the stain to dry completely.

5. After the first coat of stain has dried, apply a second coat. While achieving the desired color, the wood grain can still be seen under multiple thin coats of stain. If necessary, add a third coat of stain after drying.

6. Let the stain dry for 24 hours. Over the top and legs of the table, paint a thin coat of clear varnish. Let it dry completely before using it.
How to Stain a Wooden Table?
To wood stain a table, you need to follow the procedure mentioned above. Basically, the procedure to stain, and restain any wooden furniture is the same. Therefore, if you're looking forward to refinish dining table, coffee, or any other wooden table, you can follow the procedure mentioned earlier.
What is Varnishing?
The process of varnishing wood refers to the application of a substance with a protective role, including uniformity of the surface, which gives the pieces of furniture, in particular, a glossy, glass-like appearance.

In recent years, matt varnishes have become more popular, but the perception that lacquered wood, whether it be furniture or parquet, is smooth and glossy still remains.
What is Staining?
Stains are applied to wood to change its appearance. This may alter the color of the wood, highlight its grain, or prevent it from being damaged.

A stain is applied to wood as part of the finishing process. Several different colors of stain are available, and they are pigmented to change the color of the wood. A majority of stains look like natural wood colors, such as oak, walnut, or pecan. But they also highlight certain characteristics of wood. Depending on the wood, some absorb stains more readily than others. Sometimes, staining and sanding must be repeated in order to achieve an even, smooth appearance.
What is their Difference and How to Choose Which One to Apply to Your Table?
Unlike stains that penetrate deeply into the wood, varnishes form a barrier on the surface, protecting it from damage. Varnish is usually transparent and clear, and it hardens along with the outside layer of the wood. Some varnishes include color in order to enhance or change the color of the wood. In areas where wood gets plenty of wear and tear, varnishes offer additional durability.

However, selecting the right one for your table is entirely up to you. If you want a more refined wooden look that greatly enhances the features of your wood then the stain will be the right choice. However, if you don't want to alter the natural appearance of your table but are just looking to add a protective coat over your table then varnish is the one for you.
How to Deal with Different Types of Wood When Re-Finishing Your Table?
The process of refinishing a wooden table is the same regardless of the type of wood it's made from. However, on the basis of the wood, you may choose to go with varnishing or staining as per your liking.