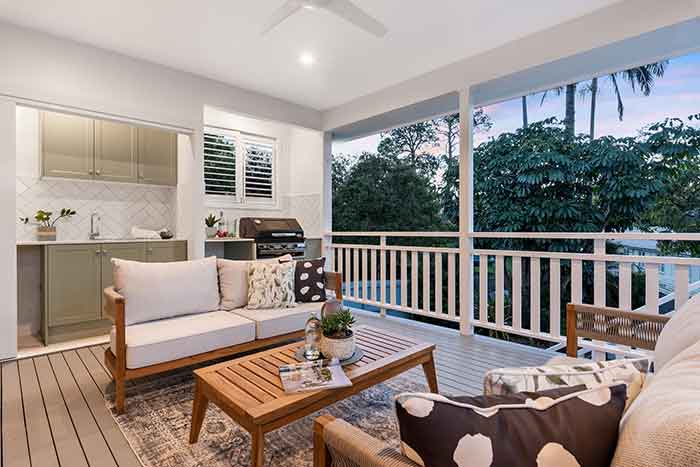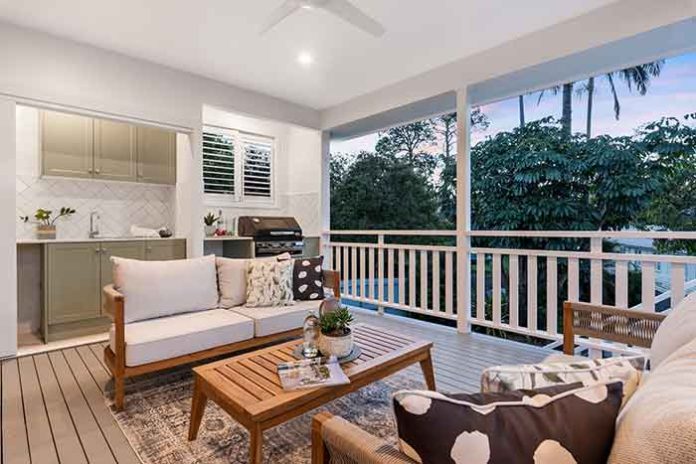 Your budget is the only thing that constrains you when it comes to designing a luxurious outdoor living space. However, there are excellent resources and services available to help you make the most of your modern outdoor living space.
No matter your budget, a modern, luxurious outdoor living area that suits your family's needs and matches the rest of your home and lifestyle is achievable.
The return on your investment in an outdoor living area can be significant whether it be a patio or garden space. With the right outdoor living space, your property value will go up, even as you make your home more enjoyable to live in.
How To Design An Outdoor Living Space
When you are looking for design tips for outdoor living spaces, your first point of contact should be professional deck builders that will use their knowledge and expertise to help you create a luxurious indoor-outdoor living space.
There are likely many options that you haven't even considered. Your dream living space becomes a reality when you partner with the right people. It's easy to schedule an appointment or visit a showroom.
Here are a few outdoor spaces that professional deck builders will help people design:
Decks
Patios
Pergolas
Porches
Outdoor kitchens
Fire pits and fireplaces
Water features
Masonry features
During the design process, you get to choose what you want to incorporate into your backyard living space. The best outdoor living spaces have combinations of the features and structures listed above. These features work best for your family when they are seamlessly integrated with each other and designed to enhance your home.
Outdoor Living Spaces Are The New Design Frontier
People call outdoor living spaces the new frontier of home design everywhere you look. It isn't clear if we have achieved peak design euphoria in this area or not, but there is still time to get on board with the trend.
There are so many options, budgets, and styles to choose from that we certainly haven't exhausted all the design combinations out there.
In the United States, the sophisticated home design came together with a desire to experience more freedom. This trend has been coined "emphatic outdoor living."
Modern Outdoor Living Spaces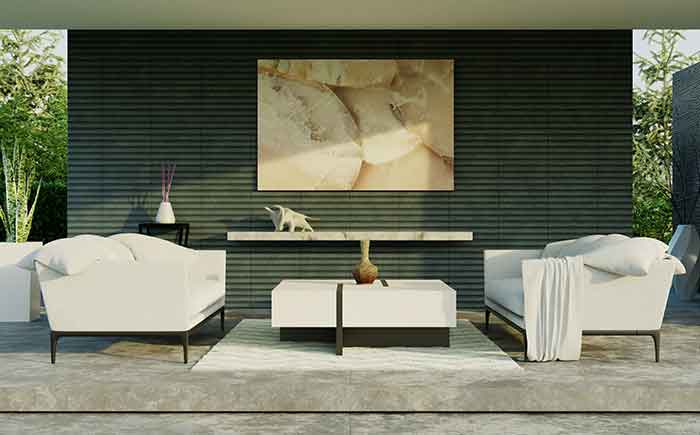 Luxurious modern home interiors make exceptional use of open spaces, lighting, and amenities. A professional designer helps you extend this to your outdoor space by seamlessly integrating it with your indoor space.
When your open floor plan extends to the outdoors, there is an immense feeling of freedom, and the outdoorsy feeling flows into your home, too. Designed correctly, an outdoor space improves your indoor space. Even if the outdoor space was built as an afterthought, it should never appear that way.
Advances in materials and technology make it easier to build quality outdoor spaces. Modern outdoor living areas easily incorporate fireplaces, surround sound systems, televisions, and outdoor kitchen appliances. Choose from various outdoor furniture types and styles to make your outdoor room more comfortable.
Luxurious Outdoor Living Spaces for Your Family
When designing an outdoor living space that works for your family, take some time to think about your family's home life. Your family's lifestyle will be enhanced with the right spaces.
Plan your outdoor spaces so that you make improvements to the way your family lives together and interacts with each other. For example, consider an outdoor kitchen if you want to eat together more often. Also, put a television and comfortable couches on your covered deck to bring them outside for more fresh air.
Designing with intention helps you create an outdoor living space that your family will actually use.
Questions To Ask When Designing An Outdoor Living Room
Good design solves problems. Use a home design questionnaire as a starting point. When designing a home, any questions you would ask are good questions to ask when designing an indoor-outdoor living area. Here are some good questions to start with:
How big of an area do you have to work with?
How much is your budget?
Will you do some of the work yourself?
Does your community have covenants that you need to obey?
Will you need a permit?
What type of materials do you want to use?
How do you envision using the space?
When do you want to have it done?
Do you need privacy in this space?
What kind of exposure to the elements does this space have?
What outdoor living spaces do you currently have? Do you use them? Why or why not?
Talking to a professional deck builder will help you define your outdoor living needs, but before you do that, take some time to answer the questions above thoughtfully. The design process will go more smoothly, and you're more likely to be satisfied with the result if you have done your homework.
Live Your Family Life Outdoors
In the past, most people typically used their yards for playing and an occasional barbecue. As the trend to take our daily lives outside continues, more and more products, services, and resources have become available. As a result, we're taking more of our activities into our outdoor living spaces.
It's easier than ever to build a space that brings your family together and gives you an extravagant venue to entertain your guests. Contact a professional deck builder to help you get started on your dream outdoor living space today.
Also Read: Living Room Curtain Ideas