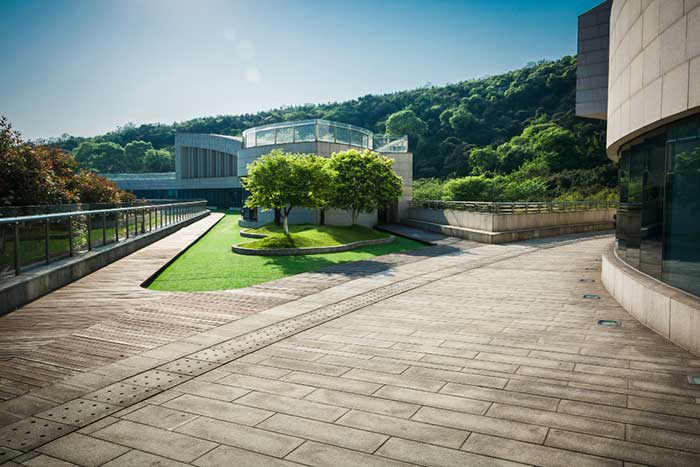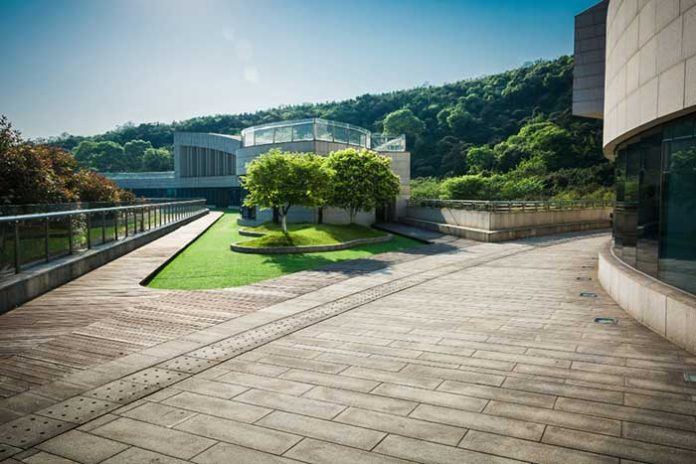 A chic and classy patio is the staple of any outdoor gathering. Whether it is a boisterous barbeque with friends or a leisurely me time away from the strenuous routine, a patio proves to be a great venue. The beauty and style of the deck are up to the ingenuity of the owner. However, to give you a direction, here are 10 stamped concrete patio ideas that will help you choose the groove of your patio.
Now, when it comes to patio options, the options are abundant. However, the best choice, without any doubt, is stamped concrete patio. It has the potential to elevate the overall look of your home outdoors and add life to it.
Before proceeding further and knowing about different stamped concrete patios, take a look at what is stamped concrete.
So, Exactly What is Stamped Concrete?
Also known as imprinted and textured concrete, it replicates stones and is available in a range of patterns and colors. Stamped concrete can look like tile, wood, slate, etc., depending on the pattern and color choice.
Its common use is in improving the look of pool decks, courtyards, driveways, and, of course, patios. As it is an affordable option that can last for many years, many homeowners use it to improve their home value and appeal. Another great benefit of opting for stamped concrete is that it requires less maintenance as well as you can remove the stains by DIY techniques and hacks, without calling to cleaners. That's why many people use unique stamped patio concrete ideas for their homes.
Top 10 Stamped Concrete Patio Ideas
Now that you know about stamped concrete and why it is one of the most preferred patio options, let's now take a look at the most common stamped concrete patio ideas:
1. Slate Stamped Concrete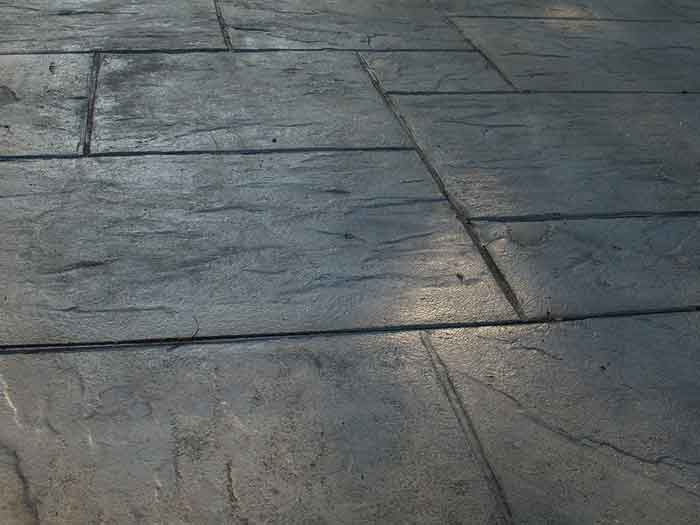 It is one of the most popular choices not only for patios but other options, such as pool decks and courtyards, because of its unique appearance and beautiful texture. And the best part? It can last for a long time.
Commonly, this stamping design is available in different shades of grey, but you can also find it purple or green. A slate stamped design can surely add value to your home. So, if you are looking for an alternative to slate, it is certainly the best choice. It doesn't need a lot of maintenance, is cost-effective, and is stain-resistant as well.
2. Flowery Pattern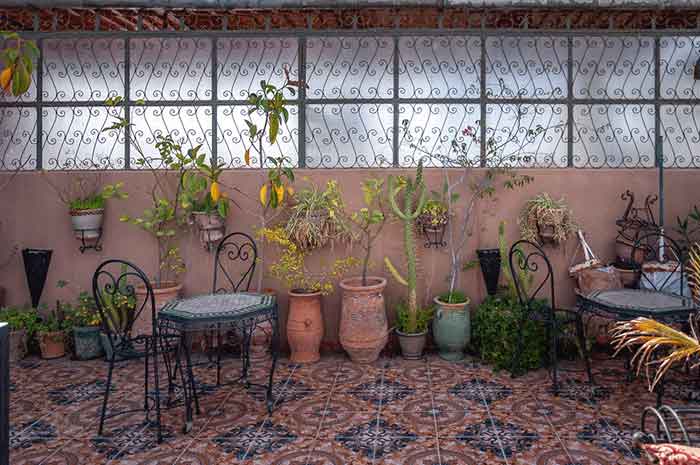 If you wish to experiment with the pattern of the stamped concrete patio, go for the flowery pattern. It is more suitable for patios that are surrounded by greenery as it will add to a green living theme. You can have bigger or smaller flowers, depending on your requirements and the size of the patio. Furthermore, you also have the liberty to choose colors of your choice. However, make sure to take into account the exterior décor of your home when selecting the colors.
3. A Travertine Lookalike Stamped Concrete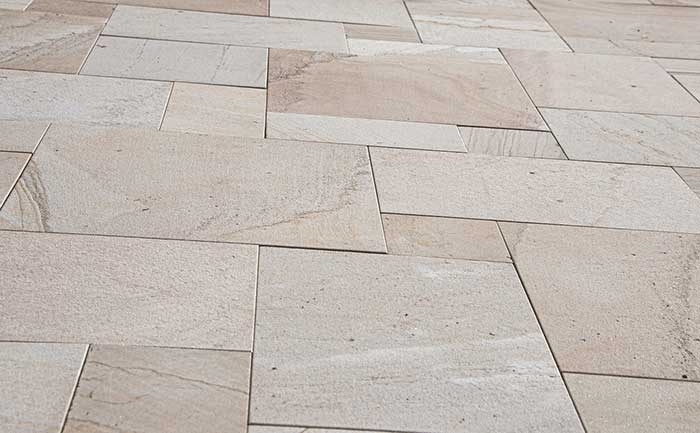 This is a great one among the stamped concrete patio ideas. Travertine is basically a sedimentary limestone. Available in a wide range of colors, including beige, cream, white, and darker rust, it is commonly used as a building material. It is also a very popular flooring material. You can also find many DIY kitchen transformation ideas using travertine.
One of the major reasons why it is preferred by a lot of people is that it looks highly attractive and adds an element of style even to a simple place. However, it comes with a drawback as well. It is quite costly and requires a lot of maintenance, otherwise, it loses its sheen and quality. And the amount lost doesn't get recovered by homeowner insurance as well.
You can create the same look as travertine using stamped concrete as well, that too, without burning a hole in your pockets. You can select a light stain if you desire to make your outdoor space seem larger. For a cozier and warm patio, opt for a darker shade. While it makes your patio more suitable for summer gatherings, you can also make it winter-friendly by getting an electric fireplace.
4. Mix Different Colors and Textures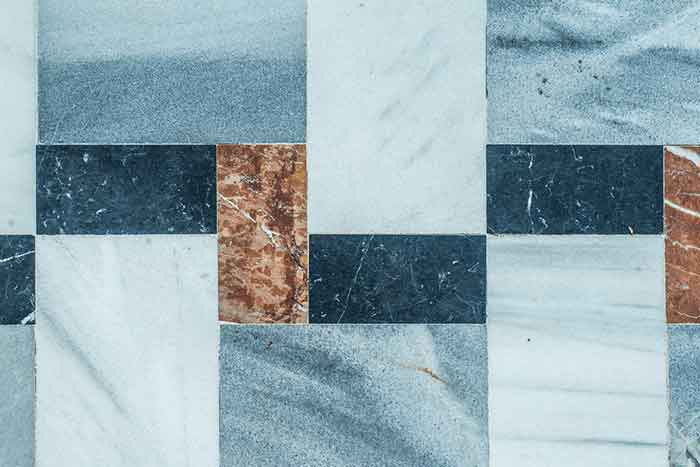 It is one of the most stylish stamping concrete patio ideas that can completely transform the curb appeal of your home. To create this design, choose a mix of different colors and textures.
Ensure the colors you have selected are appealing and easy on the eyes. They should not only complement each other but go with the overall theme and design of the home as well. If the color of your exterior walls is white, choosing this design will bring the much-needed element of style to your home's curb appeal.
Along with colors, you can also play with textures here. Choosing different textures will further improve the look of the patio.
5. Faux Wood Floor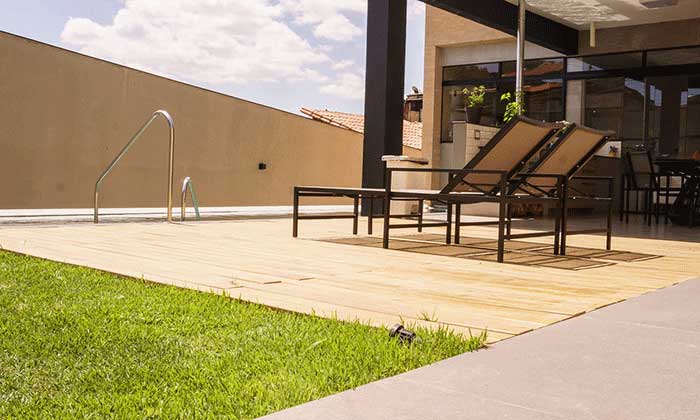 A faux wood floor patio surely looks appealing, that's why it makes our list of stamped concrete patio ideas. But it comes with great maintenance hassles. You continuously need to protect it from termites, pests, and insects. Furthermore, there's the risk of the material getting damaged by moisture as well.
Due to the maintenance hassles, not many people get the faux wood floor, even if they desire to have a wooden textured stamped concrete patio design. If you're also one of them, you can choose stamped concrete for this purpose. It can mimic not only aesthetics but the quality of a wooden patio as well. And you wouldn't have to worry about the drawbacks that come with the real faux wood floor.
It is a durable option, doesn't get stained easily, and if you are getting it sealed, it can become moisture-resistant as well.
There are a variety of options pertaining to the kind of wood you want your patio to look like. Choose the one that goes with the overall theme of your penthouse apartment or villa, and make your abode outdoor much more appealing and attractive.
6. Brick Stamped Concrete Style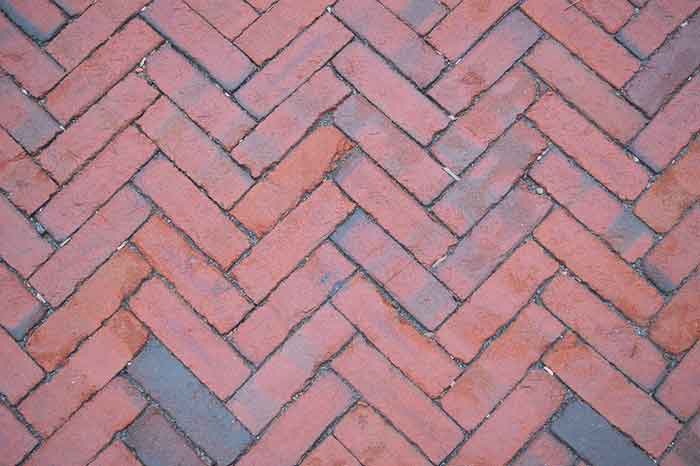 Bricks tend to give a rather rustic yet endearingly imperfect look. The fact that it is customizable also makes it a preferred option among homeowners, as bricks come in various colors, sizes and finishing textures.
If you do not want to use actual bricks, you can create any design using stamped concrete that mimics bricks. When the concrete is wet, stamp the size and pattern you wish to have. And you will have a brick-style patio in your home in a rather budget-friendly way.
This is one of those stamped concrete styles that can go with any type of exterior décor. Therefore, whether you live in the countryside or in a suburban area, you can get this design.
7. Leaf Print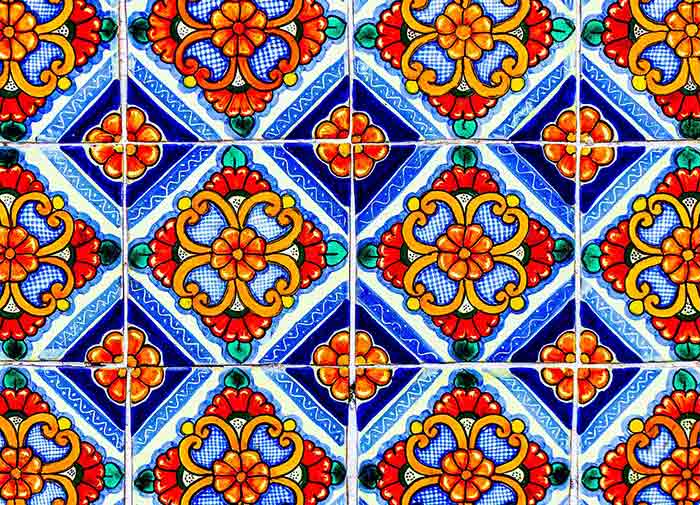 This is for stamped cement patios. If you do not want to go for run-of-the-mill ideas, choose the leaf pattern for your patio. Again, the element of customization is there. From the color of the leaves to their size and placement, you get to decide everything. However, our recommendation would be to have a leaf design on the edges of the patio. It will give the patio an earthy and appealing look.
8. A Stamped Concrete Border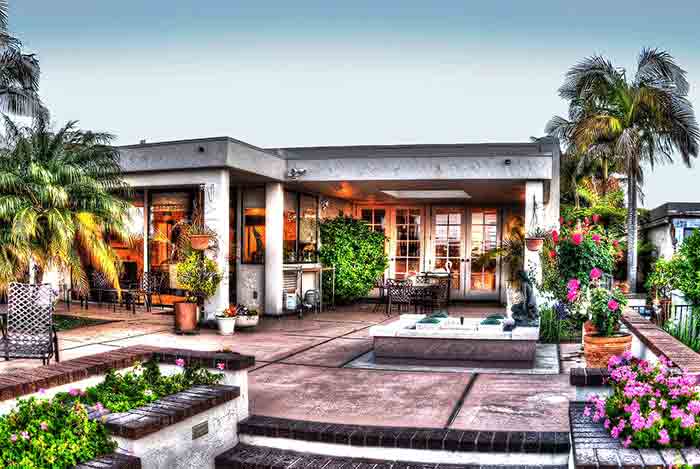 This one is for those who prefer a plain look but with an element of subtle decoration. With this idea, you can have your patio neatly delineated, having a nice and appealing design.
The next on this list of stamped concrete patio ideas is very popular among homeowners because it offers them a higher level of personalization and makes the house look cleaner. When you are implementing this design, it's up to you to choose the width of the border and the actual stamped design. If the area is bigger, a large-scale pattern can do the trick and vice versa.
9. Puzzle Piece Pattern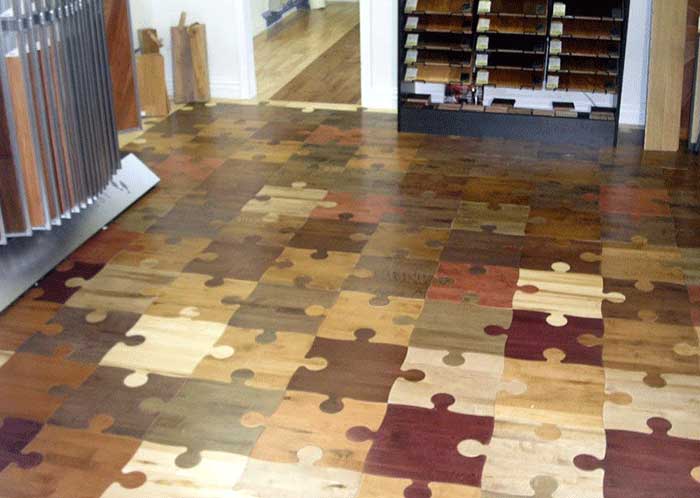 This is another unique stamped concrete design. If the patio's design is in simplistic manner, you can get this pattern for adding an element of style to it. The puzzle piece looks appealing and has the tendency to grab everyone's attention.
You can get small or large puzzle pieces imprinted on the patio. However, avoid getting the conventional puzzle pieces that are in kids' books. Choose a unique style that elevates the entire outlook of your home.
10. Mix Different Sizes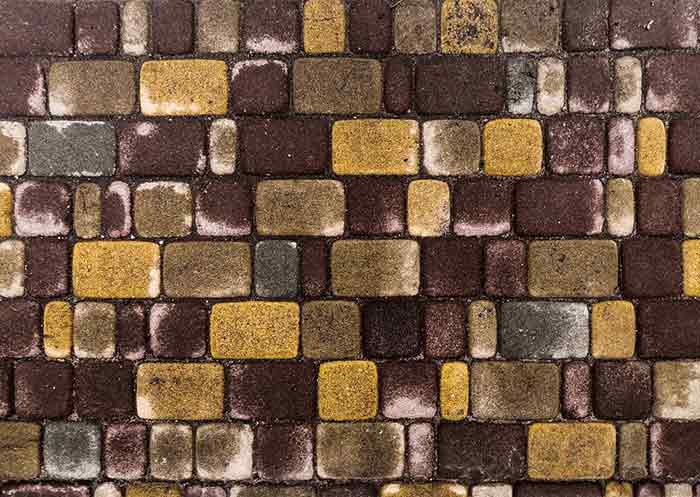 Another cool way of stamping your patio design is to mix different sizes. This, again, is one of the unique stamped concrete patio designs. What you have to do here is get different rectangles in small and big sizes. Make sure the sizes are neither too big nor too small. Maintain a balance. You can either go for random placement or a more aligned one. It all depends on your preferences.
11. Boulder and Stone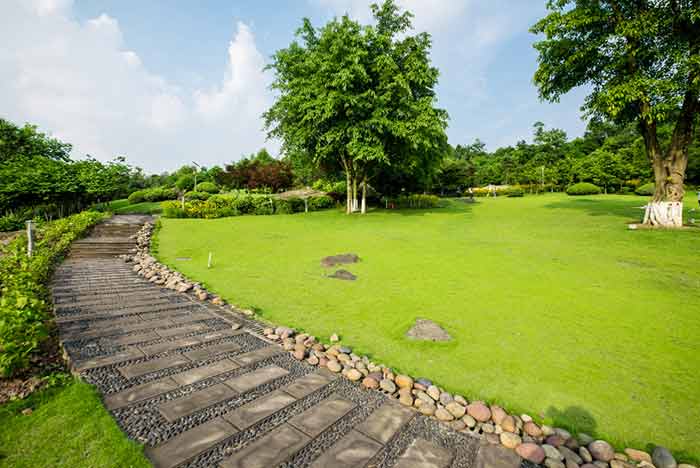 Using boulders and stones of different sizes looks phenomenal in patios. Apart from its unique aesthetic appearance, it offers a strong and robust surface. To create this design, a stable foundation is built, considering the drainage lines and other factors.
It offers various customization options, like the size and colors of the stone. Homeowners can design it the way they want. Plus, it is extremely low-maintenance and long-lasting that does not require periodic cleaning or repair.
12. Cobble Stone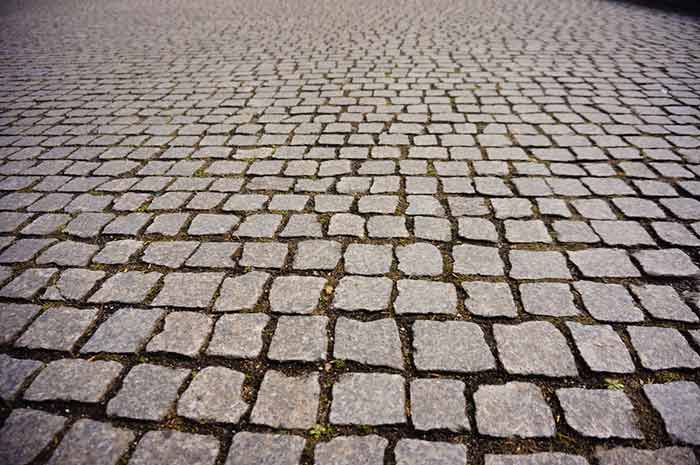 Cobblestone is among the oldest material that was used to design home patios. Since they are durable and resistant, many old floors and patios with cobble still exist today. It has earthy tones and colors like grey, tan, brown, and more.
The spaces between cobblestones make them unique and add depth to the design. It is not only perfect for a patio, but it can also be installed for a water feature.
13. Flagstone Paver Style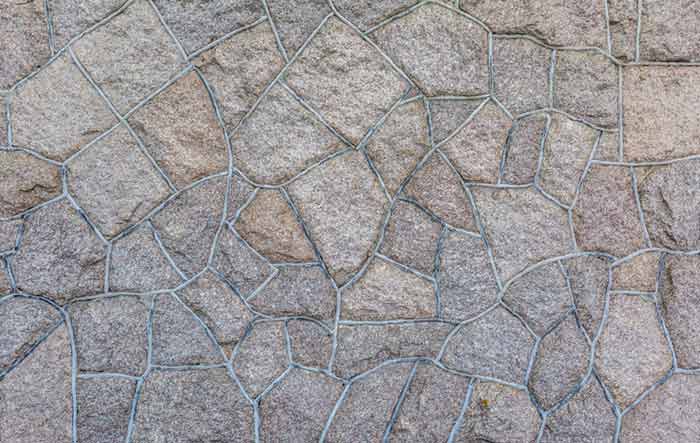 With different shades of brown and grey, the flagstone looks amazing on a patio. It gives a natural organic look to the floor. People love it because moss and small grass patches can be grown between gaps of flagstone.
You can install flagstones in several designs to give your patio a unique character. Palace them in a coherent rectangular way to make a uniform appearance. Or install them directly in their own natural shape. The irregular pattern will look random. The gaps will appear, which can be filled with small stones.
14. All Square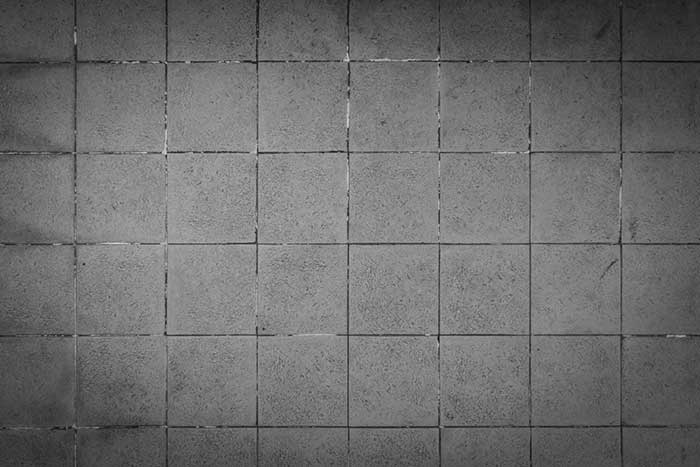 This is for the ones who want to make their backyard or patio look cohesive, well-groomed, and well-structured. The minimalistic-looking patio has clean straight lines and a simple design that looks orderly and organized.
You can incorporate a fire pit, a small dining setup, and outdoor sofas to make it more comfortable for friends and families to have chill hours. Add other shapes and textures to enhance its visual appeal.
Stamped Concrete Patios Pros and Cons
Pros:
Aesthetic appeal and variety of designs: There are endless design choices, from floral designs to simple, minimalistic rectangular bricks. Patios are the extension of your indoor living space, so it should feel like one. Whether you want a luxurious look or a garden look for your outdoor patios, you have numerous choices to select from.
Highly Affordable: Stamped concrete patios are the most affordable option. Plus, they are easy to install (for professionals). It is not a DIY project since installing concrete patios requires expertise and experience.
Robust slip-resistance surface: Patios are often exposed to rainfall and snow. So the material you are selecting for patios should be high-resistant and slip-free. The stamped concrete doesn't weather out with time and lasts for many years.
Cons:
It might be difficult to repair: If they get damaged, the repair process can take time and be costly. Or any mistake during the installation process can't be undone. One should be careful while installing stamped patios.
Absorb heat: In extreme summers, it can get really hot, and difficult to walk barefoot. Stamped concrete can absorb and retain heat for many hours.
Can color fade: Over time, the color can be faded due to exposure to UV rays and other weather phenomena. But with care and maintenance, the color shades can be retained for years.
Final Thoughts
We hope that these backyard stamped concrete patio ideas will help you choose the right one for your home. You can also take help of a professional home décor expert if the number of choices available gets overwhelming. Having said that, it is important to know that pressed concrete patios generally do not require a lot of maintenance, unlike other home decor like cocobolo desks. Still, it is important to take proper care of them to ensure they do not get affected by issues such as soil mites and last a long time.