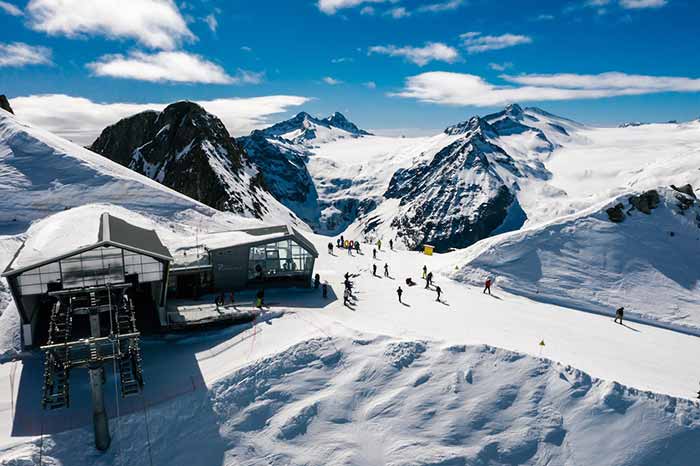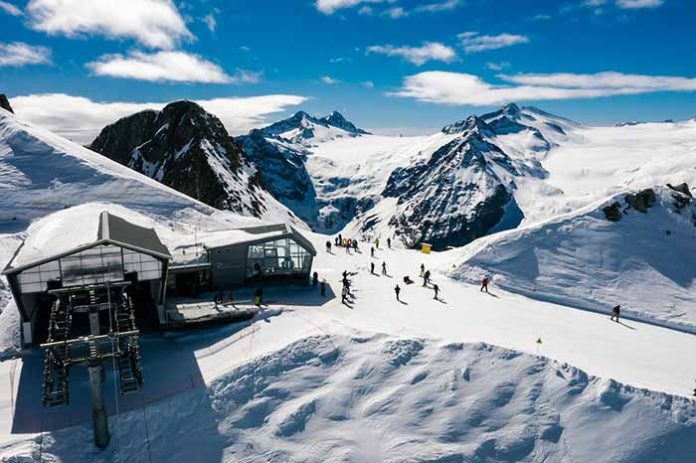 Looking for ideas to escape the heat and engage in some adventurous activities with your family this summer? Skiing is the answer. With so many great ski resorts in the United States, our today's list offers some of the best family ski resorts to help you plan your next vacation!
Top 10 Family Ski Resorts in 2023 — That All Ages Love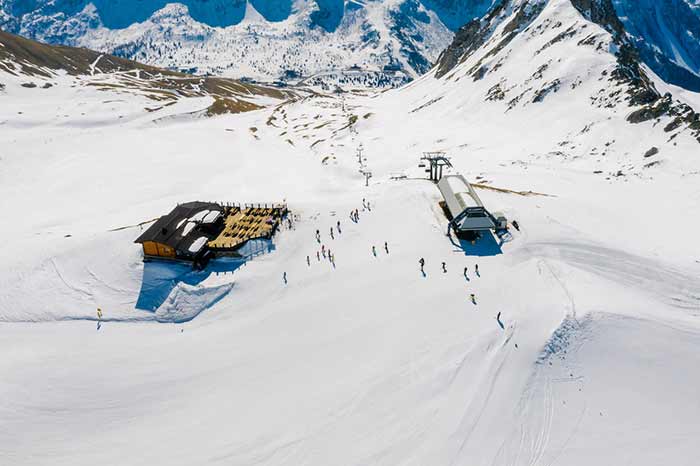 1
Stowe Mountain Resort, Vermont
Stowe Mountain Resort in Vermont is one of the best ski resorts for families in the United States, and it is also included in the Epic Pass, which covers a variety of ski resorts across North America. The resort has close to 116 trails throughout the area and offers a vertical rise of 2,360 feet, which is made easier by the resort's 12 world-class lifts. The resort at Spruce Peak, which can be reached via gondola, is a highly recommended lodging option in the area.
This property provides luxury accommodations, including large, four-bedroom suites that provide enough space for the entire family to stretch out. You could also stay at the Trapp Family resort, owned by the Von Trapp family, and travel around with the Stowe Mountain Road shuttle, which runs between the mountain and the town of Stowe. If you're on a ski vacation with your children, the resort has its own Adventure Center.
It provides special lessons to children aged three to sixteen through camping activities to maximize their learning and enjoyment. If the kids prefer to climb instead, they can be dropped off at the Stowe Rocks Climbing Center's Kid Zone. Childcare facilities are also available for infants and toddlers aged three months to four years.
There are numerous reasons why Keystone Resort is regarded as the destination for some of the best family ski vacations in the country. This ski resort encompasses three breathtaking mountains that offer varied terrain to people of all ages, but the main draw here is that all children under the age of 12 can stay and ski for free.
Regarding lodging, you can choose from various options, which are only complemented by the various dining experiences available at Keystone. If you are visiting solely for skiing or learning to ski, private lessons for the entire family can be arranged- The Ski & Ride School customizes plans for each individual. On the other hand, numerous non-skiing activities are available, such as tubing, yoga, painting, and others. The kids will love Camp Keystone, which has mazes, slides, and other fun activities.
3
Okemo Mountain- One of the Best Family Ski Resorts
Okemo Mountain Resort in Vermont is another great ski resort for families that you can visit without hesitation when planning a vacation with family and kids. Whether you are a beginner just starting to learn the ropes or an experienced skier looking to improve your skills, it makes no difference. Okemo has a diverse terrain for skiers and snowboarders of all ages and skill levels.
If you don't want to spend all day on the slopes, check out the resort's massive fitness and aquatic center. This is the best ski resort for kids that has swimming pools, fountains, water slides, and a spectacular sauna and hot tub. If you want to burn some vacation calories, sign up for yoga or Zumba classes, or play racquetball. Kids who visit the property enjoy the Kids Night Out program, which includes various activities, while parents can enjoy a date night at the resort's exquisite dining options. Because this is a year-round resort, summers can be spent on the 18-hole golf course or pedaling through the area's mountain terrain.
4
Mountain Resort in Park City
Park City is known for being an Olympic venue in the past, and it consists of two separate mountains, making it one of the best ski resorts in the USA. With 348 skiing trails spread across the resort, Park City Mountain Village will provide more flexible options, whereas Canyons Village will provide a greater challenge in terms of terrain.
If you're looking for a ski town close to a major airport, the short 30-minute drive to Salt Lake City Airport cuts your travel time significantly, which is important when traveling with children. You must consider accommodations when planning a family ski vacation in North America. The resort provides several options, including larger ones for families.
There is a great ski school on the resort, which you can access immediately after purchasing your tickets in the snow. You can start skiing immediately after checking in and purchasing your tickets. If you want to ski alone with your partner while keeping the kids happy and comfortable, the Little Adventures Children's Center is ideal for children as young as six weeks old and up to six years old. Ski and snowboard lessons are also available for children as young as six.
5
Heavenly Mountain- Best Family Ski Resort
Heavenly Mountain Resort is a South Lake Tahoe property with various activities to entertain the whole family. The resort has 97 trails spread across thousands of acres of property, providing terrain suitable for skiers of all experience levels.
Lessons are available for children aged four and up, with the option of taking private lessons for the entire family. Snow tubing and UTV tours are available at Adventure Peak, which can be reached via gondola. The property offers a variety of lodging options to accommodate families of all sizes. If you want to do something other than skiing or snowboarding, you can go shopping in the area. There are plenty of dining options, but you can also visit the local supermarket for ingredients if you want to prepare a meal.
The drive from Denver International Airport to Colorado's Winter Park Resort may take more than an hour, but once you arrive and see the 3,000 acres of terrain in front of you, you will have no complaints. The resort receives an impressive amount of snow each year, which means the seven terrain parks around the property — offering groomed runs and bumps, depending on your needs — will be ready to take you on as you ski or board down the slopes.
Choose from the onsite ski-in/ski-out accommodations and enroll the kids in Kids Night Out, where they will be entertained with activities such as arts and crafts, movie nights, games, and pizza. This also gives mom and dad time to eat at some of the village's better restaurants.
The Aspen Snowmass Resort comprises four different mountains that provide terrain for everyone, regardless of skiing experience. Aspen has a regional airport with flights from many popular US cities, making it one of the best-connected ski resorts in the country. Choose from various lodges and hotels throughout the resort, and you may be eligible for free pick-up upon arrival. Buttermilk, one of the four mountains of this resort, provides ideal terrain for beginners or children learning to ski. The other mountains, Snowmass, Aspen Highlands, and Aspen Mountain, are more difficult.
The Kids Mountain Explorers program provides ski lessons to children aged 8 to 12 and adventure camps to keep them entertained while they hit the slopes. When you're not exploring the trails, the Snowmass Base Village has a beautiful ice rink and a climbing gym at one of the local hotels. Buttermilk's Fort Frog is designed to entertain children with towers, bridges, slides, and other attractions. In contrast, the Breathtaker Alpine Coaster may be just the adrenaline rush that older teenagers and adults seek.
8
Deer Valley Has Best Family Ski Resorts
There are many family-friendly ski resorts in the United States, but only some provide the level of luxury that Deer Valley does. Deer Valley is a fantastic option if you want to ski with kids while avoiding snowboarders — who are not permitted on the property — and offers exquisite family accommodation options, a boutique shopping experience, and good restaurants to satiate those hunger pangs before — or after — you hit the slopes.
The intriguing thing is that daily tickets are limited to a certain number, which means that both the trails and the lifts — 21 in total — are not overcrowded, allowing you to ski in comfort. Deer Valley, located just over 30 minutes from Salt Lake City International Airport, offers a variety of activities for the entire family to enjoy together. If you don't want to ski, you could try dog sledding, snowmobiling, sleigh rides, and other activities. It's also a good ski resort for toddlers because it has an onsite daycare facility, which isn't always the case at other ski resorts.
9
Steamboat Ski Resort, Colorado
The Steamboat Ski Resort in Steamboat Springs, Colorado, is another well-known name for the best ski resort in Europe. You can explore the vast expanse of this spectacular ski resort, which provides everything you would expect from a classic ski resort, including cozy family accommodations and a variety of dining options that will satisfy even the pickiest eaters in your group.
Aside from the fantastic skiing trails, the property also has one of the longest mountain coasters on the continent, the Outlaw Mountain Coaster, which plunges nearly 400 feet vertically and offers a variety of dips, waves, and circles to keep your adrenaline pumping hard. If you are traveling with young children and want to avoid participating in this activity, there are other options, such as snowmobiling tours.
Finally, one of the primary reasons people choose this Colorado ski resort is its proximity to Steamboat Springs, which has numerous natural hot springs for visitors who want to warm up before hitting the slopes. This is a fantastic family ski resort in the Western United States.
10
Northstar California Resort & Spa- Another Pick For the Best Family Ski Resorts
Vail Resorts also manage the final property on this list. Northstar California Resort, located on the West Coast, is a luxury property near North Lake Tahoe. This is one of the best family resorts in the area if you want to ski along the relatively easier terrains around the Sierra, but don't expect the challenges offered by some of the properties on the other coast.
The resort has various lodging and accommodation options, almost all centered on the village, so your location is central, and you can easily get to the snow. With fantastic gear wagons available near the mountain's base, you can easily load your gear and even the kids onto the wagon for easy transportation — all for free!
Conclusion:
This area is also a short walk from the resort's ticket office, coffee shops such as Starbucks, and a ski equipment rental shop for all the ski — or other — equipment like poles, helmet and ski goggles that you and the kids may require during your family's stay at the resort.
Read Also: Top Ski Essentials to Bring On a Skiing or Snowboarding Trip