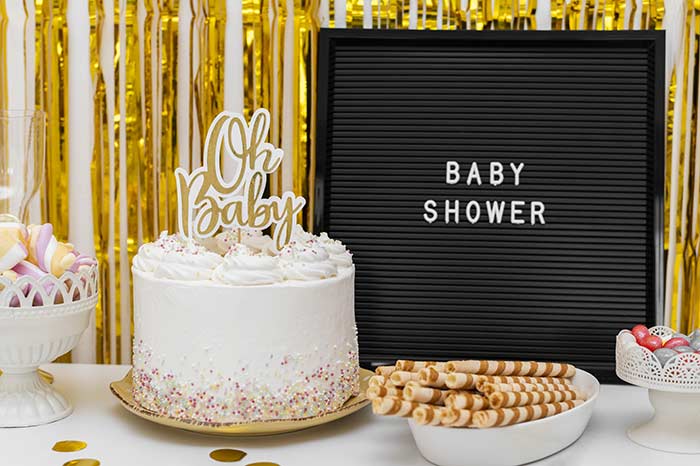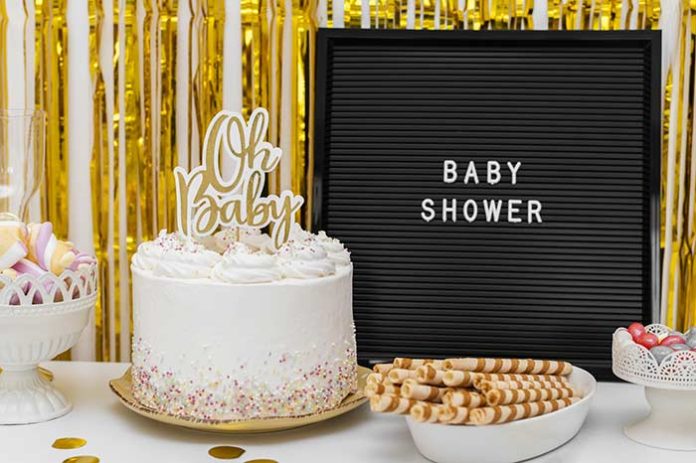 It's essential not to forget the one who arranged this special occasion that celebrates the arrival of a new life – the baby shower hostess. They deserve appreciation for their hard work to make that day as extravagant as ever! However, the question arises here is what to get for a baby shower? Choosing a meaningful gift can be a difficult task though. Well, look no further! From personalized items and spa-like experiences, there are countless baby shower hostess gift options to express gratitude. Let's embark on this journey as we go through these 11 gifts to search for the perfect token of appreciation for your hostess.
11 Baby Shower Hostess Gift Ideas for New Parents
1. Baby Shower Gift Basket
If you want versatility, a baby shower gift basket is the best bet! The diversity – alongside personalization – guides you into manifesting an excellent present for your baby shower hostess. But what to put in a baby shower gift basket? It's an all-in-one convenience – from munches and gourmet food to spa products and sweet delights. It would be a baby gift set where you can combine all products into one basket instead of presenting each item individually. Furthermore, it has the flexibility to be affordable and luxurious due to the unlimited gifts that you can include. A beautifully curated gift basket would bring your hostess to tears.
2. Consider Fresh Flowers
The sweet scent of fresh flowers always puts you in a good mood early in the morning. How can it not be the best and most affordable gift to give? A very versatile and symbolic gift to give someone. Flowers can possess a unique language, expressing multiple emotions at once, which includes: gratitude, sympathy, celebration, or even an apology. The aesthetic gift is not only eye candy but also provides aromatherapy, in addition, to being one of the most affordable gifts on the list. There are numerous objectives why flowers would be an excellent gift for the baby shower hostess. You can use it for decorating baskets to even enhance their beauty. From roses to daisies, this timeless gift may convey sentiment and can foster various connections.
3. Car Accessories
If your baby shower hostess owns a soccer mom car then why not gift her practical car accessories like a car seat organizer to keep essentials within reach or a sunshade to protect the baby from harmful UV rays. Moreover, a backseat mirror to keep an eye on the little one, or a travel bottle warmer for on-the-go feeding can be considered personalized gifts that are sure to win hearts.
4. Small Chocolate Gift Boxes
Who wouldn't love the rich sweetness of chocolate? From expressing love and gratitude through its silky texture and sweet flavors – indeed, it's a universally loved gift that would bring joy and happiness to your life! There are many brands out there that make chocolate gift boxes for baby shower hostess. Chocolate is a versatile gift, ranging from affordable ones like Tabolrone or Raffelo to high-end brands like Garcia Nevett, French Broad Chocolate, L.A. Burdick, and many other popular chocolate brands in the USA that offer exclusive chocolate gift boxes. Perfect for a hostess! It can evoke emotions and strengthen the bond between you and the hostess.
5. Jewelry Gift Boxes for Babyshower Hostess
Jewelry is an elegant gift since it symbolizes love, appreciation, and lasting beauty, so it's an exquisite choice for a present. The crafted metal, topped with a breathtaking gemstone, jewelry may become a treasured keepsake. It is a high-quality, luxurious item that conveys the sentimental significance and timeless appeal on various occasions. From promise rings to inherited necklaces, jewelry comes in every shape and form to match any personality and aesthetic. However, do avoid making common mistakes when purchasing a piece of jewelry. This luxurious gift may lean on the pricy side, so double-check your budget before buying this expensive item.
6. Home Decorative Accents or Kitchenware
Are you interested in a gift that is aesthetically pleasing and functional? Well, look no further! The door for decor is wide open! Home decorative accents can be a good baby shower gift for those women who love taking participating in home decoration as well as enhance the ambiance of the place. Items like picture frames, fake plants, candles, and throw blankets are great additions to the warmth and coziness of the house. On the opposite spectrum, Kitchenware is practical and decent-looking. Items like exquisite utensils, elegant cutting boards, or sleek serving trays, combined with the beauty of functionality, make cooking entertaining and a more enjoyable experience. It is a very thoughtful gesture, and it's affordable from home depot, like Ikea. The personalized style, aesthetic charm, practical functionality, and decorative idea make it a great gift choice.
7. Skin Care or Bath Set Gift
Self-care is an important aspect – physically, mentally, and emotionally – gifting skincare and bath sets would be an excellent choice for baby shower hostess. As a client or friend, you're expressing gratitude towards them alongside encouraging their well-being. Sound like a win-win. Their mental health will improve, and they'll have smooth, radiating skin. In addition, products including; bath salts, body scrubs, lotions, serums, and masks are in this set. Furthermore, with the multiple therapies enhancing beauty, affordability, and confidence, there is no doubt the hostess would be more than thankful for such a gift.
8. A Bath Bomb Set
Ladies love taking hours-long relaxing baths until their skin gets wrinkly. Of course, to make this experience even more spectacular and relaxing, a bath bomb set is an enchanting choice. Inside those ball-shaped bombs are captivating fragrances, colors, and essential oils, creating a soothing ambiance. This spa-like experience manifests radiating, healthy skin and aromatherapy with scents like lavender, eucalyptus, and citrus – releasing all your stress. Popular brands such as Bath and Body Works have an extensive range of bath bombs to choose from, in addition, to being inexpensive. I cannot imagine a more relaxing and reasonable gift for the hostess than relaxation in the bath.
9. Scented Candle Set
Scented candles have an inviting atmosphere, aromatherapy, and a touch of elegance. Who wouldn't want a few? The gentle flickering of the flame manifests a soft glow that adds a sense of tranquility and serenity. The therapeutic benefits of curated fragrances give you free therapy, look aesthetically pleasing, and are a long-lasting pleasure. Brands like Bath and Body Works have interesting varieties of scented candles that enhance the ambiance of home, office, and parties. Colorful Scented candles are even used in weddings, bridal showers, baby showers, and more, making them a multi-purpose item – even as gifts. It is an ideal gift choice for your baby shower hostess.
10. Host a Lunch Party
A bit cliché idea, although a gift that goes beyond material possessions and embraces togetherness is a meaningful and unique choice. The quality time spent with friends and close ones would allow a meaningful connection as everyone gather around for a warm and inviting atmosphere. Of course, it can become pricy – depending on the choice of place and variety of items according to the number of people – so be sure to make a proper budget. A lunch party dedicated to the hostess would serve as a token of appreciation, a thoughtful gesture, and gratitude for your baby shower hostess.
11. Handmade Gift
Do you want to give a gift that encapsulates a sprinkle of creativity, thoughtfulness, and a personal touch? Then there is nothing better than a handmade gift. A unique and one-of-a-kind gift especially handcrafted for the hostess by yours truly. All that attention to even the smallest detail would be heart-touching and hold sentimental value. The personalized expression would include affection and gratitude than any store-bought gift. That gift can be a knitted scarf, a hand-painted art piece, or even handcrafted jewelry. If the gift is handmade, it will hold such an emotional bond with the hostess, strengthening it.
Frequently Asked Questions
What should I take into consideration before buying a gift?
You want the gift to be personal for the hostess. So, unless it's not a friend or family member, you should take your time to know the hostess more, what she likes and dislikes, her aesthetic, preferences, hobbies, and whatnot. The process will aid in selecting the best item for the hostess.
What options would be the best as a gift?
A handmade gift would be the best option. Why, you may ask? Because of the value it upholds. Handmade gifts have a sentimental and emotional aspect that the hostess would cherish. It is also affordable as you are not paying a high rate for something you can make at home, and it will hold more value than the store-bought one.
What would be the safest option as a gift?
The safest option is always the gift basket. It has variety, versatility, and diversity. If you are confused about what the hostess would like, the gift basket is the best option. From soaps to food to perfumes, the basket has it all.
Would handmade gifts look inexpensive?
Some people will snort out how handmade gifts are cheap. Well, they are. In terms of money, this gift can come across as inexpensive. But if you worked hard into it and crafted its aesthetic at a lower price but higher in value for that person, then it's not cheap. Of course, if you're not a DIY person, then handmade gifts aren't for you.
Is it appropriate to give jewelry as a gift to a hostess that's not a friend or family member?
Jewelry holds high value due to the bonds it creates and connects. A hostess can be a stranger, but gifting her a piece of jewelry would not be inappropriate. She worked hard on the baby shower, personalized it, and added sentimental value to the event. She is already a close acquaintance in business, so a piece of jewelry is an appropriate gift.