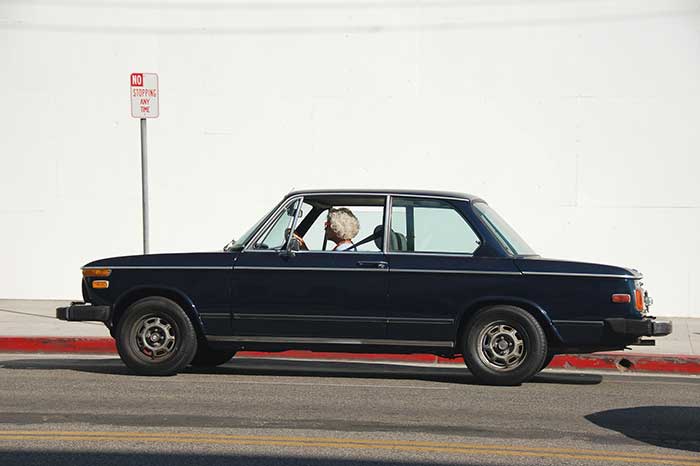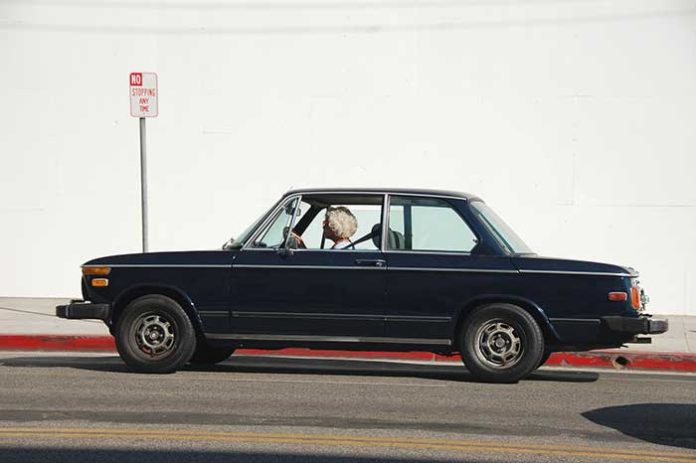 The best SUV for seniors has all the features suitable for older folks. It starts from effortless ingress and egress, advanced safety systems, high outward visibility, user-friendly controls, and low running cost.
Now that you know all the desired facilities an elderly demands in an SUV, the next logical question is which sports utility vehicles possess all these. To answer this query, we have compiled a list of top SUVs for seniors that come with a wide range of active safety techs, excellent visibility, user-friendly cabin systems, and big doors that are effortless to get in and out.
What is the Best SUV for Seniors?
Our list includes the 8 best sports utility vehicles for older drivers from different model years. You can always opt for the latest model to get the most advanced features (if you can afford them).
1. Toyota Highlander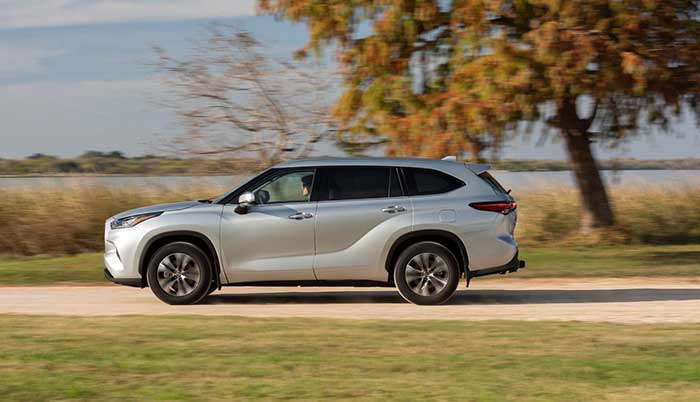 The Toyota Highlander is not only the best SUV for seniors to get in and out of the vehicle but also for its robust V6 engine and seating capacity for up to eight. It means the elderlies can fit all their grandchildren and traveling pets inside a roomy cabin and drive comfortably.
Other features that make it highly desirable for seniors include its ergonomic design, user-friendly controls, and large icons for infotainment. The menus are simple to navigate, allowing the driver to easily play music, answer calls, and alter temperature settings.
While all these features make it the best SUV for older people, the vehicle's lower door sills and hip-height standing make it effortless to slide into the seat.
Besides, the mid-size SUV's 24-mpg highway fuel efficiency is excellent to save precious bucks. If that's not enough, you can opt for the Highlander Hybrid model with 36/35 mpg city/highway.
2. Honda CR-V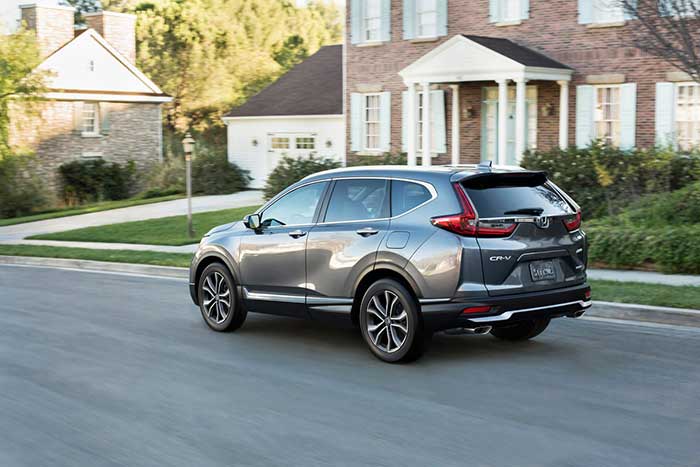 The Honda CR-V truly reflects the compact nature of utility. Although it does not look big, it is roomy inside with cozy seats and a vast cargo area. The good news for the soccer mom car drivers is its low liftover height for the cargo section, allowing them to easily stuff sports or club equipment. For added convenience, Honda offers a power liftgate along with a hands-free liftgate.
It is among the best-selling compact utility vehicles in the U.S., owing to its high reliability and safety rating, particularly related to seniors.
This relatively small SUV for seniors compared to the Highlander is trouble-free to get in and out. It also sports physical infotainment controls that are effortless to navigate.
Furthermore, the CR-V offers a better resale value even if it bears slight dents than other utility vehicles like Kia Seltos and Chevrolet Tahoe.
Thanks to the Honda Sensing suite, the CR-V is a highly safe SUV boasting assisted braking, ABS, brake-force distribution, collision avoidance braking, tire pressure motioning, stability assistance, traction control, hill-start & braking assist, high beam assist, height-adjustable seat belts, stronger, energy-absorbing hood/fenders, lane assist, driver asleep monitor, parking assist, and so on.
3. Hyundai Santa Fe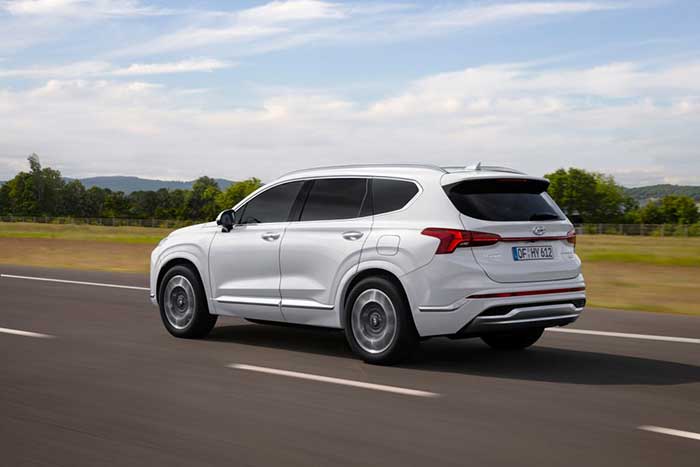 The reasonably priced Santa Fe is an excellent choice for old shoppers for its extensive range of safety techs, such as Safe Exit Assist. It comes in really handy for high-spirited grandkids who abruptly leave the vehicle as it stops. The system will prevent them from exiting by locking the doors if it senses a vehicle, motorcycle, or cycle advancing from behind.
Furthermore, Hyundai offers plenty of boot capacity (36.4 cubic feet) for both short and long journeys, making sure the passengers have a good amount of room left to stretch their legs out. The huge door opening makes it easy to get in and out, as well.
Other highly desirable features for seniors inside the new Hyundai Santa Fe include a heated steering wheel and an eight-inch touchscreen (higher trims get a 10.25-inch display) that is quick to respond and supports wireless Apple CarPlay/Android Auto and Bluetooth connectivity.
The South Korean automaker also offers 24/7 roadside assistance for 5 years, giving you peace of mind if your vehicle breaks down on the road.
4. Chevrolet Tahoe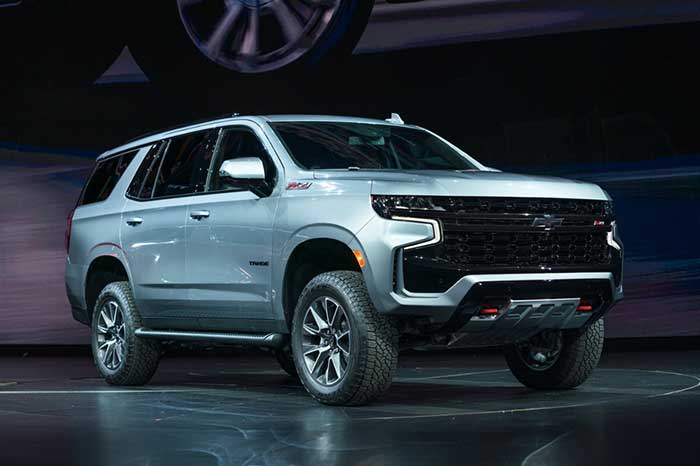 Older folks wanting to adopt a more well-organized and ceremonial attitude would be happy with the Chevrolet Tahoe. It is certainly bigger than any small SUV for seniors, but the extra room inside comes with its own benefits.
We highly recommend it for taller elders, particularly those often looking to hit the beaten path. The side and convex mirrors offer an excellent view of the side and the vehicle's back. It helps the drivers to maneuver the full-size SUV easily.
The new Tahoe is an improved utility vehicle with bigger cargo space, more room for third-row passengers, loads of storage spaces, excellent towing abilities, and a robust new turbodiesel mill, as well as a host of advanced technology features.
Moreover, it is accessible in a variety of trim levels to suit the needs of different buyers. The 21/28/24 mpg city/highway/combined fuel economy for such a huge utility vehicle isn't bad either.
5. Subaru Forester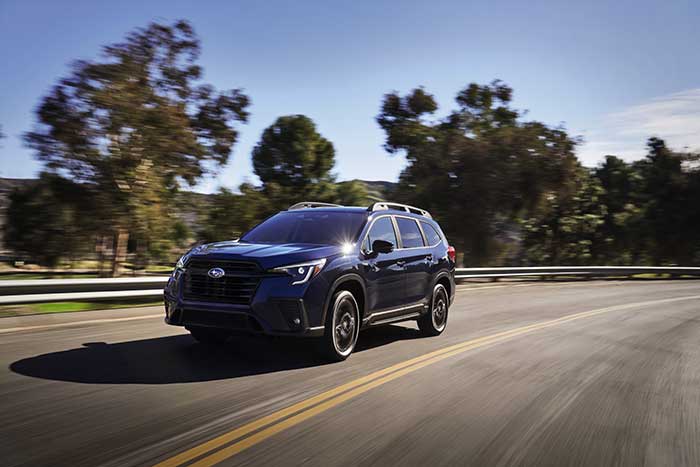 One of America's most popular SUVs is suitable for old shoppers in every sense of the word. It offers an impressive outer view of the road, easy entry and exit due to its wide-opening doors, and roomy cabin. Furthermore, it comes with outstanding off-road abilities, 28.9 cubic feet of cargo volume, as well as excellent gas mileage of City/Hwy: 26/33 mpg.
While the sole mill option is a 2.5-liter naturally aspirated boxer, pumping out 182 hp and 176 lb-ft of torque, what makes it stand out is its standard all-wheel-drive layout, which is not on offer by any other vehicle in its segment.
Other highly suitable facilities for seniors include user-friendly infotainment controls for a 6.5-inch touchscreen, automatic steering-responsive LED headlights, a rearview camera, a six-way manually-adjustable driver's seat, Subaru's SI-Drive drive-mode selector, one-touch folding rear seats, and a standard rear-seat reminder system. The latter is a highly beneficial function if you mostly drive with little kids in the back seat. The system warns you to check a kid or pet before leaving the Forester.
In addition, the Forester is a very safe utility vehicle thanks to the standard Subaru EyeSight safety suite. It has standard adaptive cruise control, sway warning, lane-departure warning, automatic emergency braking, and lane-keep assist. The upper-level variants feature blind-spot monitoring with lane-change assist, rear cross-traffic alert, reverse automatic braking, and a driver focus monitor. Both NHSTA and IIHS awarded the Forester with its best ratings.
6. Kia Telluride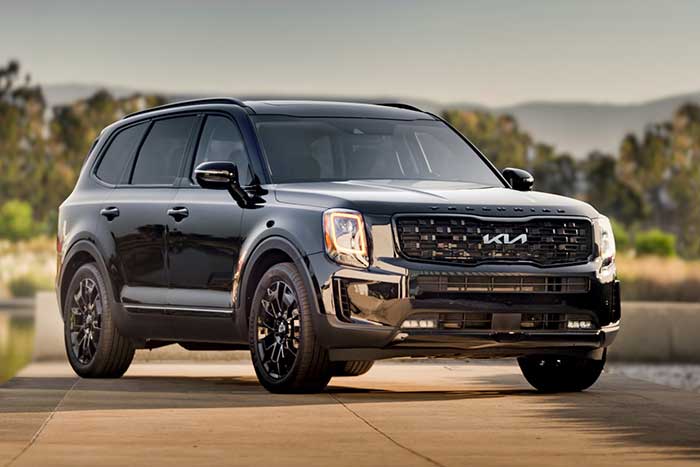 The new Kia Telluride has all the features you would expect from the Best SUV for seniors. We are talking about a spacious, high-class cabin, a 10.25-inch user-friendly infotainment system, dual-zone automatic climate control, highway driving assist, and 21 cubic feet of space behind the third-row seats.
The grandchildren are perfectly fine in the smaller third-row seats if you have a large family. Furthermore, the 3.8-liter V6 engine with 291 horsepower and 262 pound-feet of torque delivers ample power for both city and highway tours.
With a towing capacity of up to 5,000 pounds, 8 inches of ground clearance, a standard skid plate, and an optional all-wheel-drive system, you are good for light off-roading excursions.
Besides a long list of standard features, it is an extremely safe vehicle for seniors, giving them more confidence driving this big SUV. The National Highway Traffic Safety Administration and IIHS gave it Five Stars, and Top Safety Pick ratings, respectively.
Suggested: Improve your Driving Skills
7. Nissan Rogue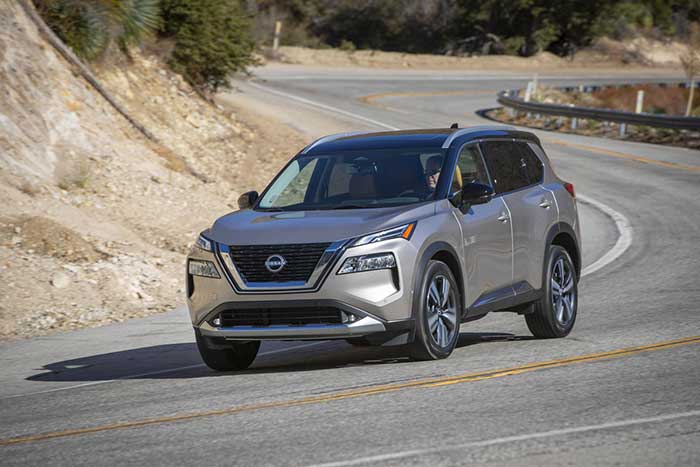 Nissan completely redesigned the Rogue for the 2021 model year, giving it attractive styling, a quiet & top-class cabin, cozy zero-gravity seats, enhanced maneuverability, and a range of standard safety tech. Thanks to the Nissan Safety Shield 360 suite encompassing blind-spot monitoring, rear automatic braking, and lane departure warning, IIHS honored it with the Top Safety Pick award.
Besides high-tech safety, other features that old drivers would appreciate in the Rogue include wide doors and distinctive door sills for effortless entry and exit, quilted semi-aniline leather seats, a 12.3-inch digital gauge cluster, and a 10.8-inch head-up display.
It is neither the fastest SUV nor offers a great towing prowess, but that's not what most golden agers would want from the best family car. With up to 36.5 cubes of cargo volume and generous seating capacity for five adults, the new Nissan Rogue is one hell of a value proposition for seniors.
8. Volvo XC40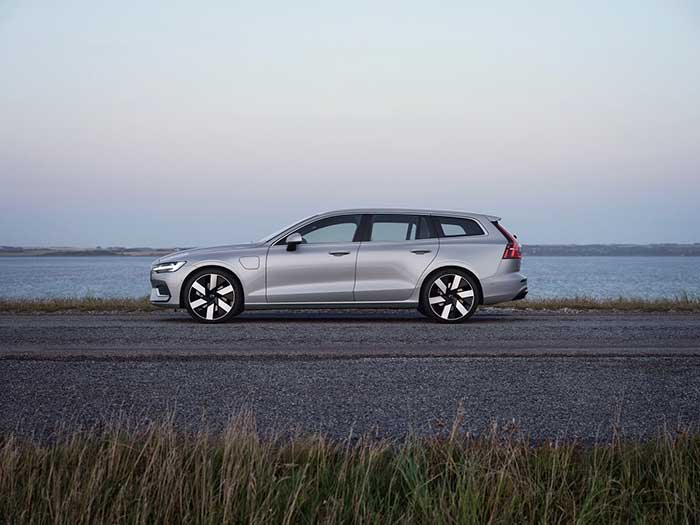 If you need to pick a luxury SUV for seniors, perhaps the new Volvo XC40 is one of the best on the lot. The mid-size SUV boasts a modern & stylish exterior, comfortable and delightful interior, clever cargo loading solutions, loads of standard features, and even an EV model for elderlies that wish to live green and add value to the environment.
Besides all the above-mentioned attractive features, the Swedish SUV gives seniors great confidence to drive. The NHSTA's full five-star rating and IIHS' Top Safety Pick+ are testaments of its fully-stocked safety suite. The entry-level 2021 model encompasses standard blind-spot monitoring, steer assist, cross-traffic alert with automatic braking, rear park assist, and a rearview camera, plus a lot more if you pick the higher-level trim.
Apart from the plush and roomy cabin with a high seating position for easy ingress and egress, Volvo offers three powertrains (two gasoline turbochargers and one electric) along with up to 3500 towing capacity and 20.7 cubic feet of trunk space, making it the best SUV for seniors in its segment.
Conclusion:
All these features should have hopefully helped your selection of the best SUV for seniors? Whether you're a proud grandparent or a busy, on-the-go senior, these models focus on safety and provide enough capacity for the grandkids, pets or any cargo space you may need.
Also Read: