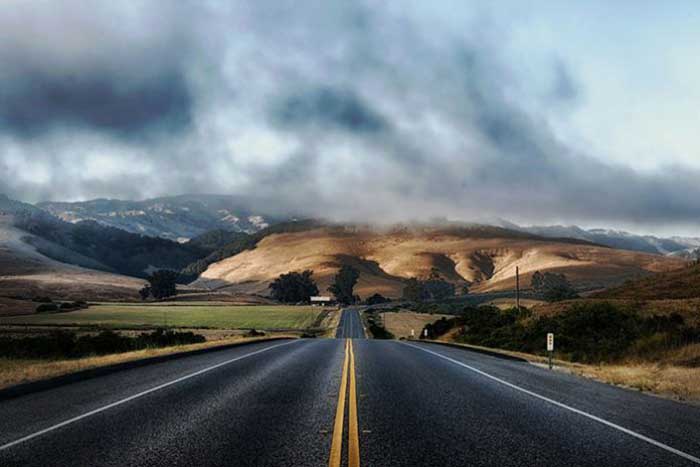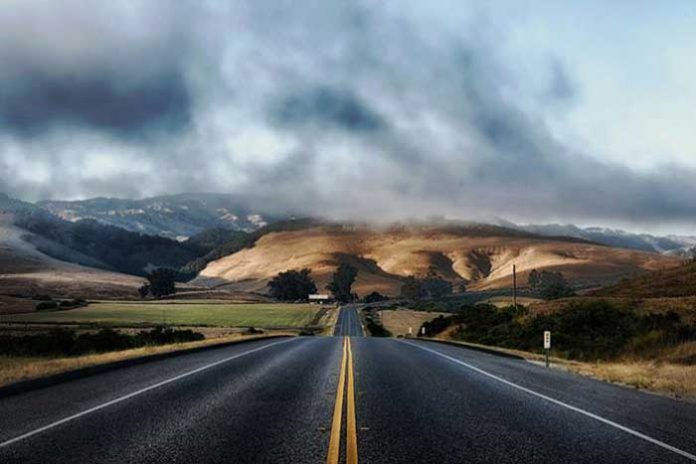 America, a road faring nation, has some of the world's best driving roads that are a part of many bucket lists. Along these mesmerizing noteworthy best driving roads in America, you will find an array of ever-changing scenery. From lush green forests breaking the border between land and asphalt to the deserted wilderness that stretches beyond vision. The best driving roads in America have it all!
The best way to experience America's beauty is simple, go for a drive on any of the scenic routes. Just sit in a car and drive through its swirling canyons, breathtaking coastlines, scorching deserts, and exuberant woodlands. Not only are these scenic routes in America candy to your eyes, but driving through them will also give you and your traveling companions a sense of absolute freedom and euphoria. But remember that these ribbons of asphalt might be a test for your driving skills as some of them require professional drivers.
Also read: Check out this list of best states to live in America.
Moreover, due to the adrenaline-inducing sharp turns, deep twists, and narrow passes! These drive roads are one hell of an adventure! So, make sure to fasten your seat belts tightly.
Below, you will find a list of some of the best driving roads in America. Each has its own merits; some are great for long drives where you desire for solitude. Some are good for a summer road trip with friends and family, and others are ideal for adventure seekers.
The 12 Best Driving Roads in America that are a Must-See; 2021 Updated List
Are you planning for a cross country road trip across the US but don't know where to start from? Well, today must be your lucky day as we're going to provide you a complete list of the 12 most beautiful roads that you can find anywhere in America. Our list contains some of the most iconic and breath-taking roads that you can find in the US.
So, what are you waiting for, continue reading and decide which one you'll explore first!
Tip: Check your car for signs of a blown head gasket before setting off on your road trip.
1. Top of The World Highway, Alaska
Another fantastic driving route that is a must-see in the USA is the top of the world highway, Alaska Route 5. It's a 127 km long scenic yet extremely dangerous remote road that goes winding around the peaks of Alaska. On top of the world highway, you'll be driving at an elevation as high as 4,515 feet along one of the most beautiful places to drive within the US.
Most parts of this remote highway are unpaved and it is also known as Yukon Highway 9 or the 60 Mile. Overall, it offers one of the most scenic and extremes drive that you can find within America. The winding roads starts from the junction of Taylor Highway near Jack Wade in Alaska going all the way to the west ferry terminal in Dawson, Yukon. This uniquely picturesque drive will take on an unforgettable journey winding through forests, steep shoulders with exhilarating views of the valleys.
However, to able to drive on this remote road, you must have prior driving experience of traveling on mountain roads. As the top of the world highway is quite tricky, therefore, experienced drivers are usually preferred for driving on it. But if you still want to drive on this road, then just keep your speed in control and watch out for tight turns as there are no guardrails.
Likewise, you must carry top of the world highway map with you at all times so you won't get lost. And before you embark on your journey, do keep in mind the Canadian border timings because if it's closed, there's no other way to cross it. Although these interstate highways are operational until snowfall, the ideal season for visiting them is from May till September.
However, once you're in this area then you mustn't forget to taste the scrumptious chicken Alaska, the best one in this state and make your visit a good trip to remember for ages to come.
2. The Million Dollar Highway, Colorado
The million-dollar highway in Colorado is a part of the US 550 stretching about 40 km in western Colorado. It's undoubtedly, one of those spectacular drives along the San Juan Skyway, where you'll witness some most iconic views of the American wilderness. With an abundance of scenic spots, the travelers are in for a treat with a hell of views of the outside snowy mountain.
However, before getting on this highway, it's always good to keep a million-dollar highway map with you so you won't lose your way. Starting at Durango passing through Silverton and Ouray all the way to Ridgway, the views that the travelers witness along this highway are simply breathtaking and stupefying. This road stretch runs parallel to the Durango and Silverton Gauge Railroad, climbing up three very high mountain passes.
The weather in this part of the US is quite harsh and unpredictable it changes quite drastically, making it an extremely dangerous drive. The stretch from the Uncompahgre Gorge to the summit of Red Mountain Pass is particularly tricky and challenging to drive. It is characterized by hazardously steep cliffs, narrow lanes, sharp shoulder turns as well as a number of hairpin S curves. Moreover, there are no guardrails along this road which makes it specifically difficult to drive.
3. Kancamagus Scenic Byway, New Hampshire
If it is Autumn and you have decided to take a road trip, there is no better place to choose but the Kancamagus Scenic Byway, New Hampshire. With its large display of fall foliage, it remains one of the best driving roads in America, deserving so. The 34.5 miles picturesque byway on Route 112, passes through the splendid White Mountain National Forest. That is famous for its Autumn beauty!
Many locals refer the byway as "Kanc" that remains untouched by any human-made stations. I suggest you visit this 3-hour stretch of beauty during the second week of September until the middle of October when its world-famous fall foliage is in full swing.
Also read: Check out these amazing globetrotting tips to save a lot of money on your next trip.
4. Indiana State Road 135, Indiana
This scenic backcountry route will take you from the historic Salem downtown to the Hoosier National Forest. It will give your ride a backdrop of beautiful southern Indiana farmlands. It stretches all along the Brown Country State Park, with steep hills dubbed "Little Smokies" in your view throughout the ride. The 49.5-mile ribbon takes only over an hour to drive across but is a full package. Here, you will experience green pastures and golden cornfields of rustic Indiana.
The beautiful windy road also passes through the city of freedom, Nashville. For anyone up for a bit of an adventure, the famous Bean Blossom Covered Bridge is just off this road for your exploration, to give you a flavor of nostalgia & excitement.
5. The Twisted Sisters, Texas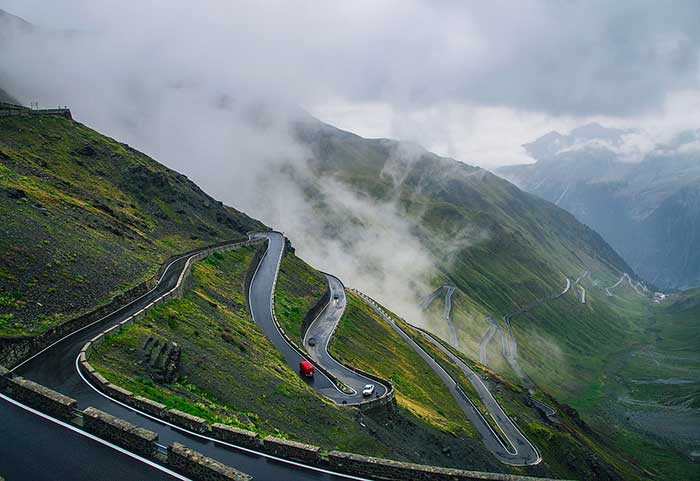 The seductive triplet country ranch roads 335, 336 and 337, a.k.a "The Three Sisters" are a 100-mile loop of challenging curves in Texas. Additionally, it's a perfect route for thrill-seekers, especially to bikers, who want a rush of adrenaline and wind howling while they charge through its twisting curves. However, safety first! Make sure you know how to maneuver your vehicle on these tricky ranch roads.
Some of the best stops along the route are the Frio Canyon Motorcycle Stop on RR337, Vanderpool, and the Lone Star Motorcycle Museum & the Nueces River along the RR 335, among others.
6. Blue Ridge Parkway and Skyline Drive
These two are the best driving roads in America with utterly lavish backdrops. Skyline Drive, Virginia, is much more popular than Blue Ridge Parkway, but both are equally mesmerizing. The former scenic track is 105 miles in length and passes right through the beautiful Shenandoah National Park far-flung from any civilization. It is usually hectic because of the irresistible attraction it provides to travelers from all around the world.
On the other hand, the longer 469 miles Blue Ridge Parkway passes through a broad terrain that skirts a little closer to civilization in comparison to the Skyline. It is the longest linear park in the US that crosses 29 North Carolina and Virginia counties. Both these routes are perfect for people in the mood of sweeping through smooth roads, with the natural beauty of Virginia as a companion.
7. Hells Canyon Road, Idaho
The Hells Canyon Road offers breathtaking views of the canyon through which this byway winds. It starts at Oxbow Bridge close to Copperfield, Oregon, and then crawls along the Snake River to the Hells Canyon Dam. It takes approximately 3 hours to make a round trip across this 22 miles Byway. Luckily, you can visit this narrow, two-lane road at any time of the year.
Most people call it "the most scenic drive in Idaho." Thanks to the numerous points where travelers can't resist but stop in awe of the beautiful rugged scenery that stretches in front of their eyes. However, make sure you know your way with your car if you secede to make this trip because it requires some exceptional driving skills.
8. Cherohala Skyway, Tennessee and North Carolina
Dubbed "Tail of Dragon," the route lives up to its name. Motorcyclists find the Cherohala National Scenic Byway an utter pleasure to drive through. Discovery Channel's Top 10 Motorcycle Rides in North America deserving featured this route in many of their articles. The 43-mile stretch has full sweeping turns for you to cruise along. With abundant scenic overlooks, unobstructed by human made hurdles, the National Scenic Byway stretches from Tellico Plains, Tennessee, to Robbinsville.
9. California Highway 1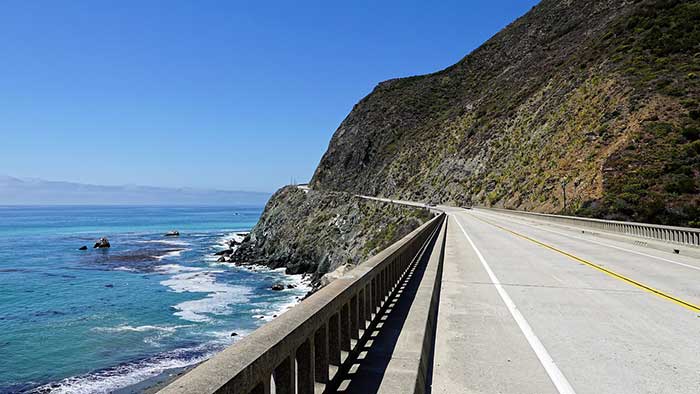 Consider this one of the most classic road trips to go on in America. Make sure when you visit California Highway 1, you do it right. You should start in San Francisco and then go down to LA while riding along the Pacific Coast. The coastal route stretches about 650-miles, starting from Santa Barbara and ending at Monterey while passing through a panorama of marvelous sea views, including the unspoiled Big Sur. Make sure you stop at all the must-see spots along this dramatic coastal route.
10. Going-to-the-Sun Road, Montana
Going to the Sun Road in Montana is among one of the most spectacular driving roads in America. it spans 50 miles of road and crosses the Continental Divide right at the Logan Pass. The route is usually only open from May to October due to heavy snowfalls making it impossible to drive in winters. It traverses through the heart of the Glacier National Park with beautiful valleys, gushing waterfalls, wildlife, and big arresting glaciers, giving you a view synonymous with an oil painting.
11. Vermont Route 100
One of the most incredible and best driving roads in America, Vermont Route 100, is also known as "Vermont Main Street" and "The Skier's Highway". The Byway covers 216 miles running from the Canadian border up to Massachusetts. Furthermore, much of the backdrop along this scenic drive is the breathtaking lush green mountains. It also connects to the very famous Vermont ski resorts. And be it Spring, Summer, Autumn, or Winter, Vermont Route 100 is an excellent road trip option.
Moreover, the Route 100 has numerous stops along the way, but I believe some of the noteworthy ones include Mount Snow in West Drover, Vermont Country Store, the Okemo Mountain Resort, and the Moss Glen Falls that are in Granville. Your experience will remain incomplete if you do not stop at some of these.
12. Utah Scenic Byway 12
The Scenic Byway 12 is truly a unique road. It also seems the road is constructed as such to make it appear infused as a part of the scenery like it always belonged there. Moreover, along this byway, you will find the Grand Staircase–Escalante National Monument and the amicable Boulder Mountains as far as the eye can see. Additionally, the route connects Bryce Canyon to the Capitol Reef National Park along its 124 miles stretch. Do not forget to meet the local communities living beside this highway, as they are incredibly welcoming, friendly to the travelers stopping by. Try to always camp alongside the road in an open starry sky.
That's All for Best Driving Roads in USA
I go on road trips now and then not only to have a break from my everyday routine, but also for a taste of freedom and see wonders of God. America has also been blessed with some of the best driving roads in the world that give you a sense of calmness and pleasure.
Once your eyes traverse the beautiful, ever-changing landscapes and the spellbinding sunsets and sunrises that come along with a road trip, you become an addicted traveler. Soon you will not be able to hold back from going back for more.
Accordingly, escape for a few days and cruise along the smooth curves of best driving roads in America. The dense greens, blues, oranges, and white brushstrokes will put any painting to shame in comparison. You will enjoy fleeting moments of tranquility and spiritual, emotional and physical rejuvenation. Oh! Be sure to take a million photos for the memory lane.
If you don't know how to drive a car, no worries; you can learn here.