We know that 2020 and 2021 have been tough and like nothing we have ever experienced. And it comes as no surprise that your physical health may have been put on the backburner during these difficult and trying times. We get it. But the time has come to get serious about your health and your weight loss journey. Know that you are going to have a different journey than everyone else. Accordingly, try your best not to compare yourself to others, but know that you aren't alone. Even though it will be a journey unique to you. Likewise, there are quite a few universal accountability techniques to keep you on track. They also help you get one step closer to your goals. So, let's get started.
Document your progress along your weight loss journey
One of the best ways to keep yourself accountable is documentation. Whether this is writing in a journal what you are eating, taking progress photos of yourself, or keeping a workout calendar handy and up to date, having reference points to look back on throughout your journey will help to keep you on track. It will also help you to see how far you have come. Moreover, it can help to motivate you to keep going even when things get tough or you are feeling stagnant. One look at where you once were will give you that push to a healthier future.
Allow yourself time to relax and rest
If you are finding that your body and mind are exhausted during this journey and you never seem to be getting enough rest. Accordingly, you may need some assistance to help you get there. The best CBD gummies 2020 and for 2021, may help you to get the rest and relaxation your body needs to heal and recover during your weight loss process. CBD is known to help its consumers to rest, focus, and relax. Plus, CBD gummies are now made with superfoods, and non-GMO ingredients. So, eating them won't take you too far off your diet plan, either.
Have an accountability partner
One of the best ways to stay accountable is by having someone to check in, meal prep, or workout with. Though they won't know exactly what you are going through, most people experience a lot of the same difficulties on their health and fitness journeys. Having someone to go through the tough things with will make it easier to not give up. Also it will bounce ideas off of, too. Plus, it is always fun to have someone to celebrate your victories with. So, don't be afraid to treat yourself to a new workout top or cheat meal with your accountability partner at least once a month during your journey together. This will keep you both focused and ready to tackle more difficult tasks, together.
Find out your "why" and let it motivate you through your weight loss journey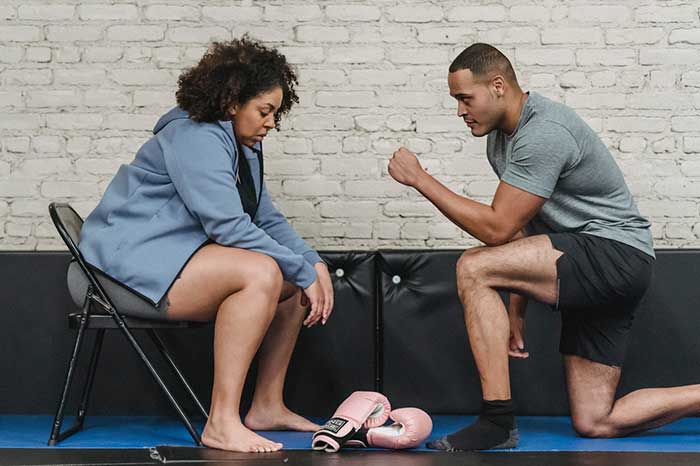 Why is it that you are on this weight loss journey? This is a great question to ask yourself, that way you can set your intention right for this process. You want to have a good motivating factor to keep you on track and focused. Having set intentions can help to keep you accountable because you will have something to keep your eye on, a mantra to push you, and a goal you will stop at nothing to accomplish. Your "why" can be things like long term health, setting a good example for your kiddos, or just wanting to feel better right now. Know that no "why" is too small, and they all are worthwhile to work towards.
We know this journey of losing the weight won't be easy, but we hope that you find success in it. Good luck, you got this