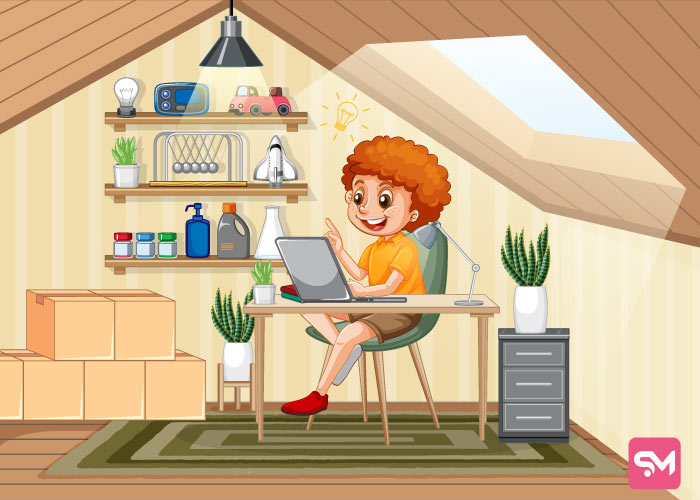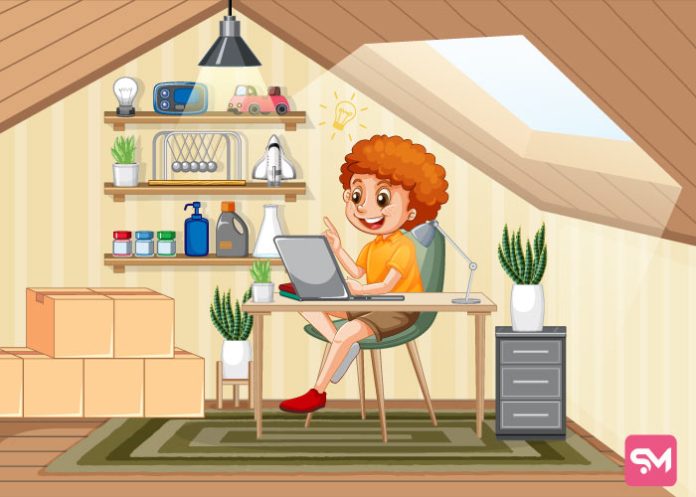 Quarantine has confined all of us to our homes, creating troubles for students, teachers, and parents alike. Although it is impossible to bring the exact school environment to home, you can still create some effective home classroom setup ideas. No matter the age of your children, whether they're preschoolers or teenagers, a good parent should realize their unique needs and academic requirements. That's why we have some fun and practical ideas for students of all ages. Check out these designs to transform your space now!
Before you look at some home classroom setup ideas, why not checkout what is actually a home classroom setup.
Best Home Classroom Setup Ideas for Distance Learning During COVID-19
Home Classroom Corner With Hanging Storage for Kids
If you have a small house with not much space, then this home classroom idea suits you. The hanging storage unit eliminates the need for much floor space and works just as well. You can tuck this home education setup for your kids in a corner and they'll be happy to take their classes! Notice how the window is right beside the setup to allow natural light in.
Simple Virtual Home Classroom Setup Ideas Without Windows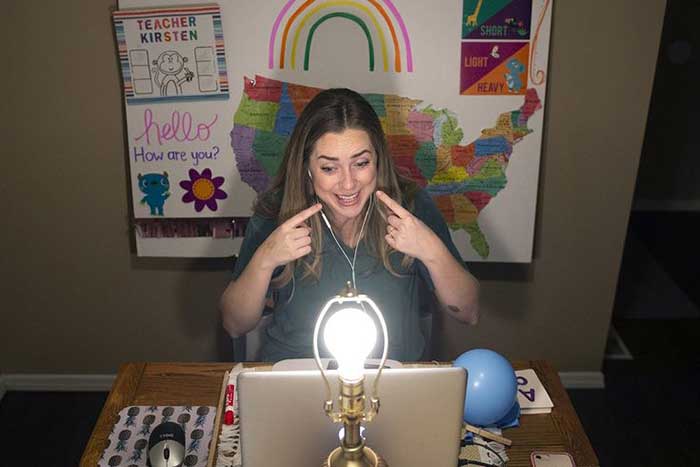 This teacher proves that you don't need fancy furniture and Décor to set up your classroom at home. She uses a simple table and a chair, with a whiteboard. Whiteboards are great because you can use them to create different art. Bored of the previous background? Just wipe it off and create a new one! Furthermore, she compensates for the lack of natural light with an artificial one. It's great for high-quality videos but long-term use of direct light can cause health problems.
Mini Portable Learning Setup for Preschoolers
If you have a lot of children but not enough rooms, no need to be disheartened. One creative mom found the solution for that with this portable classroom folder for preschoolers, designed to give them privacy and make them focus. You can make this using cardboard and decorate it with helpful reminders and useful information to keep your little one focused. This portable setup keeps the distractions away and can be used in any part of the house.
Living Room Turned Classroom for Distant Learning
If you do happen to have extra space in the house, then no need to scrimp. You can go all out and turn your bedroom into a classroom. However, you still don't require anything more than the essential materials mentioned above, although you can choose a wider desk, a bigger whiteboard, and a bulletin board. If you're teaching older kids, then it is better to stick to less bright colors and vibrant backdrop décor.
Design A Colourful Backdrop for Your Online Classroom
Having a colorful background is not only fun but also makes the whole alienating experience of teaching and learning online less boring. If you truly want to engage your students in the process of Virtual learning, then this is a great idea. You can decorate the backdrop with fun images and silly jokes to lighten the mood of the class. And don't forget that it's totally okay to use shoe boxes to adjust your laptop!
Separate Work Stations for All Your Young Students
Another good idea to increase the concentration and productivity of students learning from home is to set up individual workstations for them. This is especially effective if you have many kids. It gives them some resemblance to a traditional classroom.
Replace Beanbags With Hard Chairs for A Extra Comfort
Some students have a lenient schedule while others have to follow the same old one, full of back-to-back classes. Online Learning doesn't even give them the necessary recess of moving between classes. It can get very hard for students to sit still on uncomfortable wooden chairs. That's why it's a good idea to use Beanbags or gym balls instead of chairs. It is more comfortable and also adds a fun element to a virtual classroom.
A Simple And Practical Setup for Home Classroom
With so much going on, chances are, you don't really have time for elaborate setups or converting entire rooms into classrooms. No need to worry! Here's a simple and Practical classroom set up for anyone who wants something low maintenance. It doesn't require fancy home cleaning tips to clean up either!
Freshen Up Your New Classroom With Some Plants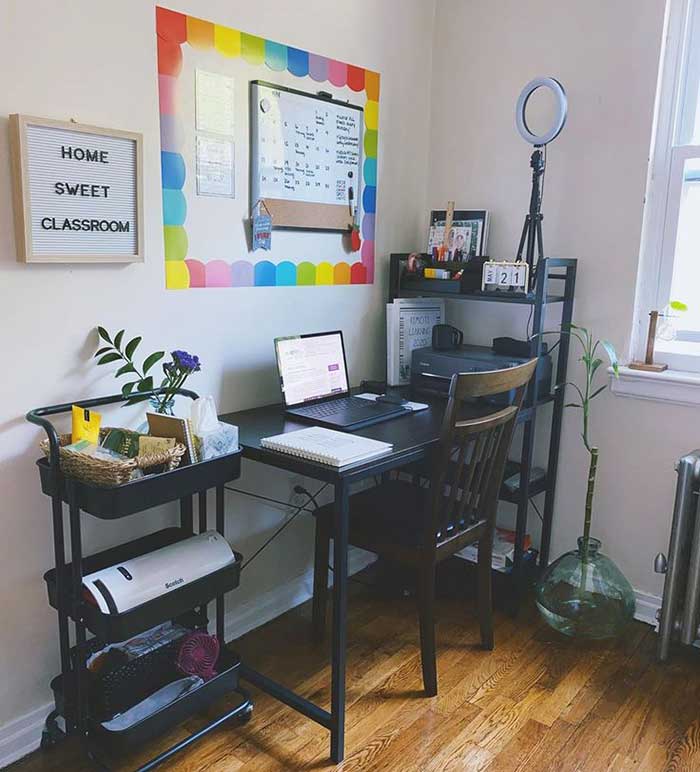 A quick way to liven up your new learning space is by adding flowers and plants. You might be tempted to add big plant-holders to your new Classroom but that can make it very cluttered. To keep things neat and spacious, it is better to use small flower pots. They add a bit of color as well as bring the outdoors in, which has positive effect on the mind especially during quarantine.
Students Need Only A Study Table For Good Home Classroom Setup Ideas
It is compulsory for teachers to turn on their videos for e-learning however, that's not necessary for students. Therefore, students don't have to invest in an attractive background. All they need is a study table with a computer set up. This is more true for high school students and teenagers. Still, make sure that they get ample natural light in their learning environment.
Conclusion
The takeaway is simple. It is easy to create a productive and inspiring environment for students to learn from home. We've described various ideas that anyone can utilize for this purpose. All you need to do is ensure that they get enough natural light and are away from any distractions. Figuring out how to keep organized through different storage solutions that work best for you is one of the healthy habits for kids that parents should help their children with. And get the best out of distance learning with these new home classroom setup ideas!