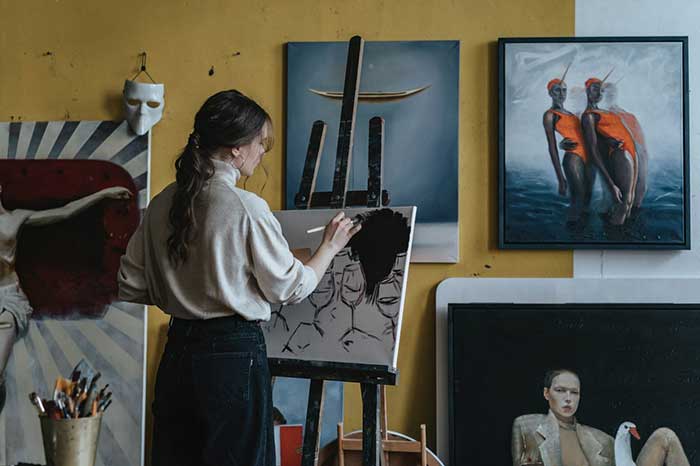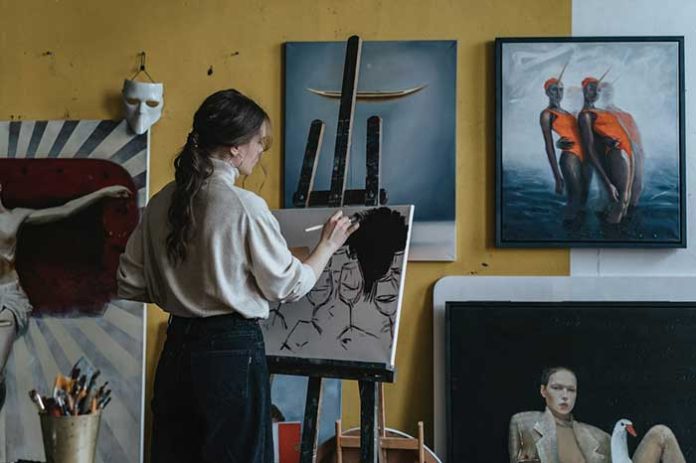 As an art enthusiast, you must have wondered at one point, "where are the female artists?"
The sad reality is that history is brimming with incredible artistic women. But societal confines and gender biases prevented them from getting acknowledged like their male counterparts.
For many centuries, art academies did not allow admission to women. Only if a girl was born to an artistic father could she learn and pursue a career in arts. Cultural injustice and prejudice hindered women's progress in art a great deal.
We know several male artists at our fingertips- Vincent Van Gogh, Pablo Picasso, Da Vinci. But, what about their contemporary female counterparts that served art equally? Despite their distinguished contributions, their very mention is mute in art history.
The prime example is Sofonisba Anguissola, a 16th-century female painter. Michelangelo acknowledged her talent and mentored her. She also served in the court of King Philip II of Spain as a painter. But, only a few people know about her today.
Most Famous Female Artists and Painters Across History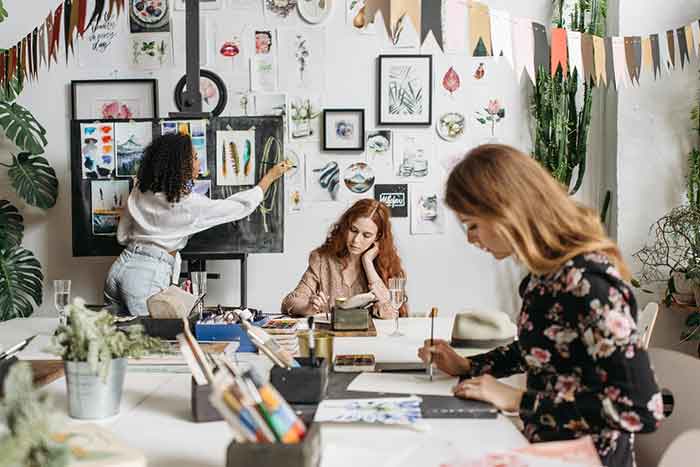 We have compiled the list of best female artists throughout the centuries. These women, led by their passion, broke societal boundaries and earned a name for themselves and their craft
Every art admirer must know about these women as an appreciation of their work would encourage more women to pursue artistic careers.
Let's dive in!
Artemisia Gentileschi (1593-1653) – One of the Oldest Female Artists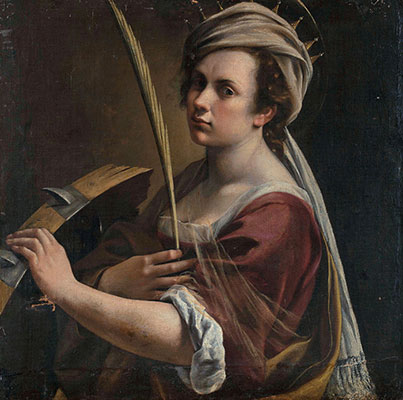 Artemisia Gentileschi is a trailblazer artist of the Italian Renaissance. She is among the few female artists that rose to fame in 17th-century male-dominated Rome. She is the daughter of acclaimed artist Orazio Gentileschi.
Her work, influenced by Caravaggio's style, still had her distinct touch. Gentileschi is famous for her realism, flesh tones, dynamism, and psychological placement in her paintings.
Her struggling childhood, rape by her instructor, and societal prejudice had affected her work greatly. She knew the plight of being a female, and that reflected in her work. She actively commented against male authority and discrimination through her art.
"A woman's name raises doubt until her work is seen."

-Artemisia Gentileschi in a letter, 1649
Gentileschi had women and their stories at the center of her paintings. Her work depicted empowered, bold, and often violent women in between persevering against cultural injustice and prejudice.
Prominent work
Susanna and the Elders, 1610.
Allegory of Inclination, 1615-16.
Judith Slaying Holofernes, 1620.
Self-portrait, 1630.
Adelaide Labille Guiard (1749- 1803)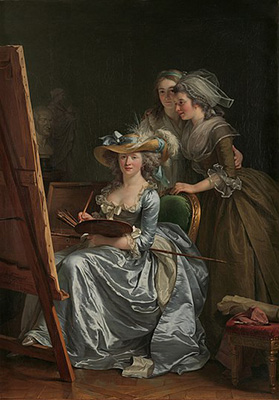 Adelaide Labille Guiard is a prodigiously talented painter of 18th-century France. In 1783, she was one of the four women admitted to the Royal Academy of Painting.
The talented female artist worked for several royal and aristocratic patrons. Her work mainly included portraits of noblemen and women. She got the title Peintre des Mesdames (painter to the king's aunt).
Labille Guiard is one of the prominent artists of the French Revolution. She contributed a great deal to the Rococo Movement.
Labille-Guiard was a trailblazer of the art education of women. Her most famous masterpiece is her self-portrait with her two pupils, portraying the importance of art education. She also oversaw a teaching studio and changed the academy policies, favoring the women artists.
Adelaide Labille Guiard, like other female artists, also faced hostility and rejection from her male rivals. She got accused that a female could not produce art of such integrity. However, the artist persevered against all odds and got her talent acknowledged.
Prominent work
Portrait of Jean- Jacques Bachelier, 1782, Louvre Museum.
Self- Portrait With Two Pupils, 1785, Metropolitan Museum Of Art.
Portrait of Madame Adelaide, 1787, Speed Art Museum.
Portrait of Madame Victorie, 1788, Chateau de Versailles.
Paula Modersohn-Becker (1876-1907)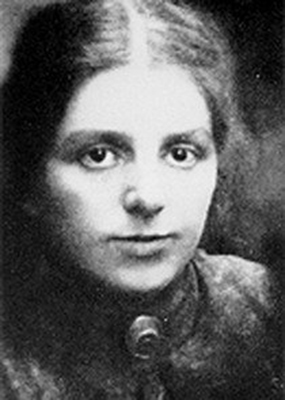 Germany-based Paula Modersohn-Becker is one of the eminent female modern artists. Her work features stylistic elements of Expressionism, Impressionism, and Cubism.
She received art education from the Drawing and Painting School of the Association of Women Artists in Berlin. Modersohn also studied at Academie Colarossi and the Ecole des Beaux-Arts in 1900.
Her initial paintings included nature and landscapes. Later in life, however, she got interested in nude portraits and still life subjects. Over 50 of her portraits were nude figures.
In 1907, her pregnancy influenced her paintings big time. She made several portraits of women and children, complementing the Feminist Art Movement. Modersohn-Becker was the first female artist who painted herself nude while pregnant.
Sadly, the career of the blooming artist fell short due to her early demise at the age of 31.
Prominent Work by Paula Modersohn-Becker
Birch Tree in a Landscape, 1899.
Reclining Mother-and-Child Nude, 1906.
Self-Portrait Nude with Amber Necklace, 1906.
Self-Portrait with Two Flowers, 1907.
Georgia O'Keeffe (1887-1986)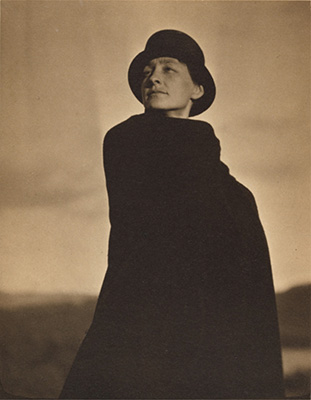 Mother of American Modernism, Georgia O'Keeffe, is a reputable female modern artist of all time. She played a massive role in the development of American Modernism.
O'Keeffe's work exhibits Precisionism, modernism, and proto-feminism. She has over 70 years of work to her credit- from fields of New Mexico to skyscrapers of New York. She portrayed nature, landscapes, flowers, and bones in abstract form.
"It is easier for me to paint it than to write about it, and I would be so much rather people would look at it than read about it."

-GEORGIA O'KEEFFE.
During 1915-16, O'Keeffe produced a series of "charcoal drawings" with abstract composition. It caught the attention of Alfred Stieglitz, a prominent photographer and gallery owner.
Georgia O'Keeffe then moved to New York in 1918 to pursue art. Till 1964, she has had 22 solo exhibitions and various group displays. As per statistics, O'Keeffe is the 3rd best-selling female artist worldwide between 1985 and 2014.
Prominent Work
Charcoal Drawing, 1915-16.
Black Iris, 1926.
Cow's Skull: Red, White, and Blue, 1931.
Sky Above Clouds IV, 1965.
Maud Wagner (1877- 1961)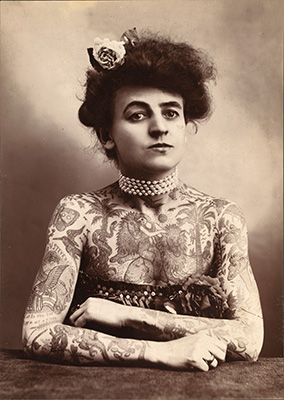 Maud Wagner is the first professional female tattoo artist in the history of the US. She was a circus performer- an aerialist and contortionist. In 1904, she met the acclaimed tattoo artist Gus Wagner – whom she later married- and got interested in tattoo art.
Gus offered to teach her the art of a tattoo in return for a date. Here started the artistic journey of Maud Wagner. She learned the traditional method of making tattoos – with needle and ink – from her husband.
After some time, her body became the canvas of many intricate designs, shapes, faces, and scenes. The artistic couple flew all over the US, making tattoos and getting tattoo art common among people.
Maud Wagner became a pioneer of tattoo art when the tattoo world was a men-dominated area. She challenged the stereotypes and evolved as a renowned artist whose work lasted for years.
Prominent work
Alma W. Thomas (1891- 1978)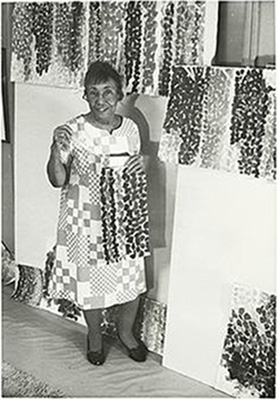 Alma W. Thomas is a renowned African-American colorist and abstract painter. She was the first graduate of the fine arts department of Howard University. Later, she got her Master of Arts degree from Columbia University.
Thomas was an art teacher at Shaw Junior High School for 35 years. She became an active painter after retiring from teaching in 1960. The artist produced watercolors, abstract art, and aerial landscapes.
As a black female artist, Thomas faced severe backlash and racial discrimination. However, she did not let any of it get to her. The artist believed that art is above all races, genders, and people.
Thomas became the only Black woman to have her solo exhibition at the Whitney Museum of American Art in 1971. In 2015, the White House Collection acquired her paintings, including Ressurection (1966).
Prominent Work
Resurrection, 1966.
Wind Dancing with Spring Flowers, 1969.
Snoopy Sees a Sunrise, 1970.
Red Azaleas Singing and Dancing Rock and Roll Music, 1976.
Diane Arbus (1923-1971)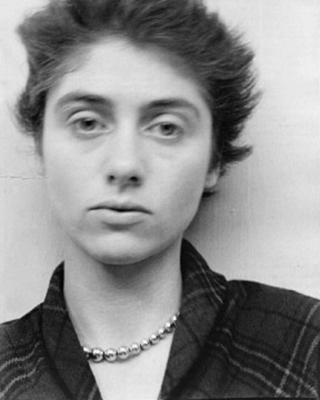 Diane Arbus is an American female photographer, best known for her documentary and street photography. She mainly captured what did not really seem aesthetically pleasing.
Arbus often photographed the non-conventional people- circus freaks, transgenders, midgets, giants. She made great art around the 'real world', which often did not complement the visual pleasure. Arbus said about her unusual subjects:
"I really believe there are things nobody would see if I did not photograph them."

-Diane Arbus
She was interested in people who did not fit in the conventional frame of society. Arbus wanted to search for the questions about identity. Her own identity issues reflect in her work a great deal. Critics claim her work as fantastical, bizarre, and psychologically complex.
Having suffered from depressive episodes all her life, the artist attempted suicide on 26 July 1971. After a year of her death, her work got displayed in the Museum of Modern Art in New York.
Prominent Work
Jack Dracula, the Marked Man, 1961.
Two Female Impersonators Backstage, 1962.
A child with a Toy Hand Grenade, 1962.
Loser at a Diaper Derby, 1967.
Art is for All! – Rise of Female Artists
To this date, female artists get understated as compared to male artists. Although there is much awareness now, we still have many archives of incredible women in the art that are waiting to be explored.
Art is above all genders, races, and cultures. It defies societal norms and prejudices to find a chance to flourish always. We pray that art always prospers!
Also Read:
Images from: Wikimedia