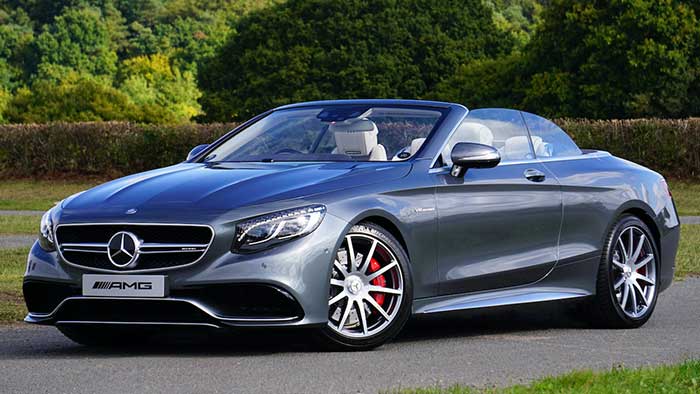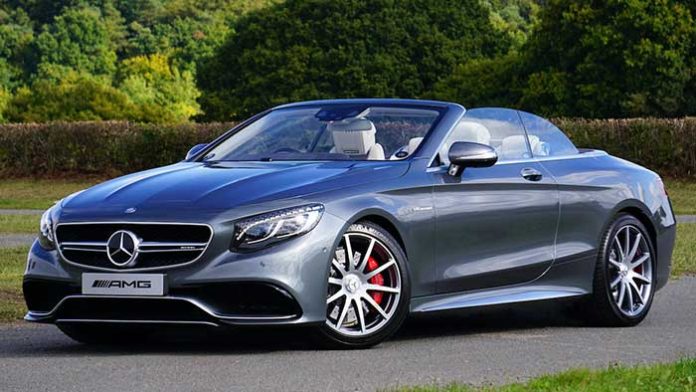 Convertible electric cars have been in discussion for many years because of their sustainability, but in recent times, they have gained popularity and attention. Probably because now Tesla has fully dived into this niche or the freedom, style, safety, and prestige that comes with it. Who does not want to go on a long drive at night with the breeze breaking through the hair and enjoy the scenic view anyway?
What are Convertible Electric Cars?
Electric car convertible are the ones with retractable roofs that can open up so you can enjoy breezy winds in pleasant weather. They are also called drop-tops or cabriolets. They get hot in demand in summer so drivers can enjoy easy driving.
Top 5 Best Convertible Electric Cars to Buy
It has always been a dream of car owners to save money on fuel. With the release of large SUVs with best gas mileage on the market, this dream came true. However, you still have to pay and with the rising fuel costs, the bills can be considerable. Today, there are electric cars that don't need fuel to run on the road. We have listed 5 best electric convertible cars to buy in 2023.
1. Tesla Roadster (2nd Generation) | A Super Car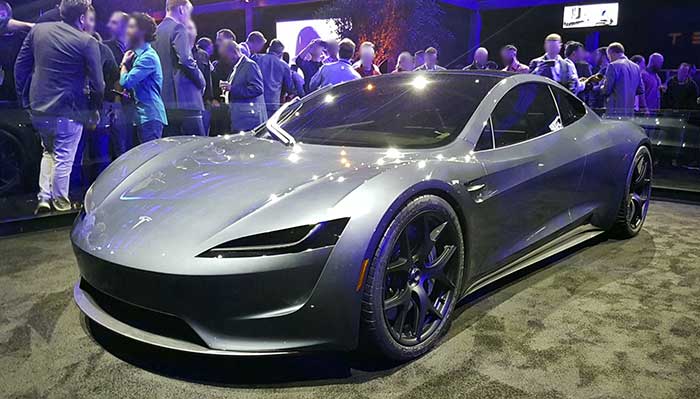 Tesla has to be the first when it comes to electric cars. Its prime feature – the glass roof gives an immersive experience tesla roadster like no other. This engineering and artistic marvel got the eyes of every car enthusiast on the planet. The tesla roadster interior is so amazing that it stunned the crowd. It has been considered the fastest car in the world, and rightfully so. It can go up to 96.5 km/h in 1.9 seconds.
| | |
| --- | --- |
| Price | Around $200,000 |
| Speed | 200 kWh |
| Battery Capacity | 250 mph |
| Top Features | Sleek and functional design, top speed than any of the competitors, excellent control, front and rare-facing camera, and other safety features |
2. MINI Cooper SE Convertible | World's First Emission-Free Convertible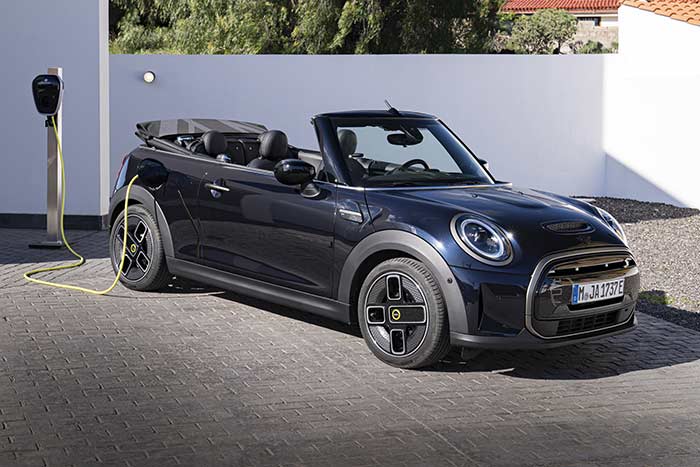 It is considered to be the first all-electric convertible car which can be a significant stepping stone in making electric mobility a new normal. The sleek exterior painted with luxurious black and silver-white color makes it intimidating. Its unique selling point that has gained attention worldwide is its zero-emission feature. Like the best electric cars for families or best mom cars, it has a fully integrated infotainment system and a wide-length speedometer, making the interior stylish yet functional.
| | |
| --- | --- |
| Price | $28,400 |
| Speed | 150 km/h |
| Battery Capacity | 28.9 kWh |
| Top Features | Seat heating, adjustable thigh support, soft textile retractable sunroof, Amazon Alexa car integration, and brake assistance makes it unmatched. |
3. Fisker Ronin | High-tech Electric Sports Car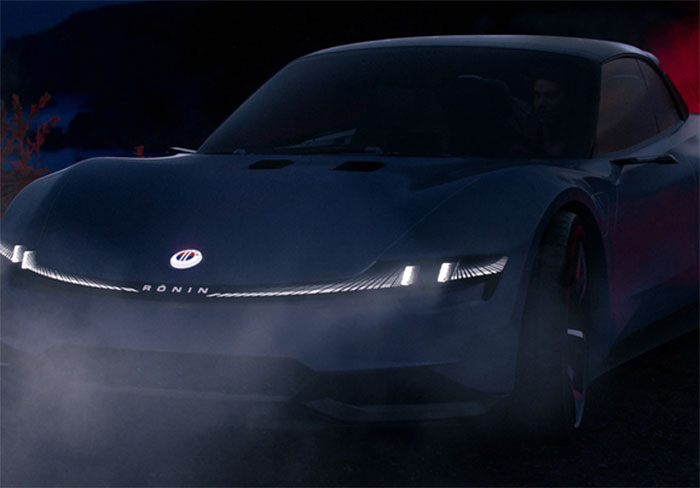 The innovative design of this convertible electric car is not the only thing that is driving the enthusiast crazy, but its low cost, simple and light appearance sets it apart from the competition as well. It is the same reason Henrik Fisker, the Fisker Inc. CEO, said, "2023 will be a pivotal year for EVs." Plus, the company's focus is to make top-quality eco-fiendly cars that ensure sustainability and reduced carbon footprint.
5-seated grand relaxing interior and the latest aerodynamic tech of Fisker Ronin are suitable for long road trips where you can carry luggage.
Note: The Ronin is expected to debut in August of 2023, with production starting in the second half of 2024.
| | |
| --- | --- |
| Price | under $200,000 |
| Speed | N/A (range — 600 miles) |
| Battery Capacity | (not yet released by Fisker) |
| Top Features | An all-electric GT sports car, four-door convertible grand tourer EV, active aerodynamics, all-vegan interior (vinyl upholstery), 0-60 mph acceleration in 2 seconds. |
4. MG Cyberster | All-Electric Sports Car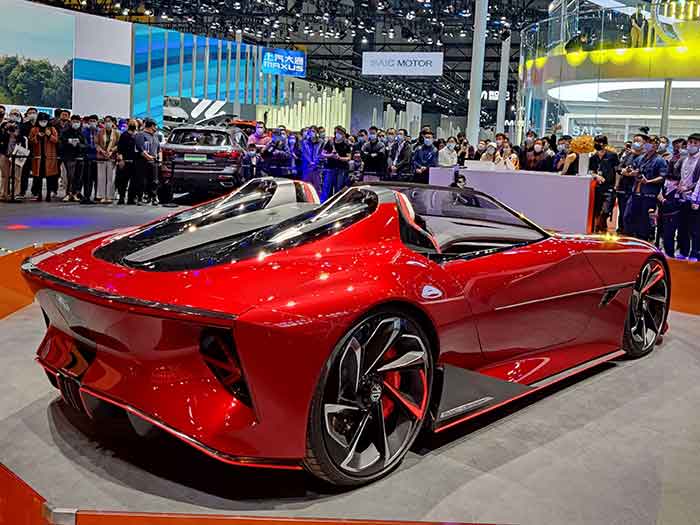 The design is somewhat nostalgic, taking us back to the era of the 60s and 70s. The sloping bonnet, scissor doors, large rear, and wide side of MG Cyberster make it look like a typical sports car with an elegant British touch.
Prominent features include a sleek exterior, 5G connectivity, and a high-tech interior with 3 screen setup—all of this at highly affordable prices.
| | |
| --- | --- |
| Price | Expected $64,358 |
| Speed | 120 mph (base level), 195 mph (mid-level), 124 mph (top trim) |
| Battery Capacity | expected battery capacity of 64kW |
| Top Features | Classic sports car styling, 0-60mph acceleration in under 3.0 seconds, 450 horsepower, electric doors, electric roof, and all the screens standard. |
5. Fiat 500e Cabrio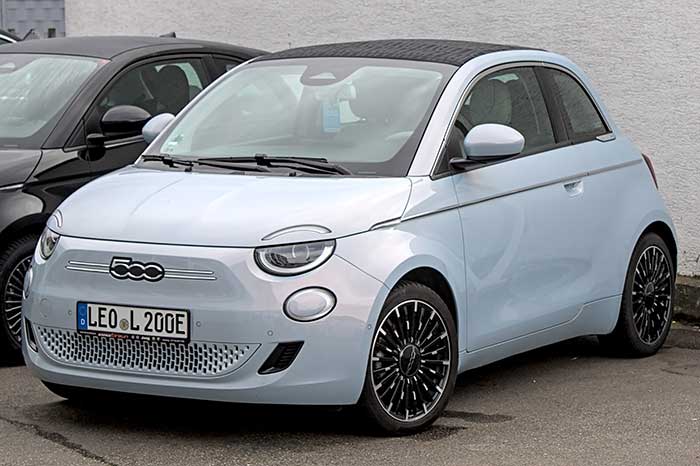 The eye-catching details of the exterior and interior of the Fiat 500e Cabrio make it stand out. You will find a wireless charging pad, spacious leg, and headroom, Apply CarPlay systems, 7-inch radio with navigation from Uconnect.
Another characteristic that sets it apart is its highly-precise safety features. With cruise control, you have more control over its speed. Plus, the automatic brakes can accurately avoid a collision. Initially, it warns the driver, and in case of an absence of response, it helps the driver to apply the brakes automatically – minimizing the chances of potential impact.
| | |
| --- | --- |
| Price | $30,000 to $40,000 |
| Speed | 150 km/h |
| Battery Capacity | 42kWh |
| Top Features | 80% battery charge in just 35 minutes, 10.3-inch infotainment touchscreen, electric door handle with the e-latch system, long-range, iconic design with recycled fabrics, three different capote styles for an icon. |
Conclusion:
Whether you are a fan of high-tech convertible cars or prefer more sustainable cars with zero emissions, these are the top 5 cars you should consider in 2023. With each year, the engineering of these cars is growing rapidly. And the futuristic designs of these automobiles not only look stunning but has unmatched features as well.
FAQs – Electric Convertible Cars
Will Audi make an electric convertible car?
Audi has an EV convertible under the pipeline, which will join its open-top model line-up, currently comprising TT Roadster, A5 Convertible, and R8 Spyder. The vehicle is expected to be launched this decade.
Does Mercedes have a hybrid convertible?
Yes, Mercedes does have a hybrid convertible. The 2021 Mercedes-Benz E450 and E53 coupe and convertible models have been updated to hybrid. The E450 convertible, in particular, offers a drop-top experience with a hybrid powertrain. The E-Class Cabriolet models have a 3.0L inline-6 turbo engine with mild hybrid drive, providing power and efficiency. The hybrid assist adds instant, gas-free torque to enhance the driving experience.
Is a convertible a safe car?
The Insurance Institute for Highway Safety has regarded convertible cars as safe or risky as non-convertible cars. It means you do not have additional risks involved when driving a convertible. However, one should follow proper safety rules, such as wearing seatbelts, getting protective eye gear, keeping your convertible maintained, and avoiding speeding.
Why is Toyota not doing EVs?
Toyota believes that battery-electric vehicles are not the solution to sustainable vehicles and achieving carbon neutrality. They also believe that not all areas of the world would accept EVs at the same pace due to high costs or lack of infrastructure.
This is why Toyota has been reluctant to invest in fully electric vehicles. Instead, they plan to blend EVs with hybrids to cap the CO2 emissions.