Shifting your home can be a daunting task, never mind packing all your belongings. Besides packing up all your furnishings and decor, not knowing the best way to pack clothes for moving can be a real hassle. However, don't worry, equip yourself with the wisdom of many that have tread the path of house shifting before you to make your moving a breeze.
This blog post gives a step-by-step explanation of how to pack clothes for moving. After moving homes three times so far, I have learnt a few do's and don'ts that I certainly hope will help you along. So, buckle up for an info dump!
Best Way to Pack Clothes for Moving – An Easy Guide To Painless Packing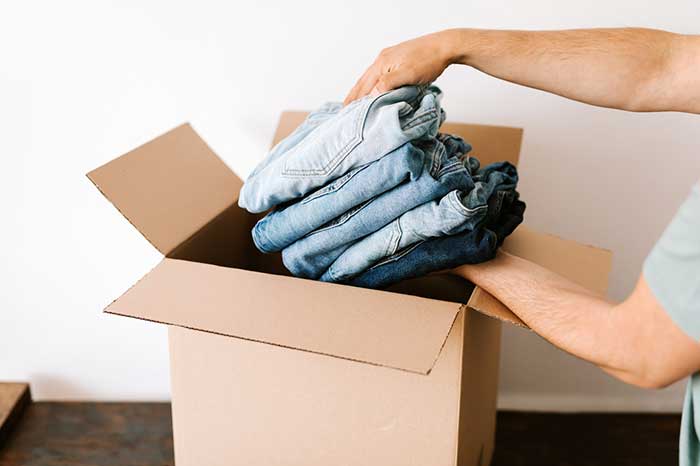 Below we're going to discuss in detail about some effective ways on how to pack clothes for moving. Continue reading to find out more!
Packing Tips For Moving In A Hurry
Trying to cram items into boxes, suitcases, and whatever else will end in disaster once you start packing. We recommend starting in a systematic way to prevent this from occurring. Apart from clothes, we hope these packing tips will also make overall moving easy for you.
Start by Sorting
The best way to pack clothes for moving starts by sorting them out. Go through your closet items and start dividing them. Divide everything into three piles: keep, donate, and sell. Doing this will help you in how to pack clothes in boxes for moving. Only keep clothes that you have worn within the last year if they are still fitting, in good condition, or have some sentimental value to you.
Each piece of clothing serves a different purpose and does not hold the same value. You can sort clothing items by material, season, articles, and person. Sorting by season is the most effective way to prevent clutter after moving since these items usually go at the end of the closet and are stored anyway.
Organizing your closet by piece is easy because it simplifies the moving process. For example, you will organize your pants by piece, shirts by piece, dresses by piece, etc. However, keep it separate for every person.
Categorize each closet separately, and make sure to label and identify their boxes and bags so unpacking is easier for everyone. This is the most hassle-free and best way to pack clothes for moving.
Donate Or Sell Clothes That You No Longer Use
After sorting out your clothes into different categories. You should consider donating gently used clothes that don't belong in your closet. And finally, you can make full use of this opportunity to sell items from your closet that are trendy, current, and in high demand but that you don't need anymore. You can host an old-fashioned yard sale or sell them online.
Also Read: Five Tips for Selling Furniture
How to Pack Clothes When Moving- Tips and Techniques Discussed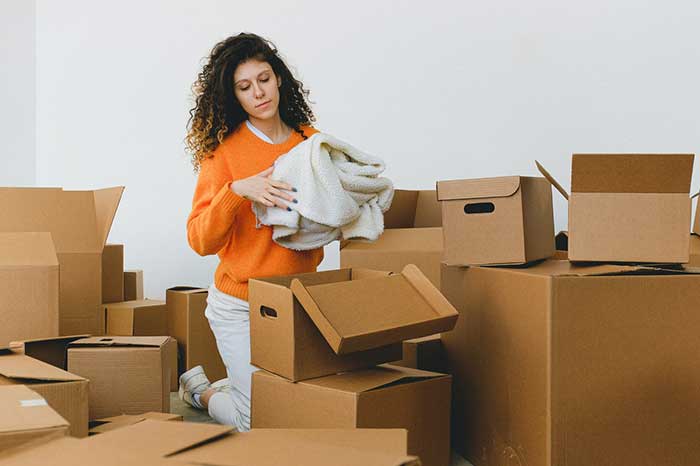 The type of clothes packing technique that works best will depend on the type of move and the amount of clothing involved. Therefore, to determine the best way to pack clothes for moving, you have to consider the place you're moving to and the total distance you've to cover while moving.
For instance, keeping your clothing sealed and protected is essential when you're traveling across the country. Whereas, if you're moving to another neighborhood, zip-tying and stacking hangers on the back seat of a car would work as well. Similarly, if you're hiring a professional moving company they'll greatly assist you in organizing your stuff.
Therefore, to help you determine the best way to pack clothes for moving, we're going to discuss different options you can consider when looking for options for how to pack clothes for moving.
10 Best Packing Tips and Techniques
You can consider many options when choosing how to pack clothes for moving.
1. Make use of wardrobe boxes
Whenever moving long distances, hanging clothing should be stored in enclosed boxes or garment racks. It is the most common tip offered by long-distance moving companies: store your clothes in wardrobe moving boxes. Because doing this will ensure that your clothes will move securely.
2. Store clothes in drawers
Clothing within dresser drawers should remain in place and the drawers and doors should be sealed so that they won't fly open when moved. This technique works best when you are using professional movers to move your stuff across states as they're experienced with moving heavy furniture. Remove drawers, wrap them in plastic, and move them separately if you feel it is safer.
3. Hanging clothes need to be wrapped
If you're only moving a short distance, hangers can be piled on top of a cart or draped over a box. Hangers should be tied together and moved in groups of five to fifteen. Protect each grouping from dust and dirt with garbage bags or sheets. Using this method is the best if you're looking for how to pack hanging clothes for moving. Moving them on their hangers isn't only convenient, but it'll also save up space.
4. If you're just storing Vacuum Seal the Clothes
During the move, consider vacuum-sealing your off-season clothes if you are only storing them for a short period. To keep long-term stored clothes fresh, they need air flow.
5. Shoes and delicate should be packed separately
To avoid damage, keep all delicates and shoes separate from other clothing. If you are packing silk or other delicate fabrics, wrap them in tissue paper for extra protection.
6. Organize clothing into bundles
It is easier to move clothes in and out of boxes in an organized manner when you use bundle packing. Spread one large item across the surface of a box. Top it off with another smaller item. Follow this with another smaller item. Using the jacket, create a bundle by wrapping it around other clothing. Place this and other bundles inside a cardboard box with the heaviest at the bottom. This technique is also pretty handy when you're organizing your wardrobes to make your place holiday ready.
Also Read: 8 Things To Put On Your Holiday Checklist
7. Clothes are heavy, so use small boxes
We all have the urge to stuff as much clothing as we can into a cardboard box. It is possible for clothing to get very heavy, which makes shifting much more difficult. Rather than using large boxes, use smaller ones instead.
9. When moving a wardrobe, use luggage
Another way to pack your luxury or delicate clothing is to pack them in your suitcase. Pack your suitcase the way you would when you go on vacation, if you're a travelling enthusiast then you must be aware of this already. Bundling your clothing can make more room. Organize your clothes according to their frequency of use.
10. Budget option(s)
Another important thing to consider apart from the packing material to store clothes is your budget. Before planning your move, you must set aside a budget specifically for it. The budget mainly depend on the distance you'll need to cover while moving.
For instance, if you're moving to another state then instead of moving stuff on your own it's better to engage the best interstate moving companies in your area. They'll not only make the process of shifting easy for you but they'll be cheaper than hiring separate trucks for moving your stuff.
Checklist of Packing Tips For Moving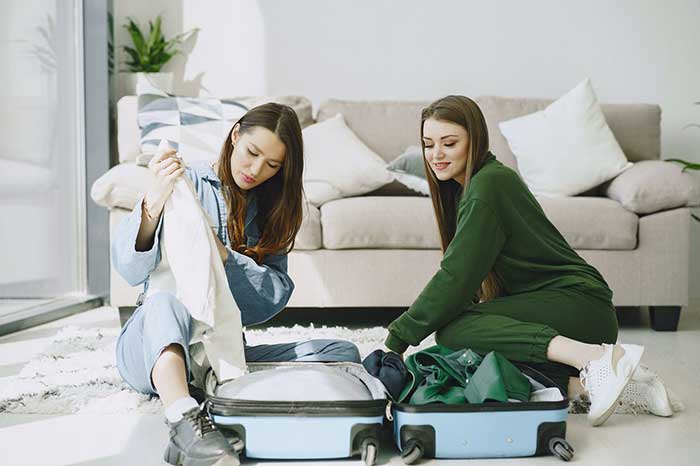 Apart from the packing tips mentioned above, you can also make use of this handy checklist of the best way of packing clothes for moving:
Whenever possible, place heavy items at the bottom of boxes and lighter ones at the top.
Make unpacking easier by cleaning your clothes before moving. This will prevent unpleasant smells.
Boxes should not be overstuffed since it can damage them and cause them to tear.
Carry valuable clothing items in your car, such as items with sentimental value or cash value.
Hang clothing as much as possible.
Dresser drawers should always be filled with folded clothes.
Packing paper should be used to protect clothes in suitcases and cardboard boxes.
Pack clothing items that you won't be using soon into plastic storage containers.
Be sure to pack a moving bag with all the things you'll need before and after your move.
How to Pack Shoes For Moving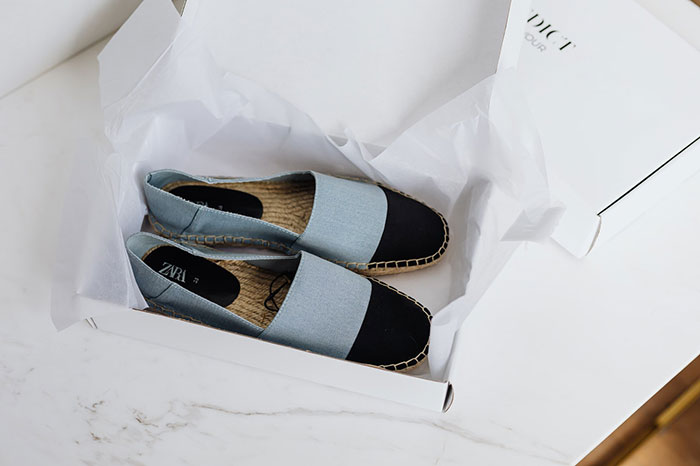 When you move your shoes, it may be tempting to just throw them in a duffel bag and move them this way. The problem is that shoes are easily damaged in transit. Make your life easier by using the following shoe packing tips.
To keep your shoes in shape, stuff each one with packing paper, socks, or washcloths. Use packing paper to protect them from damage. A small or medium-sized box will suffice depending on the number of shoes you have.
To pack shoes for moving, use hard shell suitcases. As a result, you can save on moving supplies and the hard case of the bag protects your shoes.
Final Words:
I hope that these handy tips on how to pack your clothes for moving will help you in packing your stuff while shifting homes. Want to share your own personal story of moving or want to recommend a tip that I missed. Be sure to comment!