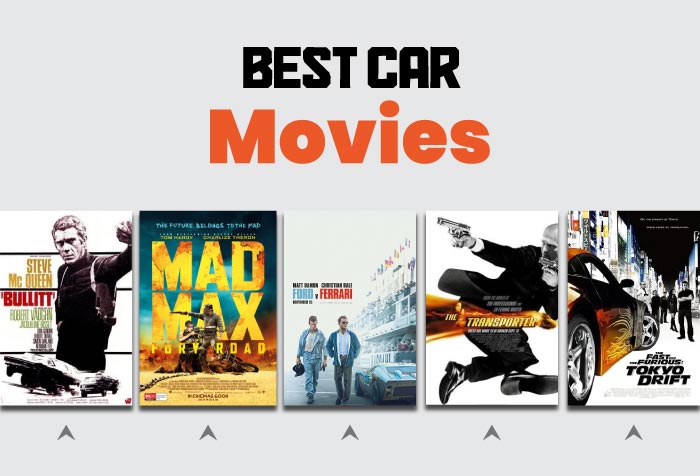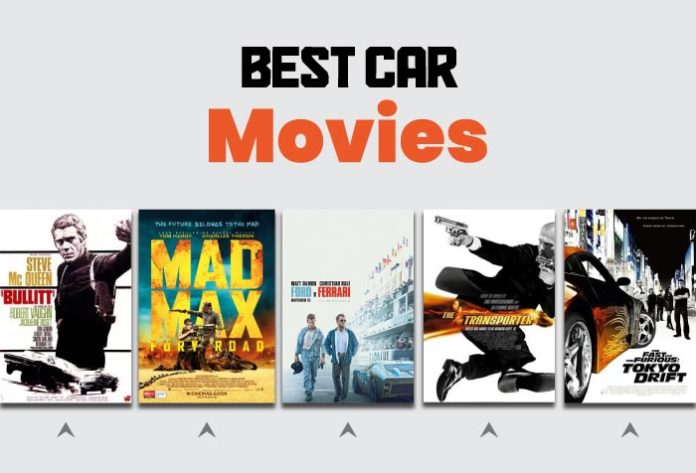 Hollywood has created numerous action car movies over the span of many years. And all of these movies are equipped with action scenes, intense explosive bursts, stunts, and intriguing automobile extravaganzas. In short, the perfect recipe to make a box office hit.
So all the car lovers, ASSEMBLE!
Also Read: Curated list of Money Making Movies, Best war movies and Best lawyer movies as well.
Top 5 Must Watch Car Movies
To give you the electrifying experience of fast-paced and killer car films in place of the ever-present mom cars and other family vehicles in our daily lives- we have compiled a list of all-time favorite car movies. Buckle up your seat belts and let's ride.
1
1. Ford v Ferrari (2019)
Star Cast
Matt Damon as Carroll Shelby
Christian Bale as Ken Miles
Jon Bernthal as Lee Iacocca
Release Year
2019
Directed By
James Mangold
Based On
True story
IMDB Ratings
8.1/10
Rotten Tomatoes Ratings
92%
Awards Won
2 Oscars in film editing and sound editing
Box Office Record
$225.5 million
Available On
Disney+ & HBO Max
Synopsis:
Henry Ford II (to save his failing company and avenge Enzo Ferrari) hired Carol Shelby, a designer extraordinaire, to beat Ferrari at the 24 Hours Le Man's race. Shelby accentuated the help of an outlandish British driver, Ken Miles, and the two joined their forces to dethrone Ferrari from its winning streak at the prestigious race. The dynamic duo brought in their fires to create the perfect Ford GT to claim the path to victory- against Ferrari, against giant corporations!
What do the critics say?
This duo of talented actors is always a fascinating experience to watch. With strong characters, dramatic turns and, of course, the premium craftsmanship of making fast cars have created an engaging movie based on a true story.
2
2. Mad Max Fury Road (2015):
Star Cast
Tom Hardy as Max Rockatansky
Charlize Theron as Imperator Furiosa
Nicholas Hoult as Nux
Release Year
2015
Directed By
George Miller
Based On
Inspiration came from the fuel shortages of 1970
Sequels
Mad Max (1979), Mad Max 2 (1981), Mad Max Beyond Thunderdome (1985), Mad Max: Fury Road (2015), Furiosa (2024 – a spinoff)
IMDB Ratings
8.1/10
Rotten Tomatoes Ratings
97%
Awards Won
6 technical awards at the Oscars
Box Office Record
$374.7 million worldwide
Available On
HBO Max, Amazon Instant Video & Netflix
Synopsis:
The movie is set in the faraway lands of the universe where everyone has to fight intensely to get the necessities of life. An oppressive ruler ruled that wasteland where there was no sense of humanity. The loner protagonist named Max unknowingly got caught in the chase while helping the rebellious female character Furiosa. She wanted to escape that chaotic place with her companions. And now they are caught between the pirates behind and a deadly storm of desert in front of them.
What Tom Hardy and Charlize Theron speak up about their conflicts on the set of "Mad Max: Fury Road"
No doubt that Mad Max Fury Road was an enormous hit at the box office. But the actors faced many challenging situations in the extreme conditions of the Namibia desert that filled them up with frustration and fatigue. In the media interaction, they said that they had been putting up shields around themselves and not talking with each other because of the overwhelming pressure of the film. According to Zoe Kravitz, mostly Tom took out his anger on the director. But then she also; defended him, saying he could not be blamed as the director was asking too much from him and Zoe Kravitz.
What do the critics say?
The American film critic and The Hollywood Reporter say that this film gives a perfect combination of action and adventure that will surely give you an adrenaline rush. From makeup to facial embellishments and wildly designed costumes, everything is done up to the mark.
3
3. The Fast and Furious: Tokyo Drift (2006)
Star Cast
Lucas Black as Sean Boswell
Zachery Ty Bryan as Clay (as Zachery Bryan)
Shad Moss as Twinkie (as Bow Wow)
Release Year
2006
Directed By
Justin Lin
Sequels
The Fast and the Furious (2001), 2 Fast 2 Furious (2003), Fast and Furious (2009), Fast Five (2011), Fast and Furious 6 (2013), Furious 7 (2015), The Fate of the Furious (2017), F9 (2021), Fast X (expected to be released in 2023), Untitled Fast X Sequel (expected to be released in 2024)
IMDB Ratings
6.0/10
Rotten Tomatoes Ratings
38%
Awards Won
MTV Generation Award
Box Office Record
$158.9 million
Available On
Netflix & HBO Max
Synopsis:
It is the first film of the Fast and Furious franchise, which is not a sequel to previous films because the new setting is Tokyo, Japan. Rebel Shaun Boswell (Lucas Black) had an illegal race there. So to escape the prison, he had to move to Tokyo from America. There he found a guy named Twinkie (Bow Wow) and got indulged in underground street racing.
As the story unfolds, he has to fight against a "Drift King" who did not like him from the start.
What do the critics say?
It was a hit in Japan because it was more than just cars drifting every now and then. The story element was super strong. It has perfectly depicted the glittery aura of Japan. And it also has fun elements integrated beautifully. It is one of the most famous car films on Netflix.
4
4. The Transporter (2002):
Star Cast
Jason Statham as Frank Martin
Shu Qi as Lai
Matt Schulze as Wall Street
Release Year
2002
Directed By
Louis Leterrier, Corey Yuen
Sequels
Transporter 2 (2005), Transporter 3 (2008), The Transporter Refueled (2015), Transporter: The Series (2012-2015, a TV series)
Inspired By
BMW Films' The Hire
IMDB Ratings
6.8/10
Rotten Tomatoes Ratings
54%
Box Office Record
$43.9 million USD
Available On
Netflix & Amazon Prime
Synopsis:
The protagonist Frank Martin is an ex-soldier in special services who now move packaging for different clients (can be goods or even human). The conflict arises when he notices movement in the package. And by defying his set rules, he opened that package. It turned out to be a trapped woman inside.
After learning that, Wall street sent its fighters to kill him. And now he has to protect himself and that Chinese woman too.
What do the critics say?
It is a thrilling ride with awe-struck explosions, stunts that Jason Statham did himself, car chases and crazily intense action scenes. The Transporter is a great treat for the car lover to watch. Although the story is not unique and full of standard cliched scenes, the action scenes; and fight scenes are terrific. And that is what makes the action film a fun action film.
Star Cast
Steve McQueen as Lt. Frank Bullitt
Robert Vaughn as Walter Chalmers
Jacqueline Bisset as Cathy
Release Year
1968
Directed By
Peter Yates
Based On
The novel "Mute Witness" was released in 1963. The protagonist is inspired by real-life detective Dave Toschi
IMDB Ratings
7.4/10
Rotten Tomatoes Ratings
98%
Sequel
According to The Digital Fix, the director plans to come up with a new story revolving around Frank Bullitt to revive the super hit car movie of the 60s
Awards Won
Academy Award for Best Film Editing
Box Office Record
$42.3 million
Available On
HBO Max & Apple TV
Synopsis:
When the protagonist (McQueen), a cop from San Francisco, was assigned to protect the key witness of the trial, he got killed. And as the story progresses, it becomes the cop's responsibility to solve the complicated case or hide the dead body.
What do the critics say?
It was one of the most famous American police thrillers of that era. It has opened a new horizon for movies in this kind of genre. The intriguing plot, shooting at real locations, and jaw-dropping car chases make this the best car film ever. The action scenes are well-directed that gravitate the viewer deep into the movie.
Summing Up:
It doesn't matter if you don't know how to drive a car. You can get the immersive experience of drifting and racing with these engaging films. However, If you are a new driver do not try any stunts you watch in this list of best car movies as they can be dangerous.