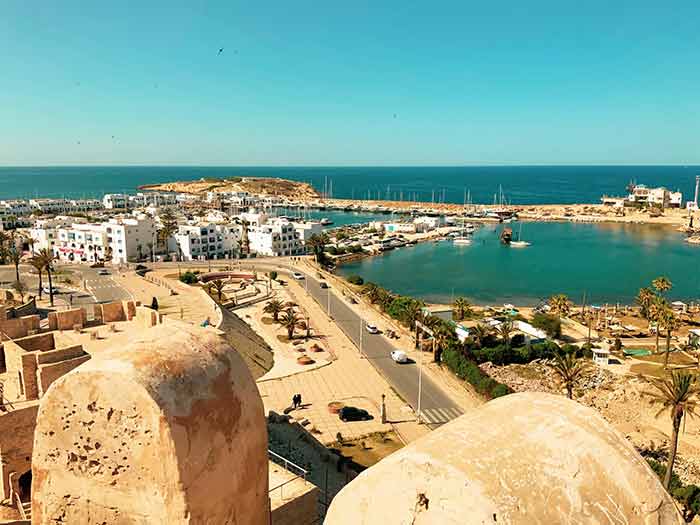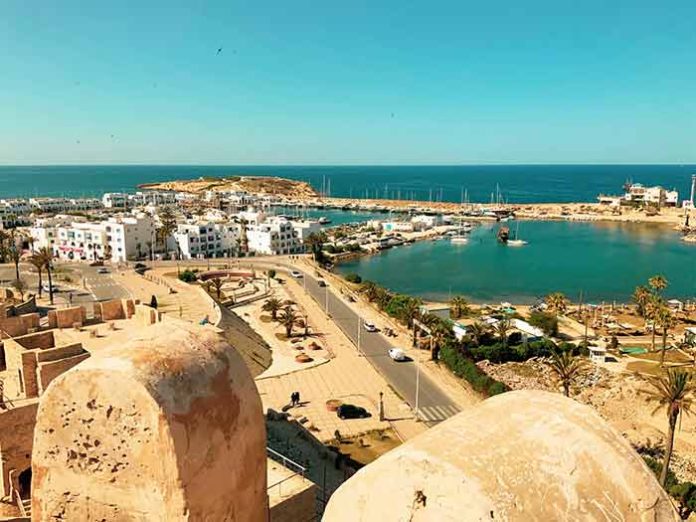 Tunisia is home to some of the most remarkable Mediterranean beaches, boasting gorgeous areas of golden sand, washed by intensely blue waters, and welcomed by sunshine almost all year round. With more than 1,000 kilometers of Tunisian beaches, this African country is ideal for beach lovers seeking to feel the inviting sand under their feet and swim for hours in the calm water.
Besides hosting some of the fascinating Tunisia beach resorts, the country has succeeded in making tourism its primary income source. The best time to visit and bathe in the Tunisian sea is from June to September when the water is shallow, warm, and calm. The seawater here appears light blue, dark blue, and turquoise this season but may change color to dark in other months. However, offseason travel to Tunisian beaches is also perfectly fine and highly recommended.
While the country offers many Tunisian beaches in its all coastal cities, we will talk about only the best ones.
10 Best Tunisian Beaches for Vacationers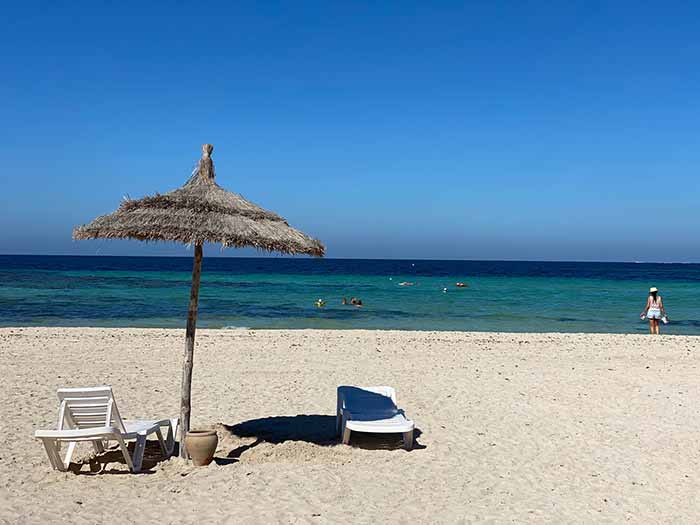 Most of the beaches listed here are located along the coastal cities of Tunisia, and each one is unique. We highly suggest you check out all of these but for specific activities on each beach, consult our following guide.
1. Monastir
Monastir is a city located on Tunisia's central coast, approximately 100 miles from the capital, Tunis. One of the popular Tunisian beaches, this area was once a fishing port.
If you are someone seeking a bit of adventure and action after sunset, Monastir beach will be ideal. Use boats, boards, and camels to explore its golden sandy shores and sparkling waves. You can also enjoy banana boat rides, water skis, surfboards, camel riding, and horseback riding, among other things.
The city has several Tunisia beaches resorts for you to relish a relaxing day by the beach.
Also Read: Boating in Florida
2. Djerba
The charming island of Djerba lies off the coast of Tunisia and serves as one of the most outstanding white sandy Tunisian beaches tourists visit all year around. There is a lot for you to notice here with a wide selection of hotels to choose from and the Mediterranean Sea so close by.
The island boasts various attractions other than white powdery sand beaches, including ancient towns & villages and excellent seafood cuisines.
Spend a day exploring Houmt Souk – an alleyway filled with hand-painted pottery, jewelry, and carpet stores. However, nothing is better than a relaxing day on the white sandy Djerba Tunisia beaches.
3. Hammamat
Hammamet Tunisian beaches are situated on the southernmost tip of Cap Bon, which forms a part of the Nabeul Governorate. Soft powdered sand and crystal clear water make for ideal swimming conditions. The sea is calm, and waves are minimal waves.
When you have had enough swimming, visit Hammamet's Medina on a walk along the waterfront. If you are a history buff, Hammamet presents ruins from the era of the Roman Empire.
4. Plage de Chaffar
Located in Sfax city, approximately 190 miles south of Tunis, Plage de Chaffar is one of the longest Tunisian beaches. The picturesque strip of sand offers a very local experience. Residents from the city frequent the park at weekends, turning it into a lively hub of family fun.
Despite being a large industrial, agricultural, and fishing city, Sfax retains some of Tunisia's historical elements. The Folk Museum in the Der Jellouli area showcases traditional Tunisian architecture from the 18th century. As part of the archaeological museum in Sfax, you will also find treasures that date back to the Punic, Roman, and Byzantine periods.
Take a walk along the beach at Plage de Chaffar if you seek peace and quietness.
5. El Haouaria
El Haouaria is a coastal town in Tunisia's Nabeul Governorate at the northernmost tip of the mountain range. It is one of the few Tunisian beaches that tourists do not overcrowd.
It is ideal for hiking and taking pictures because it boasts a wide range of sandy beaches dotted with cliffs and a wild coastline.
The vast landmarks and hidden caves await you to be explored. While relaxing in a boat by the water during the day, you can enjoy a swim beneath the mountains of Cap Bon.
El Haouaria also offers cliff-diving and snorkeling opportunities for adventure enthusiasts. There is also a good deal of interest from tourists in photographing the city's windmills.
Suggested: Best Hiking Trails in USA
6. Gammarth
One of the most stunning Tunisian beaches, Gammarth, is approximately 14 miles north of Tunis, the capital city. Its tranquil beaches, majestic forest, and panoramic ocean view make Gammarth a popular tourist destination.
This high-end resort town has expensive hotels, restaurants, and shops. The sandy, sun-kissed beaches, quiet green woods, and rustling foliage will enchant you.
Similar to its neighbors, La Marsa and Carthage, Gammarth commits to maintaining its reputation as an oasis of serenity and abundance.
7. Sidi Bou Said
Did you hear about the stunning whitewashed Sidi Bou Said town on the western shore of the Gulf of Tunis?
If you love to see Tunisian beaches reflecting Tunisia's Mediterranean connections, you should visit Sidi Bou. You will find a fascinating blend of Greek island and North African styles here.
As the coastline of Sidi Bou curves around golden or beige sand, you'll see elegant white and blue homes. Besides protecting from the wind, the hills offer panoramic views of the city's sea, beaches, and buildings.
Tourists and Tunisians enjoy visiting Sidi Bou Said during summer to take advantage of the sea breeze. The coast has umbrellas and deck chairs for relaxing and marveling at the vast sea.
The northern part of the beach has a marina and yacht club. Yachting, water skiing, parachuting, jet skiing, and other related activities are always in high demand here.
8. La Marsa
La Marsa is a coastal town located approximately 11 miles north of Tunis. La Marsa Beach is a small peaceful resort located between Sidi Bou Said and Gammarth Beach on the Gulf of Tunis. People consider it one of the most expensive Tunisian beaches; thus, it is not quite popular among budget tourists.
The beach gets an average number of visitors from Germany, Britain, France, and other countries during holidays.
An attractive promenade runs parallel to the beach, and behind it is a tropical park, which offers a variety of amenities. A large shopping mall nearby has a Monoprix supermarket and a chain of boutiques.
As you drive along the coast of La Marsa, you will discover a variety of coffee shops, fish restaurants, diners, and bars. Many water sports stations around the island rent water equipment to divers, snorkelers, and parasailers.
9. Mahdia
Offering one of the best Tunisian beaches, Mahdia coastal town is noteworthy for its powder-like sand, wild landscape, and light blue water.
As you walk along the beach, you see the sea is still. For families with small children, long shoals are a great choice. You can rent several types of beach equipment here, including sun loungers, umbrellas, and deck chairs.
This area is home to restaurants, cafes, diners, and barbecues. Diving, water-skiing, and parasailing are a few activities you will adore here. Lush tropical thickets and palm trees surround the beach area, adding a special charm to the scenery.
Even during the peak swimming season, Mahdia beaches do not appear crowded. There are no busy highways nearby and no music or noise – it is quiet and comfortable here.
Vacationers from Germany and France are well known for their fondness for this place. Due to the absence of entertainment establishments nearby, noisy youth groups rarely visit Mahida beaches.
10. Raf Raf
A rocky bay with picturesque mountains surrounds one of Tunisia's most attractive beaches, Raf Raf, on its northern coast.
Magnificent rocky crescents surrounding the sea create a breathtaking landscape. A mountain range around the beach provides some protection from the hot air currents generated in the desert of Raf Raf.
Even though it is one of the favorite Tunisian beaches for locals, it is not famous among tourists so you won't find many crowds here. Divers, snorkelers, and active entertainment enthusiasts make up a significant portion of the holidaymakers here.
Water-skiing, windsurfing, paragliding, yachting, and other fun things are all available. There are horseback riding and camel riding opportunities along the coast. It is worth mentioning that the lagoon at Ghar El Melh, located near Raf Raf, features crystal clear water.
Final Thoughts
Choose any of these ten best Tunisian beaches for an enjoyable, relaxing vacation. Apart from swimming in the calm water and feeling the warm sand between your toes, you can indulge in diving, snorkeling, water-skiing, and parasailing here.
All these beaches are surrounded by hotels, bars, and restaurants and provide you with a warm atmosphere. So, what are you waiting for; pack your bags, Tunisian beaches are waiting for you to be explored this year.