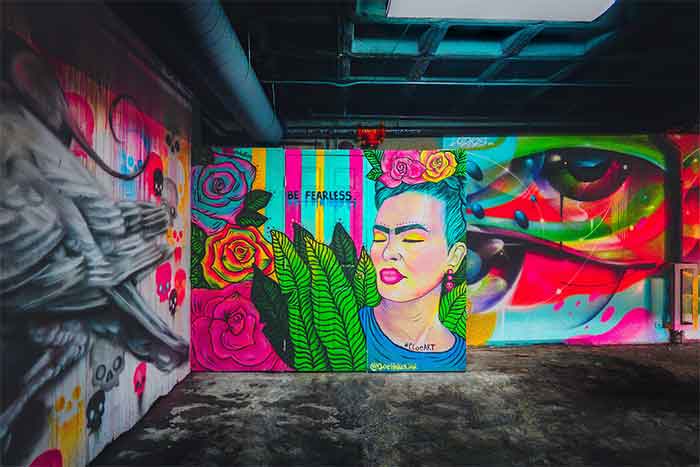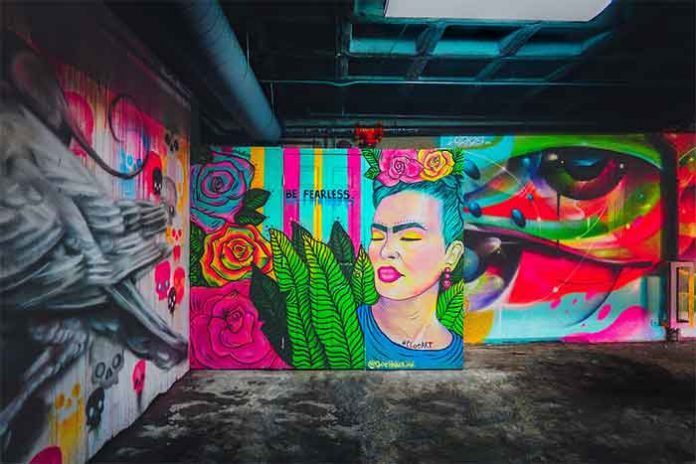 Art comes in so many different shapes, sizes, and formats, and so do the types of careers within the craft. A passion for many, but a profession for a few. Possibly, you may be looking to turn your artistic talents like muralism into your livelihood. It's important that you find a niche you may not only excel in but also maintain your passion for.
One such artistic route of interest is muralism. A source of impactful, large-scale, architectural art. Creating murals has become one of the most popular commercial art formats today. But what is muralism, and how can you get into it?
What is muralism?
Muralism is a form of fine art that involves applying art directly onto walls, ceilings, and other large surfaces. The art often incorporates architectural elements of the space in question into its design. The result is a striking, life-sized art piece that can deliver any number of powerful messages. Murals often carry with them cultural or political importance. Hence, they are often a great way for an artist to express their individual or social perspectives.
As such, murals have had pride of place across major global locations throughout history. Their domain is from the cave paintings at La Marches in France through to contemporary street murals. These add to the character of major cities like New York City and Philadelphia.
How do you become a muralist?
In terms of the qualities that make a good muralist, a good sense of scale and perspective are essential. Therefore, a sense of understanding the right tone for a public space should be there. Persistence and motivation are the keys, as murals can take days, weeks, even months to complete. Maybe, your strengths lie in sketching, rendering, application, and color mixing. Also, you may have a good nose for texturing and working on different materials. All this shows that muralism could be the right avenue for you.
What do you need to become a muralist?
Your essential check list for starting your muralism journey should include:
Mural training: It will help you understand the core concepts behind muralism. Moreover, it will also hone the specific traits you need to create impactful and well-perceived pieces of work.

Equipment: Core equipment for mural work includes scrapers, suitable wall paints, brushes, rags, sketching tools, and drop cloths.

Commitment to the cause: You can make a profession of muralism, but there's no doubting how hard it is to take it to a point where you're earning enough money to make it your sole job. An incredibly competitive sector of the art world, just as any is, muralism is a labor of love. You'll need to stick at it likely while having another way to support yourself financially.
How to get started with a mural art project
Illustrators, graphic artists, and painters can get huge benefits through learning how to get started with a mural art project. And, these artists have the ambition to scale up their work. Discovering how to design at scale may introduce creatives to a whole new market. Street art and commercial pieces are enhancing in variety and becoming more accessible to the general public to enjoy. Hence, there is plenty of opportunities for ambitious artists to fit themselves into. Moreover, being a clear outward display of craft and human talent, murals can add more value to the community and environment.
Here are tips outlining what to focus on when embarking on a mural art project. Remember Covid 19 and adhere to any government instructions regarding social distancing.
Keep a difference between graffiti and muralism
Graffiti is also an art, but is considered vandalism and prohibited in many countries. This is because people use it negatively to sabotage others' property by rough scribbling or scratching with no pet pattern or style. Mural art, on the other hand, is a perfect art being admired across the globe. Mural art also used to be viewed as naff for years, but then the concept changed a lot. Remember, graffiti is for other graffiti artists while street art is for everyone. So, you must lean against mural art to handle your project properly.
Collaborate with others generously
Working in close collaboration with your co-workers while undertaking your project of mural art always brings fruitful results. You learn and teach many new things among the team members. All this collaboration ends up into a masterpiece of fabulous art all of you will feel proud of.
Evolve people's preconceptions
Brands didn't use to consider mural-ism as an art or a good medium to advertise their business. You will have to work hard to change this mass preconception with the best standard of your mural art finishing. Your business model should be to make it easier for big brands to use mural artists to craft bespoke advertising for them.
Be art-led in your approach
Only art-led mural-based advertising campaigns can earn business for the big brands. This is because the more artistic your piece is, the more nourishing it is. Moreover, large-scale marketing pieces of mural art may act as a measure of trust in the brand. People actively photograph it and share it with their friends across their networks. Such a response is rare with other forms of marketing. Surely, it reflects positively on the brand that created it.
The Overall picture of muralism
It's everyone's dream to turn their passion into their profession. Also, it can be a reality for budding muralists with the desire and drive to take their talents to the next level. However, it's not a decision you should take lightly. So, only commit to the path of the mural world if you're ready to overcome the hurdles on the way to become a full-blown professional.