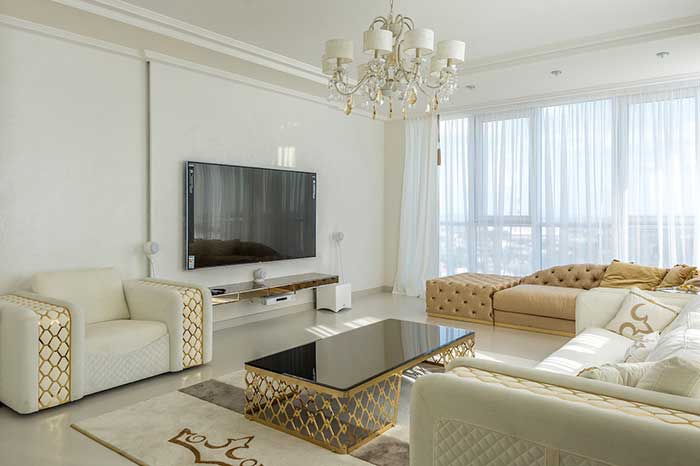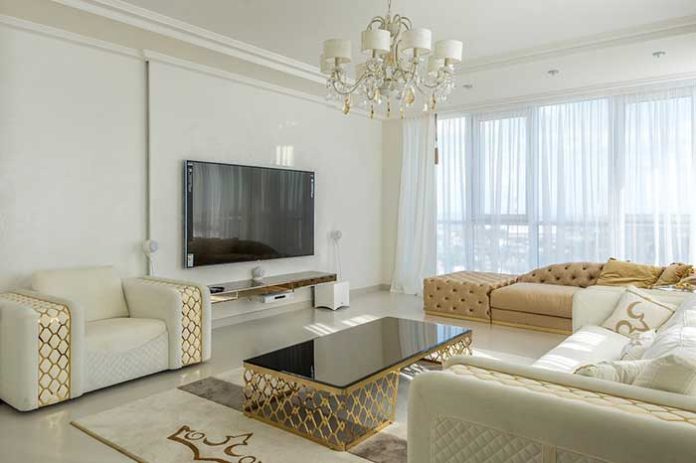 TV and other gadgets on the media wall are the focal points of most homes. To make your room more cohesive and elegant, redesign your living room with these media wall ideas and make it look nicely set. It means there should be no visible sockets and wires, and the shelving must be according to the decor and color theme. Plus, the lighting must be sufficient and according to the mood of the space.
Whether you have smart speakers, soundbars, wall mount LED or any digital device; you have to assign them a proper place in the room. And make it a chilling hub for your family. Combined with a perfect sitting area, an aesthetic and trendy setting of the media wall uplifts the look of your home.
Turn your Living Room into the Entertainment Corner of Your Home
Just an aesthetic media wall is not enough. It should be functional and practical as well. So, you should be wise and creative when you redecorate your home. And incorporate tech items in a cohesive manner in your living room or bedroom.
Here are some key things to consider when redoing the setup of your media corner.
Install shelves and frames around the TV and speakers to make it a media wall + art gallery.
Keep all the remotes and controllers out of sight in a box that is accessible.
Keep the area well-ventilated to prevent the devices from getting heated up.
Decor the media wall with artistic items. Or you can put plants, art pieces, candles or books.
Tuck all the wires out of sight
Use the fairy lights or any decorative item according to the color theme. Consider the colors of curtains, walls, and flooring before deciding.
You can have fascinating aesthetics in your living room if you go with oak furniture beside the media wall. Oak Furniture is native to North America and it enhances the overall look of the décor.
Well, not every home is the same. So it is necessary to make changes to your media wall design according to the utility and ease of your setting. Here are some TV media wall ideas for you to consider.
1. Media wall with a fireplace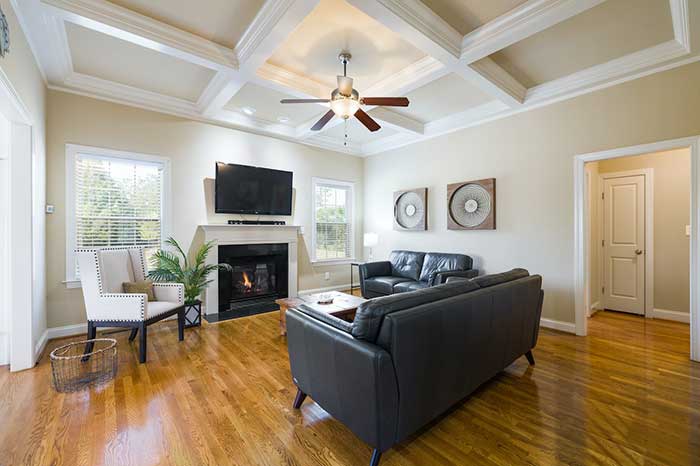 Ever consider combining the modern fireplace with the TV set mounted above on that wall? The artificial fireplace can really complement the latest TV set making the wall modish and attractive overall.
2. Grid-style mechanical storage with TV unit: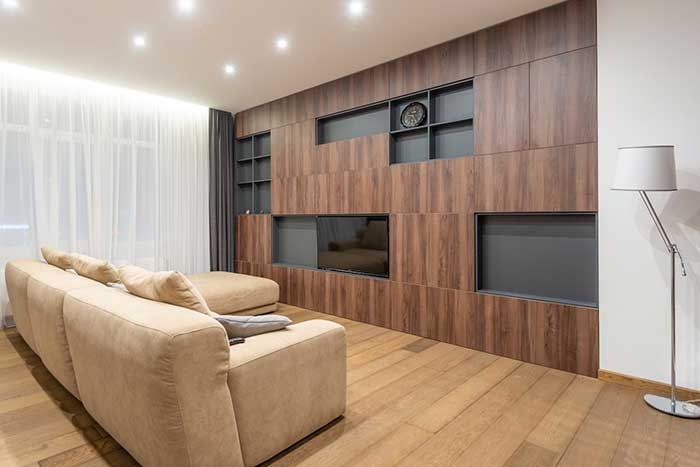 The mechanical-style storage shelves add more personality and texture to the home. You can design cupboards on the bottom to get a covered storage site. Plus, the racks on the sides and above the TV unit are a great option to flex vintage items, photo frames, books collection or any other precious decorative item.
3. Bookshelf as a background: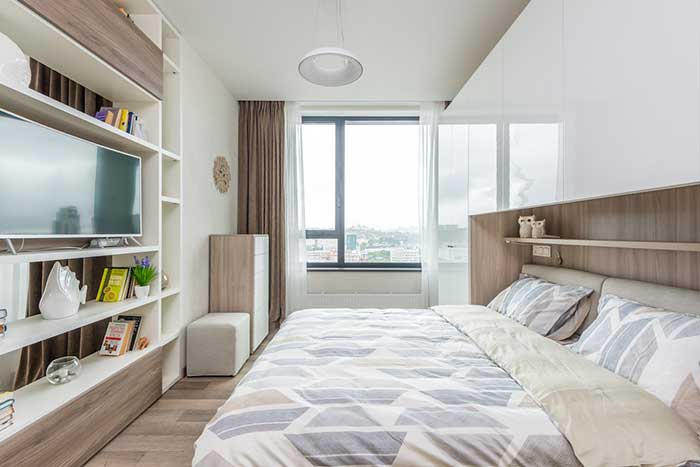 Well, not everyone lives in a luxuriously large penthouse apartment. And sometimes, extra wall space is not available to design a separate media wall. If that's the case with you, don't worry. We have better options for you.
Just look for the furniture piece or already built wall decor to select as a background. For example, bookshelves or mirrors (placed at a small height)
Put the console or TV stand and place your TV set with speakers and small frames on the side. You can mix and match materials and colors to add a personalized touch to your setting.
4. Wood textured backdrop: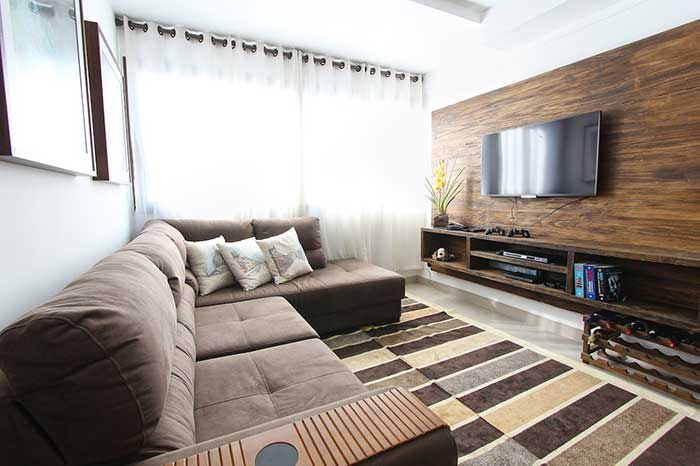 The Woody texture of the media wall adds warmth and a natural vibe to your place. You can select from the various eco-friendly wood panels and craft a perfect entertainment space in your home. It is a blend of modern style with classic taste. And it will remain in trend for a long-time.
You can design a light-emitting diode ceiling and wall to match the high-tech vibe of your living room.
5. Floating furniture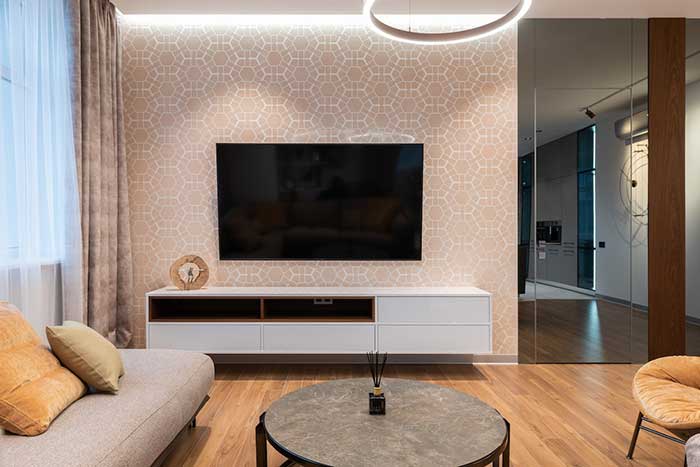 You can consider combining floating furniture pieces around the wall-mounted TV set to create a clean and tidy space. Moreover, the room becomes spacious and clutter-free when you don't place extra furniture items like luxurious desks or tables.
6. Trendy fabric appearance media walls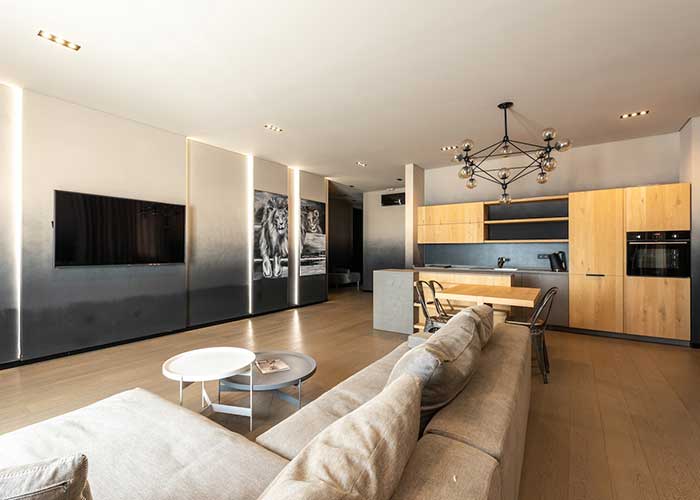 As people get into more minimalistic and soothing appearances, the fabric texture backdrop for TV sets is becoming famous. They remain fresh and easy on sight.
You can place a DVD player, wifi router, gaming setup, speakers or amplifier on the media wall. It will give a subtle vibe to the space.
The Bottom Line:
There are tons of media wall ideas out there to try. But you will decide what will suit best your home and setting style. Just make sure that whatever decorating style you are selecting, it should be practical, besides being attractive and aesthetic.
Read Also: Living Room Curtain Ideas