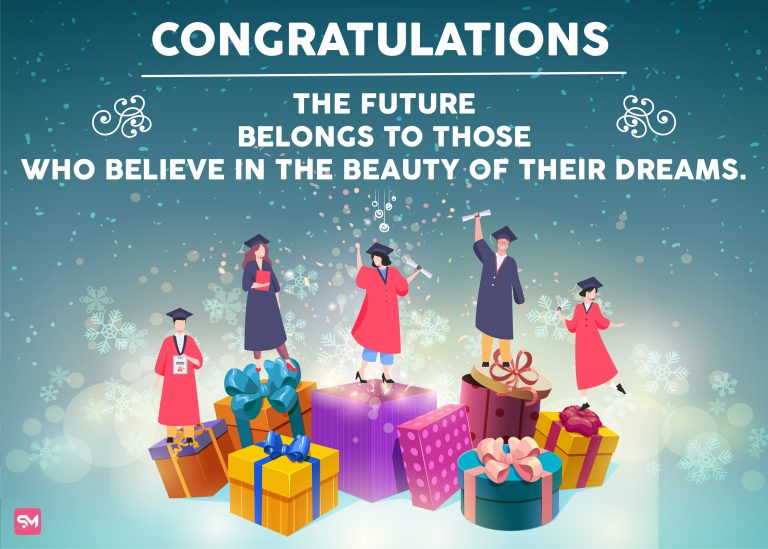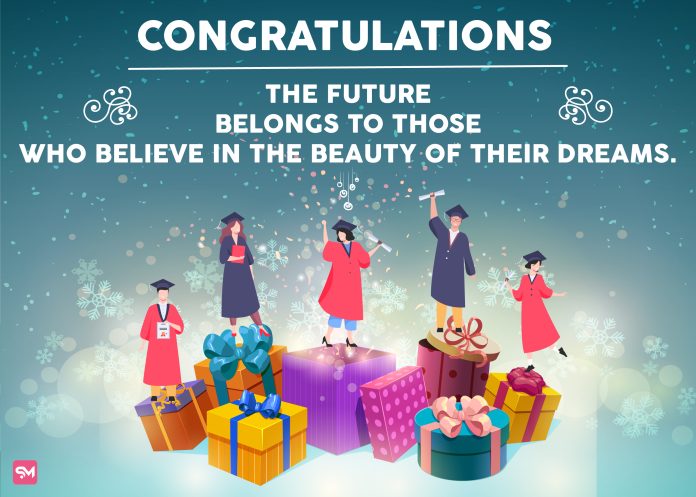 Graduation is a big milestone in life. And, it should be celebrated as such. Whether you're a parent or a relative, it is expected that you will reward the fresh graduates in your life with a graduation gift. So, if you're wondering how much money to give for a college graduation gift in 2023 or brainstorming alternative graduation gift ideas, we've got you covered!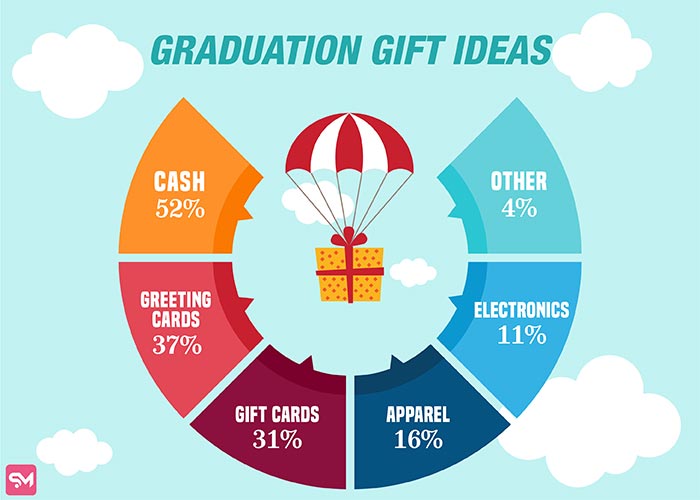 A survey by National Retail Federation revealed that consumers spend an average of $115 on graduation gifts each spring. Moreover, the total expected spending for graduation gifts and celebrations in 2022 was a staggering $5.8 billion! Unsurprisingly, cash is the most popular gift choice for graduations at 52%. Followed by cards at 37%, and gift cards at 31%. Other popular graduation gifts include apparel at 16%, electronics at 11%, and miscellaneous at 4%.
A hundred dollars might have worked as a graduation gift last year, but this year is different. With inflation at a record high, a hundred bucks have lost half their value. That's why parents and relatives need to upgrade their gift choices as well. Fortunately, we know plenty about college graduation gift etiquette that won't hurt your personal finances and also make the receiver happy!
How Much Money to Give for College Graduation Gift in 2023?
Since cash is the number #1 graduation gift, let us first tackle how much amount is appropriate. The average college graduation gift amount from parents is usually between $100 to $500. As we mentioned earlier, inflation has reduced the value of money. Therefore, this year a good amount for cash gifts is over $150. Ideally, it should be no less than $200 if you truly want to appreciate your child for graduating from a good college.
Hand-Picked Content: How to Choose the Best College for a Bright Future
The cash amount for gifts should also reflect the kind of education your child has completed. For example, $200 to $500 is appropriate for an undergrad degree. However, if your kid has finished their postgraduate or PH.D. education, the amount should be more since these are super difficult and highly advanced education degrees.
On the other hand, close relatives apart from parents have to stick to different rules regarding graduation gifts. If you also want to give money as a gift, then stick to $100 to $300. Of course, if you're fond of the graduating niece or nephew, you can increase the amount. Still, it shouldn't be any less than a hundred dollars.
If you're not a close relative but still have a recent graduate you should congratulate, then $50 to $75 is enough.
How to Give Cash as a Graduation Gift?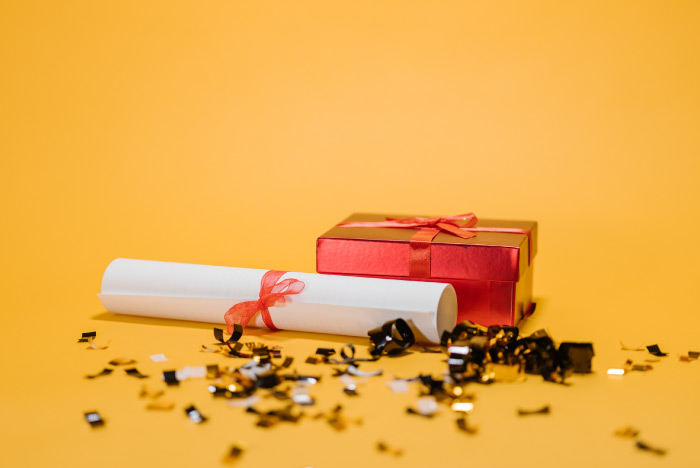 Sure, it is easy to quickly grab 100 bucks from your wallet and hand it over to the person graduating. Nevertheless, you can make it truly special by going the extra mile and making them feel appreciated. it would mean a lot to teens completing their high school or college education if adults in their life acknowledge and support their efforts. Therefore, writing a quick personalized handwritten note or some motivational quotes along with the cash envelope will make a deeper impression on the graduates.
You Can't Go Wrong with a Graduation Card and Cash Combo!
Additionally, you can get a cute graduation card from a stationery shop, write a short congratulatory note, and put the money inside it. This way, you can give your cash gift while also making it more personal and meaningful.
Is Transferring Money for Graduation Gifts Okay?
A good alternative way to giving cash gifts to distant relatives, acquaintances, and co-workers is to just transfer the amount using popular money transfer apps in the US like PayPal, Venmo, QuickPay, etc. You don't have to go out of your way to do this. Plus, this method is especially useful for relatives living in different states and countries. Not to mention, you can always send a quick congratulatory text too.
Should you Write a Check for a Graduation Cash Gift?
Older relatives like grandparents might be wondering, "is it okay to write a check for a graduation gift?" Well, technically it is not wrong but it is a little outdated. No one has time to go to a bank to get a check cashed out. So, it is better if you just transfer the money through online means.
Top Graduation Gift Ideas in 2023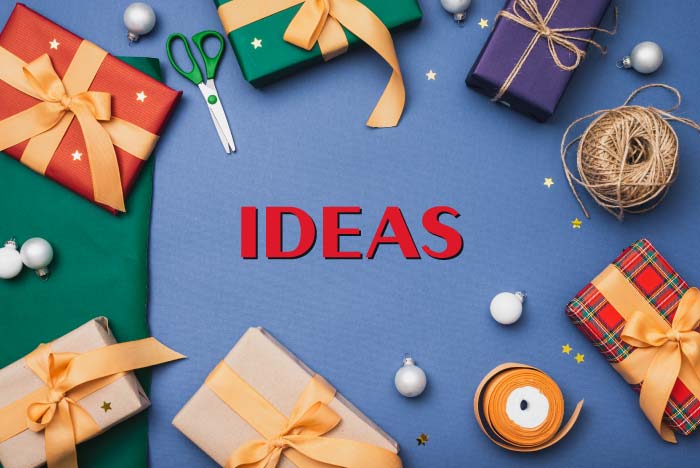 Cash is a good graduation gift. Since most teens and college graduates are perpetually broke and don't know how to save money in college, they will appreciate the money you give to them. However, it is a little lazy to give someone cash as a gift.
So, if you don't want to give cash gifts and instead want something more personalized and valuable, then look no further! Here are some of the best college graduation gift ideas for 2023!
22 Best Graduation Gifts to keep them Healthy
It is no secret that college students live on pennies and survive on instant ramen. Eating healthy is never on their list of priorities. In fact, most of the time, they cannot afford to be health conscious as it requires more time, effort, and money. So, here are some gift ideas to celebrate graduation while also improving their health.
1
Treat Them to a Fancy Dinner
This one is an excellent alternative to giving money for a graduation gift. Taking your fresh graduate out for a wholesome, fancy dinner full of delicious, high-quality food is sure to make them feel appreciated and reinvigorate them for the tough career life ahead!
Another congratulatory item is top-grade alcohol. Yes, we know your teen is sure to have binge-drunk his/her fair share of alcohol during college parties. However, that's just cheap liquor. High-quality, top-shelf liquor is worlds apart from it. Teach your young adults how to truly appreciate alcohol with some excellent-grade whiskey or aged wine.
3
Meal Kit Subscription Service
Again, college kids rarely have time to cook a meal, forcing them to rely on unhealthy fast food. It's one of the most common mistakes college kids make. That's why get them a meal kit subscription service. These services usually send prepaid meal kits, including all the required ingredients in correct portions, to your doorstep. You don't have to go grocery shopping, plan your meals, or anything! Simply, put together healthy fresh meals from the kit that is easy to prepare and your homecooked dinner is ready!
4
An Electric Pressure Cooker or Other Cookware
If your child has graduated, it means they're likely moving into their first-ever home. Here, they'll have to do everything themselves while juggling their careers. Undoubtedly, it is difficult. You can help make it easier for them by gifting them an electric pressure cooker or an instant pot for preparing healthy home-cooked meals quickly and without much fuss. Not to mention, buying cookware is sure to be the last thing on your kid's mind who has just graduated.
5
Coffee Maker or a French Press
It's a fact universally acknowledged that students live on coffee and instant noodles. While they can change their eating habits, they cannot abandon coffee. Coffee is a staple in the workforce too. Instead of spending hundreds of dollars every month on Starbucks, gift them a coffee maker to help them save money.
If a fancy coffee maker is too expensive, you can always get them a simple French Press with some high-quality coffee beans.
6
An Electric Tumbler or Mug
An electric tumbler is a life-changer for people who work long hours and need coffee. Sometimes, the coffee gets cold while you're focused on work. A good quality electric tumbler can keep your coffee and tea warm for hours. Thus, it is a must-have for fresh graduates entering the workforce. In addition, you can personalize it with their names or alma meter for a more sentimental value.
Popular Tech Graduation Gifts
Tech gadgets always make for an excellent graduation gift. Here are some useful tech gifts you can give for celebrating graduation.
Good earphones are a necessity for today's young adults. And Apple AirPods Pro is the best in the market. They have amazing functionality and sound quality. Plus, they feature strong noise cancellation to allow you to focus on your work in a noisy environment without getting distracted.
Young adults rarely know how to do house chores or take care of their homes. To help them adjust better to their new adult life, gift them Amazon Echo – their smart virtual assistant. Alexa can set their alarms, turn on/off lights, keep track of their appointments, and more with just a voice command!
Tile Pro is a Bluetooth tracker. Your recent graduate living alone is sure to lose their keys, wallets, and phone somewhere. With Tile Pro, they can easily find their misplaced items.
Likewise, students are bad at keeping their rooms clean. You recently graduated young adult is no better. They will require help cleaning their house clean. That's why it makes sense to give them a robot vacuum cleaner to automatically clean the house for them. Instead of worrying about how much money to give for a college graduation gift in 2023, get a useful item like a vacuum cleaner that will improve the lives of the receiver!
Gifts to Help Them Get Their Life Together!
Graduation is a time of transition. Your kid will be letting go of a relatively carefree lifestyle and entering into another one full of responsibilities and grown-up duties. Here are some thought graduation gifts to make this transition easier.
11
An Advanced Budget Planner
Managing finances is probably the biggest challenge in adult life. Especially, for a recent graduate who is buried in student debts and doesn't know how to budget. Yes, there are really good budgeting apps but having an actual budget planner in physical form is better and more useful. It serves as a reminder plus sitting down to write your monthly budget is sure to instill more discipline and accountability in young adults.
12
An All-in-One Work Desk
With COVID-19, it has almost become a norm to work remotely. Fresh graduates, today are more attracted to remote jobs that give them more freedom and time. While it is convenient, it can become a bit too comfortable. It is important to have a work-life separation even if you work from home. Gifting an all-in-one desk for work to your fresh graduate will help them organize their space and focus even better.
Helpful Books to Teach Them Life Lessons
Today, people don't really have time to read books. Nevertheless, books are still one of the best graduation gifts of all time. There are so many life lessons young people can learn by reading books. Here are some good titles you can gift your graduating child or relative:
Rich Dad Poor Dad by Robert Kiyosaki
Think and Grow Rich by Napoleon Hill
Ikigai: The Japanese Secret to a Long and Happy Life by Hector Garcia and Francesc Miralles
How to be Perfect by Michael Schur
Your Turn: How to be an Adult by Julie Lythcott-Haims
The Book of Hope: A Survival Guide for Trying Times by Jane Goodall
Hand-Picked Content: Best Personal Finance Books
13
Plants – lots and lots of plants
Another thing young adults are likely to never buy themselves is plants. You can't imagine how much difference plants make to a space unless you fill it with lots of plants. Not only do they make spaces more warm, welcoming, and cozy, but they also improve the air quality. Giving low-maintenance plants as a graduation gift is an excellent idea that will upgrade the life of anyone who receives it.
14
A Full Day Luxurious Massage and Spa Appointment
A massage and spa treatment is perfect for everyone, especially for people who have just graduated from a life of all-nighters, juggling part-time jobs and studies and sitting in one position for hours on end – accumulating all sorts of body aches, pains, and cramps. A luxurious massage and spa appointment is sure to destress and relax students finally out of that hellish routine!
Fashion Staples to Leave an Impression in their Professional Life!
College fashion is unsuitable for the workplace. Your fresh graduate will soon be going to an office that has its own dress code. They'll need work-appropriate attire. As a graduation gift, you can give them some high-quality work fashion staples.
15
A High-Quality Tote Bag
A leather bag that is durable and long-lasting is a must-have in your closet. Ideally, it should be minimalist and a classic piece that complements all outfits. Plus, it should be functional. Tote bags are a good choice since they never go out of style.
Having a high-quality leather wallet is so classy. But having one with your initials engraved on it is even more special. Moreover, it will help your now-adult kid stay organized outside.
When going to work, your outfit is not complete if you don't have a luxury watch on your wrist. In a way, it is the mark of a distinguished and successful businessman. That's why, wristwatches have always been an ideal graduation gift, and rightfully so!
18
Timeless Outfits for their Professional Wardrobe
You can't go to work in hoodies and sweatpants! Which is what most college students primarily have. To look classy and professional at your work, it is important to have a few qualities and timeless pieces. For example, a well-fitted suit, silk blouses, dress shirts, and blazers. While choosing these for a graduation gift, make sure to stick to basics only.
Likewise, fancy, fun, and funky Jewelry might have looked good during a campus concert. But it's going to look awful in an office. To rock an office look, recent graduates need statement gold Jewelry. So, choose a minimalist design that complements office suits as a graduation gift.
Final Words
Graduation is a moment of a big celebration. Whether it is high school graduation, college, or university graduation. The young people completing this milestone need congratulations and graduation gifts. You can take the safe route out and gift them some cash. Though you might have to spend some time deciding how much money to give for a college graduation gift in 2023. Or – you can give them a personalized gift that will add meaning and value to their everyday life!
Like anything from our list of graduation gifts? Do let us know in the comments below!