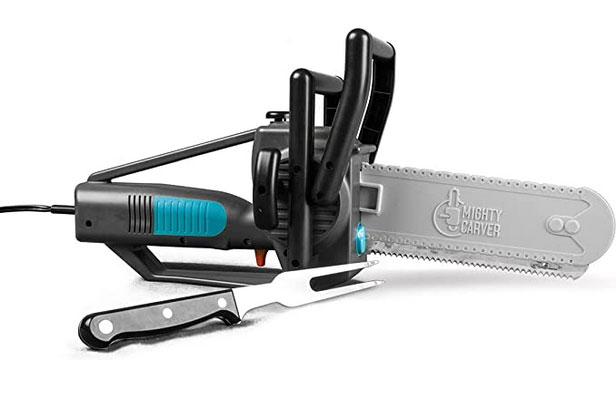 Are you tired of struggling to slice through your holiday meats with those tiny, unappealing electric knives? Introducing the Mighty Carver, the electric knife that will revolutionize your holiday meal prep! Recently featured on Shark Tank, this knife boasts a unique chainsaw aesthetic and extra handles that make cutting safer and easier. Courtesy of the Burney family, you can now slice through turkey with ease, making Thanksgiving a memorable event for the whole family. Don't believe us? Check out our review of the Mighty Carver Knife and see for yourself!
How Was the Mighty Carver Born?
Before we delve into our Mighty Carver review, it is worth knowing how this handy tool was invented. Bringing a unique chainsaw aesthetic to the kitchen, the Mighty Carver electric knife was born out of a family tradition and a love for power tools. The family, who owns a cabin near Missoula, Montana, and often uses a chainsaw to trim the trees on the property, had a tradition of using an electric knife to carve the turkey on Thanksgiving. However, when the patriarch of the family passed away, no one stepped up to take on the task of carving the turkey. It inspired the family to create a carving knife that would bring the excitement and power of a chainsaw to the dinner table, making the task of carving the turkey an experience that the family would remember. After months of development and multiple rounds of prototypes, the Mighty Carver was created – a powerful, easy-to-use, and easy-to-clean electric knife that will make carving turkey like a pro.
Mighty Carver Shark Tank Update
Securing an investment from Daymond John, the CEO, and founder of FUBU, on Shark Tank was a challenging task for Kim and Lance Burney, the creators of Mighty Carver. After going through the rigorous application process and being selected out of 37,000 applicants, the couple prepared extensively for their pitch. They studied every previous episode of Shark Tank and rehearsed their entire pitch, even prompting each other to ensure they were ready for their chance to shine. Their dedication paid off, as they were able to secure a $100,000 investment from John in return for a 25% stake in their company.
Mighty Carver Review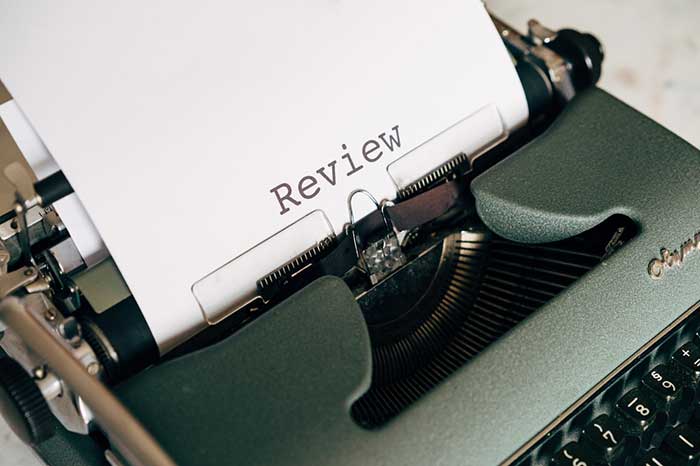 Design
The Mighty Carver Knife is not just a tool for slicing your holiday meats; it's a work of art. The moment you hold it, you'll be impressed by its sleek and comfortable grip. It's not as heavy as you would expect; it's like holding a feather. The button is conveniently placed, making it effortless to start, unlike those traditional chainsaws that take a whole lot of effort. The knife's exterior may look like plastic, but it's actually built to last. The blade is safely tucked away, ready to make precise cuts. The added handle on top of the grip gives you the feeling of using a power tool. It's perfect for those who love the thrill of using a power tool and have no trouble maneuvering it.
Test
When it comes to meat cutting, the Mighty Carver is the undisputed champion. It's like having a personal butcher at your Thanksgiving table, effortlessly slicing through even the most stubborn turkeys. With the Mighty Carver, you can say goodbye to the tedious task of searching through drawers for the right knife and hello to effortless carving.
I followed the instructions provided by the manufacturer, starting by removing the breast lobe sections. It was like cutting through butter. I placed them on the platter and moved on to the drumsticks, pulling them back and cutting through the joints, separating them from the carcass like a pro. I flipped the bird over and removed the wings with the same ease; it was like they were just waiting to be detached. I also quickly removed the thighs by cutting back from the wing joints. If desired, the Mighty Carver was even effective in boning them.
I was able to roll the carcass over and pull out the remaining meat for use in stews or soups like a boss. I cut large pieces into small sections by cross-cutting against the grain, like slicing through a cloud. You can serve the drumsticks whole or stand them on end and slice them down into smaller pieces, depending on the family's preference. The Mighty Carver made turkey carving an enjoyable task. I felt like a culinary artist, arranging the pieces as artistically as I pleased. It's a tool that will definitely make your holiday meals more fun.
Price & Availability
The Mighty Carver is now available at a discounted price of just $74.99 on the official website! But don't stop there – you can also snag this versatile tool from retailers like Grommet, Amazon, Walmart, and Hatchet Hardware. Prices may vary, but at Amazon, you can grab it for just $79.99. For those looking to spread out the cost, ShopPay offers interest-free installment options. Besides, don't forget to sign up for the company's newsletter to be in the know for any Might Carver coupon deals that come up!

Pros of the Mighty Carver Knife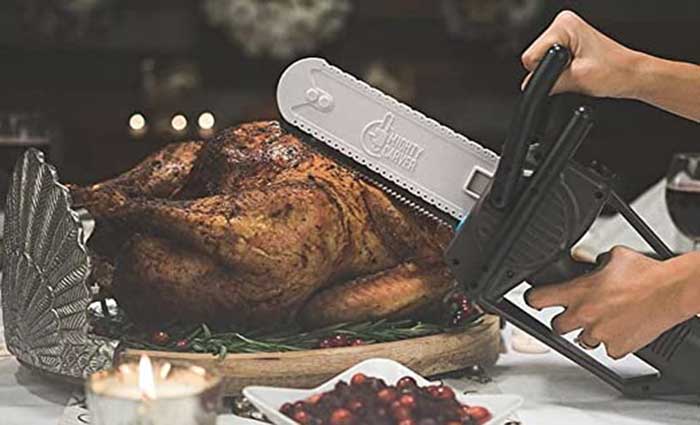 High-quality construction, able to withstand heavy use.
An extremely sharp blade that glides through meats, bread, and more with ease.
Ergonomic design that allows for comfortable and easy handling.
Unique design that resembles a chainsaw but is much more stable to use.
Versatile tool great for events, BBQs, and parties
Cons of the Mighty Carver Knife:
The lack of a child safety switch can be a concern for some.
No protective cover for the blade, requiring extra care when storing.
The handle is small and can be difficult to maneuver for some users.
The chainsaw aesthetic may not appeal to everyone.
The price of the knife might be on the higher side.
Mighty Carver Customer Reviews
The Mighty Carver electric knife is a true crowd-pleaser, with customers singing its praises across the internet. Amazon boasts a dazzling 4.5 out of 5 stars, while on ShopPay, it's a shining 5 out of 5. Even on Walmart, where it's been reviewed by a select few, it's earned a sterling 4.7 out of 5. Keep in mind that these ratings are based on limited sample size and may not fully capture the satisfaction of every customer who has used this top-rated tool.
Might Carver FAQs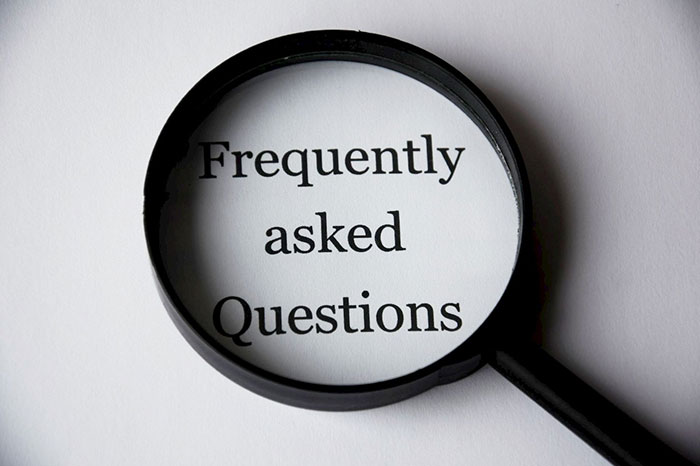 How do I sharpen the blade of my Mighty Carver Knife?
A: The blade of the Mighty Carver Knife is designed to be sharp for a long time, but if it does become dull, you can sharpen it with a honing steel or a sharpening stone. Make sure to follow the manufacturer's instructions when sharpening the blade.
Is the Mighty Carver Knife safe to use?
A: Yes, the Mighty Carver Knife is harmless to work with when appropriately handled. It has a safety lock feature to prevent accidental starting and an ergonomic design for comfortable handling. However, it is essential to keep the knife away from children and to store it properly when not in use.
Can the Mighty Carver Knife be used for other meats besides turkey?
A: Yes, you can use the Mighty Carver Knife for a variety of meats, including poultry, beef, and pork. Its powerful motor and sharp blade make it an ideal tool for slicing through any type of meat.
How do I clean my Mighty Carver Knife?
A: First, unplug it and remove the blade. Clean the blade with warm water and mild detergent, and dry it with a clean towel. Wipe the handle and body of the knife with a damp cloth, and dry it thoroughly. Make sure the knife is completely dry before plugging it back in.
How long does the battery last on the Mighty Carver Knife?
A: The battery life of the Mighty Carver Knife depends on how often and how long you use it. On average, the battery can last for several hours of continuous use. However, it is always a good idea to have a spare battery or a charging device on hand to ensure you don't run out of power when needed.
Does the Mighty Carver Knife come with a warranty?
A: Yes, the Mighty Carver Knife has a limited warranty covering any manufacturing defects for a certain period. Be sure to register your product and keep your proof of purchase to take advantage of the warranty.
Can I cut bread or cake with the Mighty Carver Knife?
A: Yes, the Mighty Carver Knife can easily cut through bread and cakes. Its sharp blade makes it an ideal tool for slicing through soft, delicate foods.
Are the Mighty Carver Knife blades dishwasher safe?
A: Yes, the Mighty Carver's blades are dishwasher safe. Clean the blades by hand with warm water and the dishwasher, and then dry them thoroughly.
What's the difference between Chainsaw and Might Carver?
A: The Mighty Carver and a chainsaw may look similar in appearance, but they have distinct differences in functionality and usage. While a chainsaw is a power tool primarily used for cutting wood, the Mighty Carver is an electric knife designed for slicing through meats and other foods. This electric knife has a comfortable grip and is not as heavy as a chainsaw. In addition, it has a secondary handle that makes it easier and safer to use, unlike the mini chainsaws. The carving tool is able to make precise and smooth cuts, unlike a chainsaw, which is a more heavy-duty tool that can overheat if used for an extended period.
Is it safe to use on special occasions?
A: While the manufacturer made the Mighty Carver for use at Thanksgiving, which is where the product idea came from, there is no limitation to how and when you want to use it. You can utilize this giant electric knife at birthday parties, weddings, and other occasions that require slicing and dicing. It is safe to use and won't go flying off your hand. However, it would be best to keep it away from children like any other cutlery. It will have you contented when you slice through a turkey with this chainsaw knife.