Who doesn't want to refresh themselves on the hot summer days by drinking fresh lemonade? Honestly, when the hot sun hits your head, the only thing that gives you a soothing effect is a refreshing lemonade. Some people avoid drinking it due to weight issues, diabetes, and other reasons. How about having a low calorie lemonade with less sugar and a more refreshing flavor? Undoubtedly, homemade lemonade is a sweet treat during hot summer days.
How Many Calories Are There In A Low Calorie Lemonade
The lemonade recipe I will discuss here has less than ten calories. Sound exciting, right? To enjoy it more, you can serve it in the mason jar with a straw and a lemon slice over it. A glass of low calorie lemonade with the ice cubes is more than heaven. The fresh lemonade isn't like a pre-bottled ones, like MacDonald's strawberry lemonade and you will know each ingredient.
With the under ten calories lemonade, you can enjoy this drink without the guilt of weight gain. This is a keto-friendly and diabetic friendly drink, so you can have it without worrying about gaining any calories. It pleases the diabetic or obese one and is a great low-calorie drink for the kids. We assure you that no one will be able to say no to a low calorie lemonade.
Which Sweetener To Use?
We've some options if you want to add a sweetener not to gain weight but to add some taste. One of the best sweeteners we know of is stevia. It is a natural sweetener extracted from plant leaves. After extracting it from the leaves, the item is blended with other sweeteners, including erythritol. Most people prefer having stevia and erythritol as a sweetener due to more taste and fewer calories. Don't worry, and these sweeteners combo will not have any awful aftertaste effects. However, you can also go for other sweeteners, including Splenda, lakanto monkfruit, or Truvia. Whether you go for Splenda or need the stevia, the thing that requires your attention is the sugar conversion ratio.
Also Read: Low Fructose Fruits
How To Make A Low Calorie Lemonade?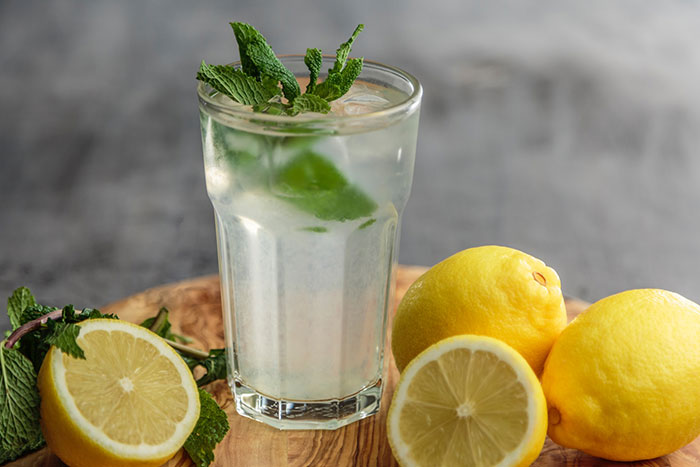 Here is the most awaited recipe for low-calorie lemonade for you. We'll have a base ratio for water, lemon, and sweetener in this.
Ingredients
8 cups of water (or you can take more or less as per your requirement)
1 ½ cups of lemon juice (this is only to prepare 8 cups; otherwise, you can take less juice or more as you need according to the water added)
1 ½ sugar or you can go for the ¾ cup of sweetener (don't forget that this ratio is only for 8 cups of water, not for less or more. However, you can add the sugar as per your taste)
Lemon Juice:
You might be thinking about how to make lemonade with lemon juice or how to extract the juice for homemade lemonade. Well, it's not a complicated task to do. You can easily squeeze the fresh lemons with your fingers or go for the fresh lemon juice available in the market for low calorie lemonade. Generally, you can extract 2-3 tablespoons of juice with one lemon. To make 1 ½ cup juice, you'll need 24 lemons. And squeezing 24 lemons is no less than a hassle. However, you can go for 5 to 10 lemons to get enough juice to make less than 8 cups of low calorie lemonade without any hassle.
Now let's get back to the recipe of low calorie lemonade.
Add the lemon juice and sweetener to the water and mix it with the whisk. Mix it well until the sugar or sweetener is fully dissolved and the taste of the lemonade develops. If the sugar or sweetener doesn't dissolve easily, then first dissolve it in 1 cup of hot water and then mix that syrup with the rest of the water.
Single Serving
If you want to make a low calorie lemonade for yourself, here is a quick low calorie lemonade recipe:
Ingredients:
Three tablespoons of lemon juice
1 cup of water
Three tablespoons sugar (1.5 tablespoon sweetener)
If you want to add a sparkle to your low calorie lemonade, let me tell you a trick. How about using a diet 7up or lemon-lime soda? Yes, you can add diet soda to your low calorie lemonade without worrying about extra calories. Honestly, a sparkling sugar free lemonade is better than the other. You might be thinking if the lemonade is keto-friendly or not, then let me tell you that it is a keto-friendly drink if you add the keto-friendly sweetener to it.
What Are You Waiting For?
The recipe of low calorie lemonade we've discussed above has fewer, or you can say zero calories. It is pretty suitable for diabetic persons too. You can add the cups of water as per your requirement and divide the sugar ratio accordingly.