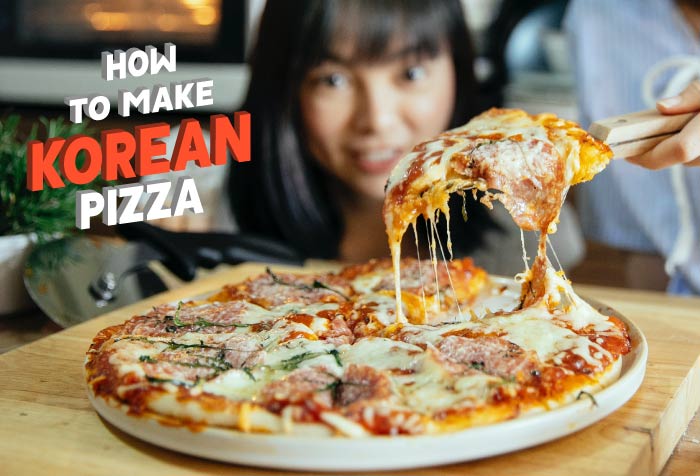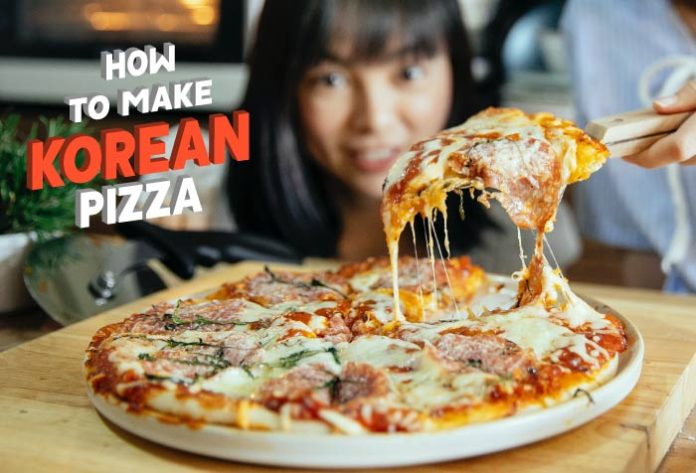 PIZZA, this word has changed the meaning and value of flour. We all are pizza lovers so am I. I tasted almost all varieties of pizza around the world, but the flavor and the condiment of Korean Pizza appealed to me the most. No doubt! Behind this amazing food, there was such a creative mind who gave us a gift fully loaded with deliciousness.
HISTORY OF KOREAN PIZZA
Indeed, Korean pizza will give you that flavor that you have never experienced before. It opened my mind to new tastes and flavors. When the pizza was introduced to Korea in the late 80s- early 90s, pizza companies localized it with popular flavors out of which bulgogi pizza is still a favorite in Korea to this day. Moreover, pizza in Korean food is a whole other realm of fun things with toppings you don't see around that often!
DISTINCTIVE FEATURES OF KOREAN PIZZA
Yes, I love pizza and when we talk about Korean pizza, that mouth-watering thing gives me a different sensation. The most distinctive and appealing quality of a good pizza is not just its taste. In fact, the toppings like bulgogi, sweet potato, and that creamy texture are just wow. They consider their pizza not just because they use organic ingredients but also because it's sweeter, and not as salty or rich. It has an eccentric taste with organic ingredients which are healthy as well as digestible for you. so, everyone can easily eat Korean pizza or bulgogi pizza, my favorite as a morning pizza. Bulgogi is translated as fire meat. YUMMY!
SOUND WEIRD BUT IT'S DELICIOUS!
Bulgogi is a beloved dish in Korea – beef is marinated in a soy sauce or eel sauce, sesame, and spice mixture and grilled. So, throw it on a pizza, and boom: You have a brand-new takeaway treat with a Korean twist. In recent years this combo has become a popular commodity in the country.
Korean-style bulgogi pizza brimmed with colorful vegetables. So, people also called it wild pizza. And I can bet you that it is tastier than the famous "Friday pizza". If you want to make it tastier and more tempting, you can add extra traditional pizza cheese to it. It becomes a fatty pizza after the addition of traditional cheese.
HEAVEN IN MOUTH
The toppings and the bulky variety of crusts make Korean pizza more popular. On account of doughs, there are rice or grain batters, and you can frequently pick the thickness of the doughs. For outside layers, there are numerous special options. For instance, you can choose a variety of crusts according to your taste. Like there is a crust called 'golden crust' with a sweet potato puree or you can have it with a 'cheese bite'. Furthermore, you can also order a customized Korean BBQ pizza. Also, it's a bit similar to bulgogi pizza or a mayo Korean pizza. Who can resist when you are getting sweet, salty, savory, fully packed cheap Korean pizza? That's why I love Korean pizza.
RECIPE FOR MOUTH-WATERING KOREAN PIZZA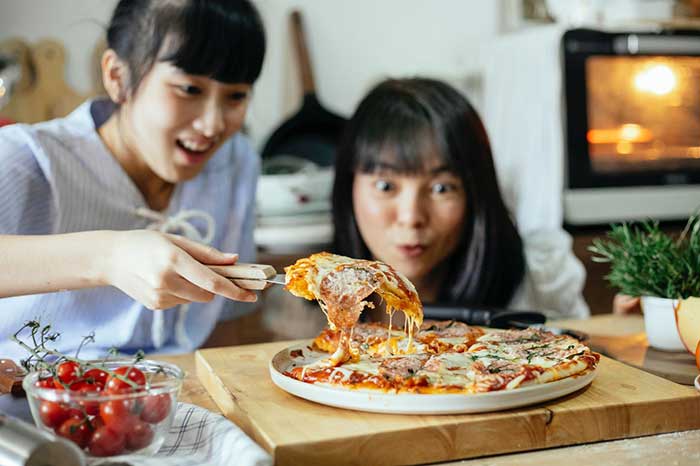 If you are craving pizza but want to make it by yourself, we decided to share a super authentic and tempting Korean bulgogi pizza recipe.
1. INGREDIENTS: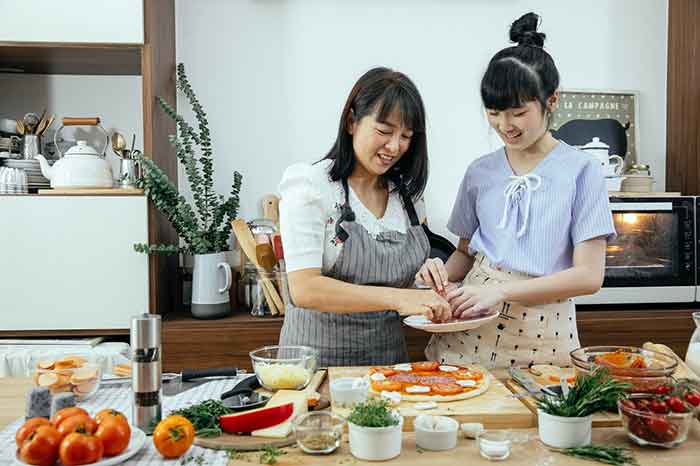 Beef mince (1/2 kg)
Soya sauce (3 tbsp)
sesame oil (2 tbsp)
Asian pear (2 tbsp finely chopped)
2 Garlic cloves (finely chopped)
sesame seeds (1 tbsp)
2. FOR DOUGH: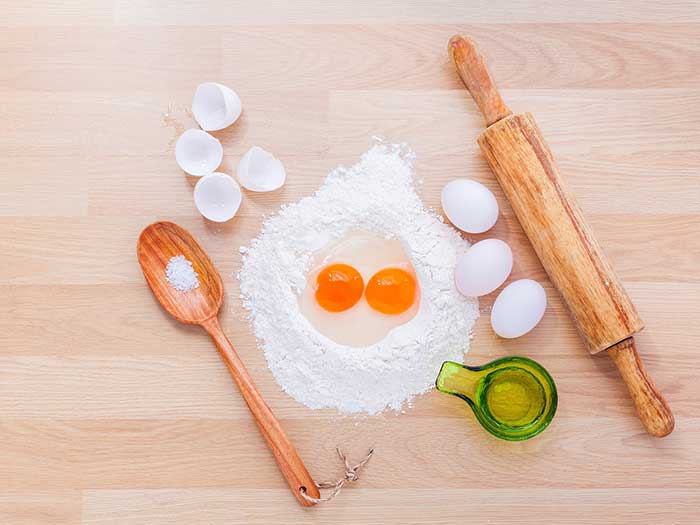 flour (2 cup)
yeast (2 tbsp)
salt (½ tsp)
sugar ((½ tsp)
water
olive oil (2 tbsp)
3. FOR SPECIAL PIZZA SAUCE:
tomato paste (1 cup)
Korean spice paste (2 tbsp)
Sugar (1½ tbsp)
4. FOR KOREAN PIZZA TOPPINGS: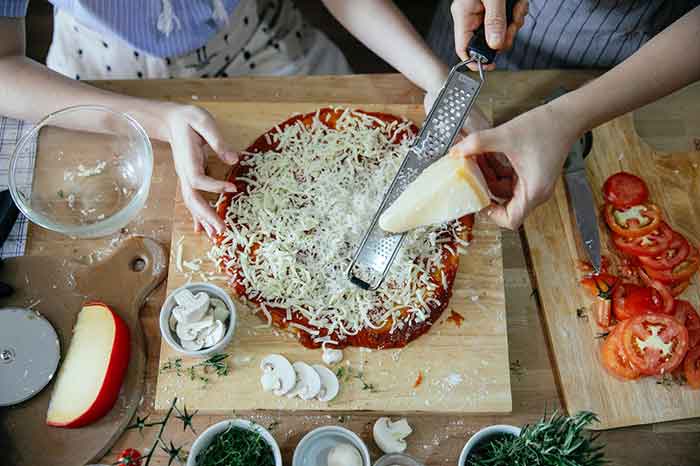 Tomatoes (30 g)
1 Tbsp Kimchi (just to add the flavor)
Spring onion (30 g)
Mushrooms (30 g)
Capsicum (30 g)
Cheese (1 cup shredded mozzarella cheese)
5. DIRECTION FOR SPECIAL KOREAN PIZZA:
Put the beef mince in a bowl, add 3 tbsp soy sauce, 1 tbsp eel sauce, 2 tbsp sesame oil, 2 finely chopped garlic cloves into it.
Then the most interesting and famous ingredient is the core of bulgogi, an Asian pear that helps to enhance the flavor and tender the meat.
Then add a tbsp of sesame seeds and mix them nicely and evenly with your hand or with the help of a spoon.
6. FOR DOUGH PREP:
Now add plain flour to a bowl.
Add 2 tbsp of fast action yeast, salt to taste and mix it well.
then add in some warm water, a tbsp of extra virgin olive oil.
Just mix the wet ingredients into the dry ones.
Then turn it into a plain surface and knead the donut with the help of your hands, until it becomes smooth and elastic.
Leave the dough for 20-30 min until it becomes double in size.
7. FOR SPECIAL PIZZA SAUCE: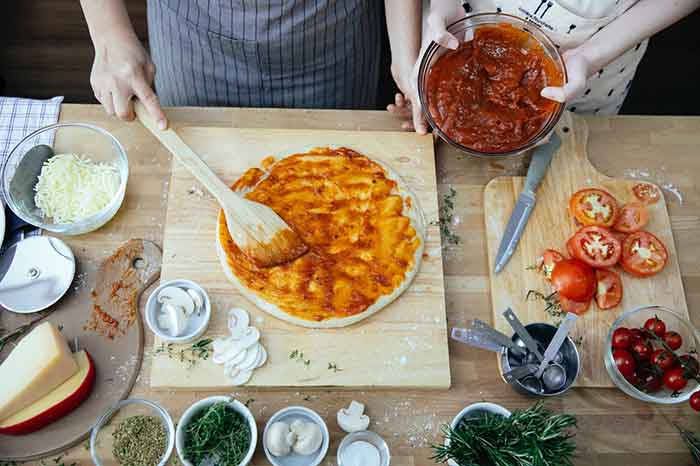 Add tomato gochujang paste into the bowl.
Into this add 2 tbsp of Korean spice paste.
Then, add 2 tbsp of sugar just to add a sweet taste to the gochujang sauce.
Now spread the dough on a plain surface by using a rolling pin and spread it as thinly as you can for the crispy pizza base.
Tease that dough onto the baking sheet.
Now spread the sauce onto it, add the weirdest pizza toppings, mushrooms, chilies, tomatoes, capsicum, spring onions, a little touch of kimchi, little nuggets of marinated beef, and in the last most favorite cheese.
Put it onto the pizza stone for baking in a preheated oven for 15-20 mins.
8. TO SERVE: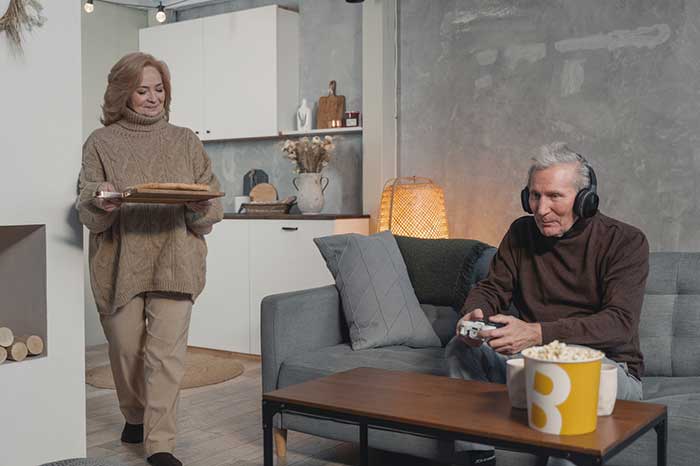 Drizzle some sesame oil and some spring onions for freshness and enjoy the spoon pizza at home
Voila! The yummy, tempting, crispy. sweet and sour bulgogi pizza is ready to eat.
KOREAN PIZZA VS AMERICAN PIZZA
Indeed, there is a lot of variety in Korean food or pizza-like sweet potato mousse inside the crust, chunks of sweet potato, chunks of BBQ chicken, you can put corn and several things into it. Even though you can make it a traditional pizza by adding traditional spices. We can call it a fusion pizza too. In the west, specifically in America, you can't find stuffed crust pizza. You can't find regular pizza like Korean in America.
In Korea, there is a phrase sweet-salty. sweet-salty it's a phrase the newer generation uses. Moreover, you can see it directly in the Korean pizza itself. In America, people like salty food and also sweet food. So, they eat a salty pizza with pepperoni or low-carb pasta, ham, cheese, and a bunch of salty ingredients and afterward they eat something really sweet like brownies, cookies, or ice cream. In fact, in Korea, you'll get all these tastes into one. You have your salty toppings as well as sweet toppings in one pizza.
That's why we call Korean pizza the weirdest pizza ever made!