Concrete is a versatile and durable material that you can use on a wide variety of surfaces. You can use it as a kitchen splashback for an industrial feel or the base of your flooring. Your concrete floor can be repaired, altered, and improved over time so that your home always looks clean and finished. Say goodbye to chipped flooring and hello to ultra-chic concrete features.
Concrete can also be painted to suit your space's color palette. Here are a few things to bear in mind before you begin painting your concrete floor at home. The most important is that you must be aware of how many types of concrete paint are there. It will enable you to make an informed decision regarding which type will work best for your project.
Types of Paint for Concrete Floor
Here are the two types.
Acrylic Latex Paint
This is a water-based product that mixes and spreads smoothly on concrete floors or masonry surfaces. Besides, you may paint walls, steps, or any other concrete or block surfaces with it. Being a straightforward DIY product, it never requires any special tools, brushes, or rollers.
It is a budget-friendly option, but a bit less durable. After every two to three years, your concrete garage will require a new coat. however, on the vertical surfaces, it will last much longer. Note please that some acrylics contain small particles mixed throughout the paint. These help to create a non-slip surface ideal for exterior walkways and steps.
Epoxy Paint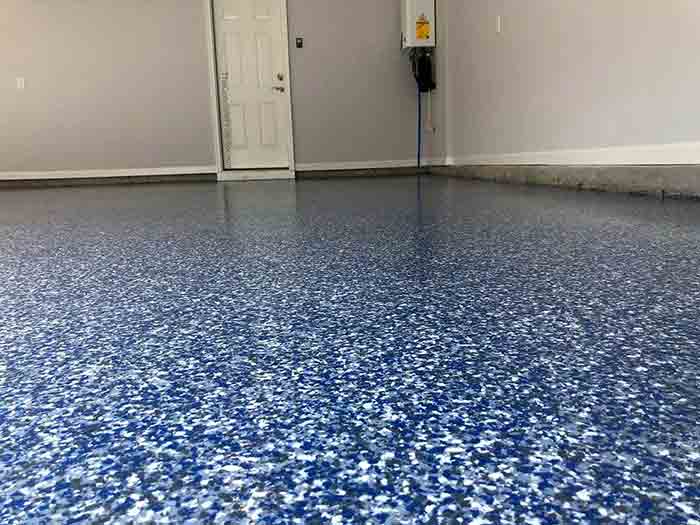 Epoxy paint produces an extra-strong finish in different colors, patterns, and effects. This type of paint will withstand impacts, foot traffic, and sanitation. Use floor paint to add a little personality to your concrete floor and an extra layer of durability. Epoxies are a popular choice in high-end residential garages and vehicle showrooms as they are able to create glossy, shiny surfaces with decorative color flakes. However, these are more labor-intensive and more expensive than latex. An epoxy resin and a hardener are the two liquids in epoxy kits and you have to mix them before application. Being stain-resistant and impervious to water, this type of paint gives an amazing rock-solid floor covering though it is rather difficult to spread.
Prepare the concrete floor to be painted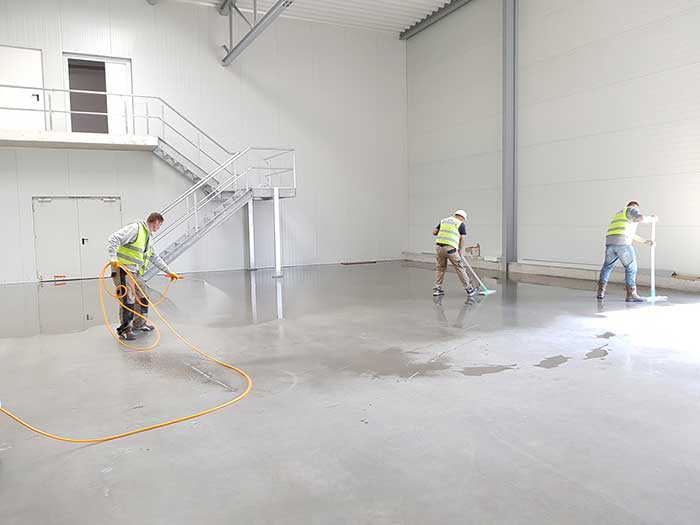 You need to clean the concrete before you can begin to treat and paint it. Use a standard detergent to remove dirt and dust and opt for something more powerful on any grease stains. Bear in mind that any imperfections on your concrete flooring will show through the paint. Try to fill in any lumps, cracks, and textures to make your flooring as smooth as possible. Laminated flooring can also minimize future peeling and help to keep your surface in the best condition.
The painting processes for a concrete floor
Before you apply your paint of choice, you need to prep and prime the floor. Use a flat paintbrush to draw a 10cm wide strip around the edge of the room. You could also apply masking tape to skirting boards, pipes, light switches, and any other features on your wall or floor. Of course, if you're painting a concrete wall, you are more likely to encounter built-in shelving, light switches, and decorative features. Use a smaller paintbrush and a steady hand to navigate these areas.
Apply the prime with a roller within these guidelines and try not to paint yourself into a corner. Keep a wet edge when using primer and paint to prevent roller marks from appearing on the finished surface. Don't let the strip dry out before you roll the next one!
Use a medium-long nap roller to access the smaller areas in parallel strips. Always proceed carefully and try to paint smaller areas as carefully as possible.
Double-check the waiting time between the coasts on the pot. You need the first layer to dry before you can begin to top it up with a second for an opaque finish. Waiting times can be anything from 3 to 38 hours, depending on the brand and type of paint.
If you are painting your garage floor, you need to allow 1 to 2 days before using the room and 3 to 4 before parking your car inside.
Choose the best paint for your home, and always prep the surface before you begin.
What to Consider When Choosing Paint for Your Concrete Floor
Followings are the important considerations that you must keep in mind when shopping for your new concrete coating. Read on to familiarize yourself with each point so that you may select the best concrete paint for your specific surface.
The intended surface
if you want to choose the most suitable product, you will have to consider where and how you want to use your concrete paint. For example, there are different grades of concrete paints for interior, exterior, and vertical surfaces. Be vigilant to finalize the one that suits best to your intended surface.
Weather resistance
Except for being in paradise, your exterior concrete surfaces are bound to endure severe weather changes and their effects around the year. Summer sun, winter snow, heavy rains, etc. cause fading and cracking to your paint. It would be excellent if you choose only high-quality exterior-grade paint for your concrete flooring.
Color tone of your paint
This is also an important area to concentrate on. You should choose epoxy paints for unique colors and effects. They also have color flakes and chips to be scattered on the surface to change the look of your concrete floor.
Glossy look
Always try to select a paint with a glossy finish or sheen to make your concrete floor both durable, against scratches and stains, and easy to clean. However, be careful to select a non-slip glossy paint.
Washable or Not
Both latex and epoxy paints are washable with soap and water, but epoxies are more durable to withstand regular washing multiple times without any damage to their final original finish.
Longevity
True, it is never that easy to get your concrete floor painted even once a year. You have to manage it with extreme difficulty. So, the greater the space between repeated coats, the better it is. Hence, you must select some long lasting concrete paint.